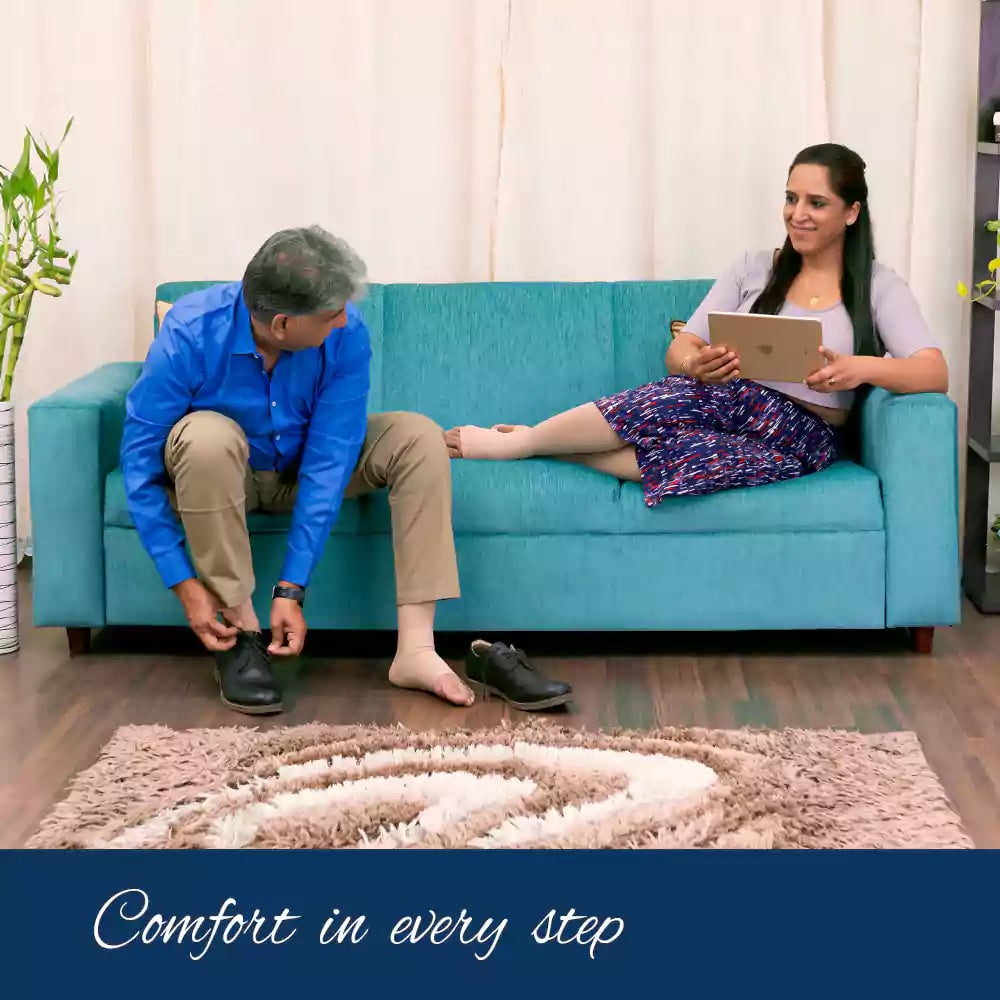 Sorgen® Royale Class 2 Compression Stocking for Vericose Veins - Knee/Thigh Length
From Rs. 2,100.00
View Details
Compression Stockings Online at Sorgen
Taking control of the uncomfortable pain by incorporating essential lifestyle changes is the first step towards a healthy and pain-free body. SORfit technology by Sorgen ensures that every compression stocking is carefully complied with in every sizing and fitting.
Sports Compression Socks
For any athlete, consistency is the key to improved performance. However, sometimes the body needs a little extra nudge to break through the old records. Sports compression socks by Sorgen improve blood circulation and stamina; reduces swelling. Overall, adding to the improved performance.
No more messy ice packs for ankle pains. Sorgen's cold compression ankle wraps have adjustable velcro straps and regulated compression. It works its way to improve blood circulation, thus, making recovery faster.
Compression Socks can make your travel more comfortable. These specialized garments offer targeted pressure on the lower legs and feet. These socks can help to reduce leg pain and fluid retention, which are common side effects of sitting in a cramped position for long periods.
Sorgen's scientifically engineered compression stockings for varicose veins are easy to wear, provide support, and come in various options. Ranging from products to fight varicose veins and other painful leg conditions, Sorgen has it all in one place for you. Sorgen offers you a vast collection of the best compression wear, right from medical compression stockings and compression socks to everyday sports compression gear.
Choosing the right class compression stocking for yourself is the key to effective healing and improvement.
Each Sorgen product is designed with a high level of sophistication and can be reused multiple times. The ice packs are durable and do not puncture or leak during use, ensuring their longevity. Additionally, the products are easy to wear and extremely convenient to use.
A healthy lifestyle is crucial at this time and age. If your body does not feel at its best, it can affect your health. Painful legs might not seem serious at first, but if ignored, they can lead to problems like DVT (Deep Vein Thrombosis) and varicose veins. Preventive healthcare gear like DVT stockings and varicose veins socks can help you fight painful legs due to lower blood circulation in the region.
Compression Stockings for Varicose Veins
Varicose veins are swollen veins that can develop in the legs, feet, hands, and face. They may appear in blue or purple and are lumpy and twisted. Compression is the most recommended way to fight the pain from varicose veins.
Compression Stockings for DVT
Deep vein thrombosis is a severe condition with blood clots in the deeper veins in the body. DVT or Deep Vein Thrombosis does not occur with varicose veins as varicose veins occur in the veins closer to the skin surface. However, at the same time, severe varicose veins can lead to DVT. Using the correct class of compression for the condition can help with faster recovery.
Why shop from Sorgen?
With SORshield trust, we ensure each product meets our promise of delivering the highest efficacy. Our specialists examine every product so that it meets the qGEN protocol of inspection. They are also hand-inspected multiple times to maintain superior comfort and durability.
Every Sorgen compression wear is suitably designed according to its purpose while aligning with the human anatomy. Sorgen aims to offer you only the best.