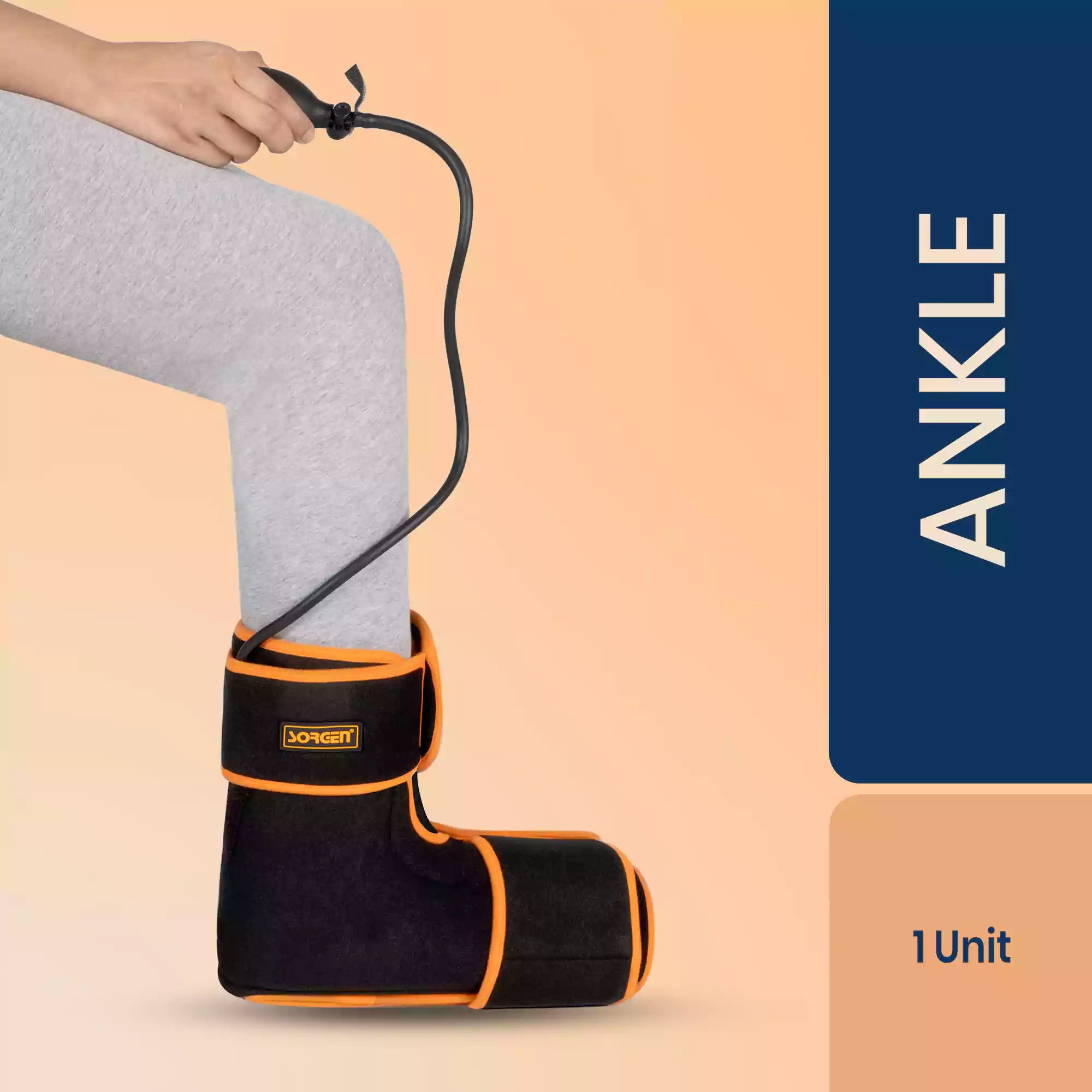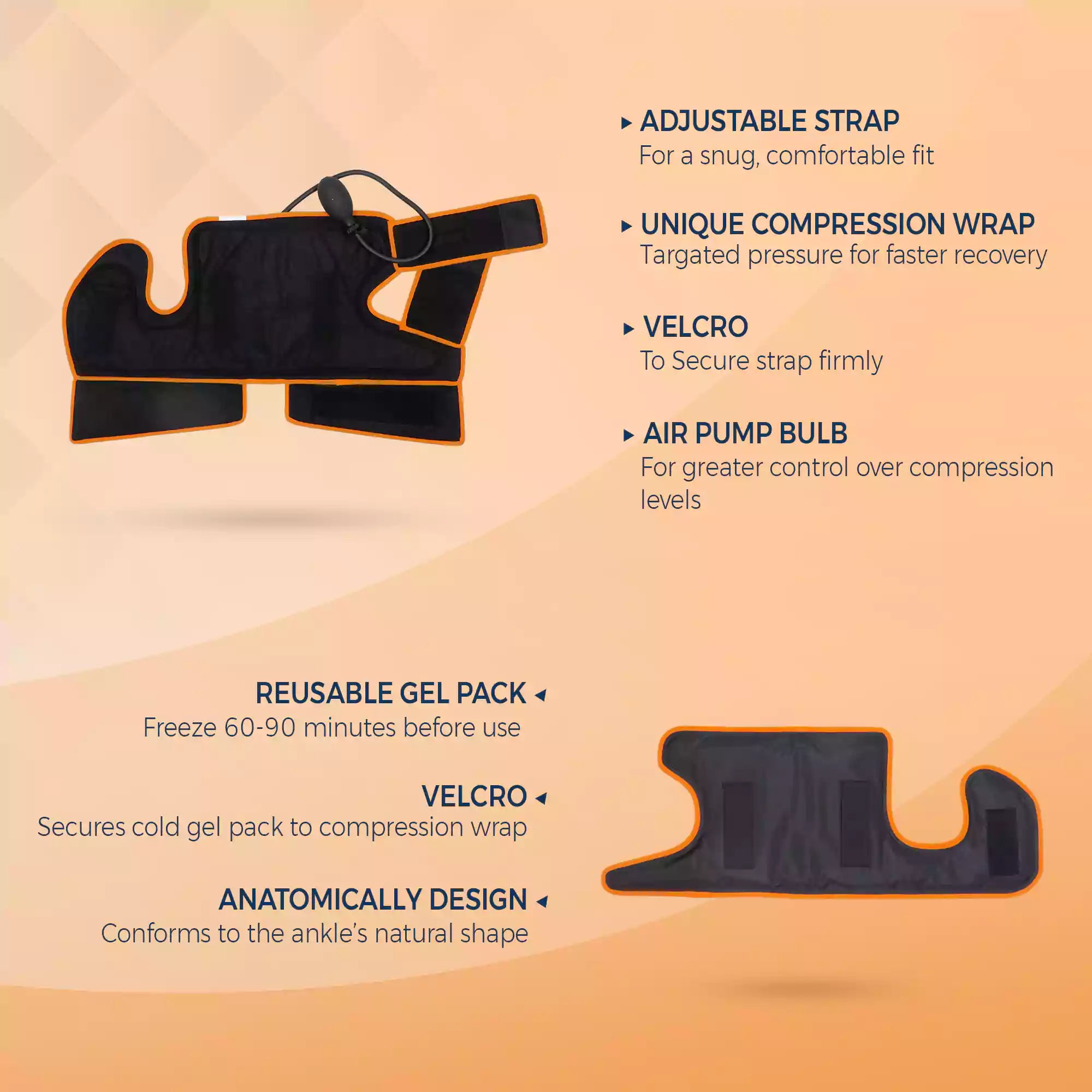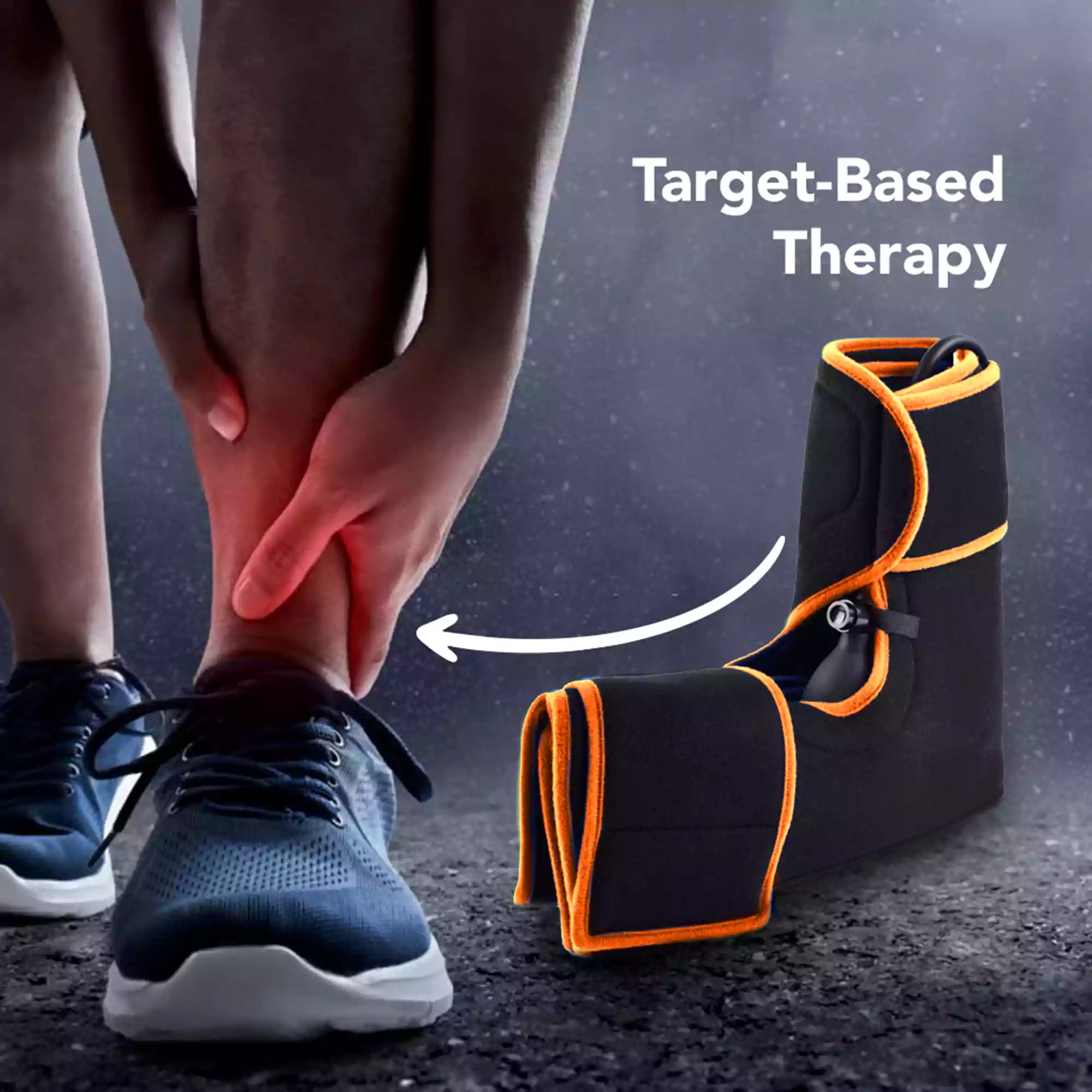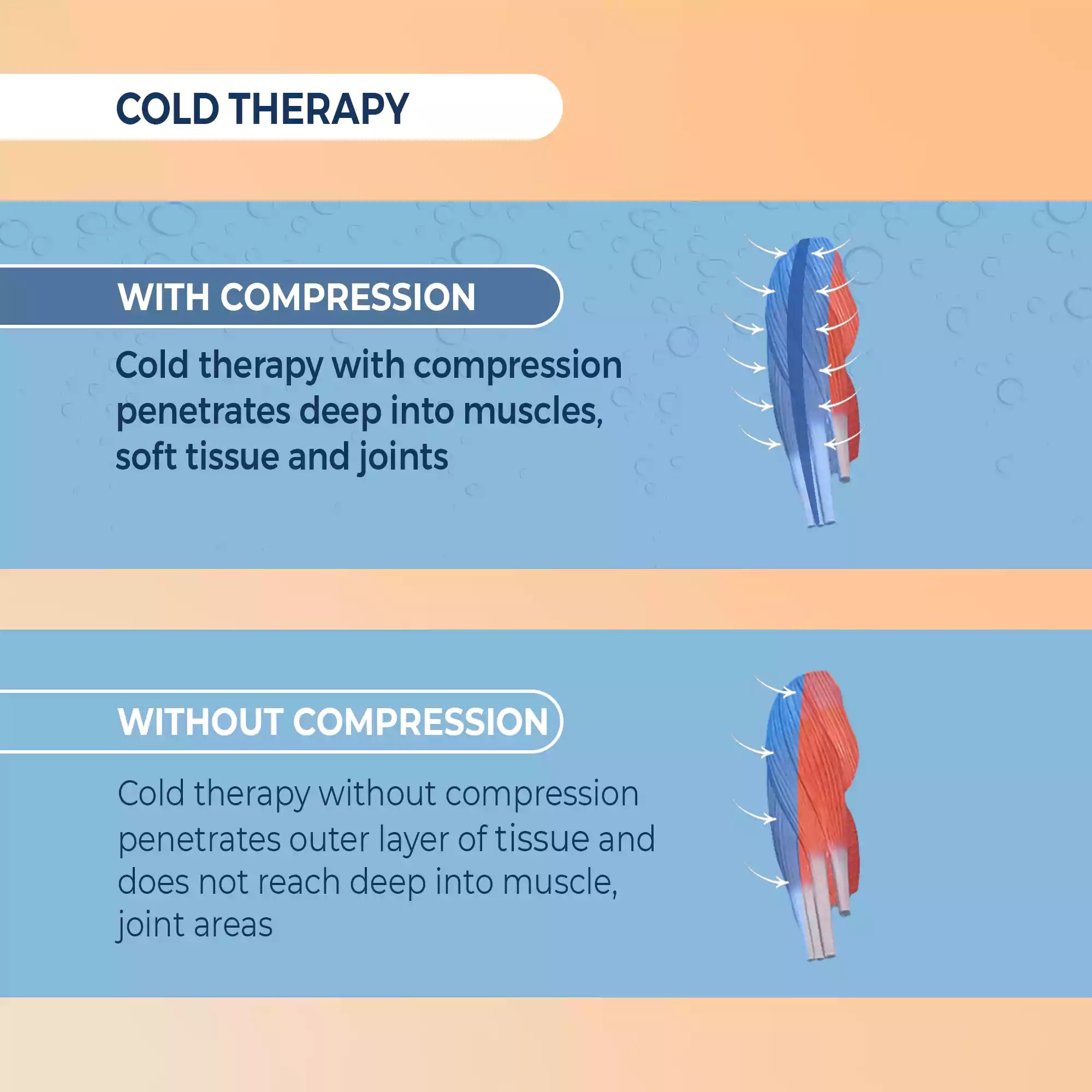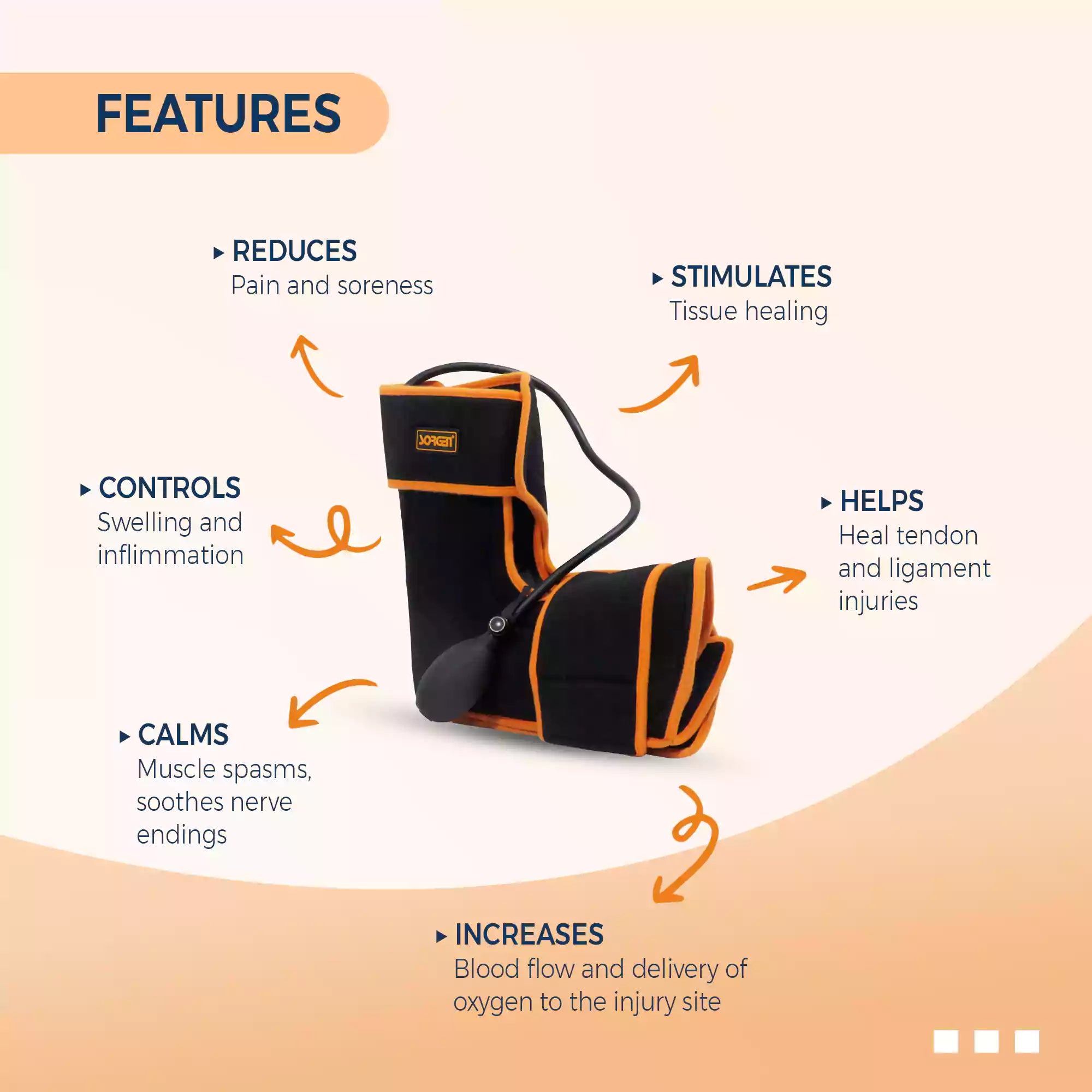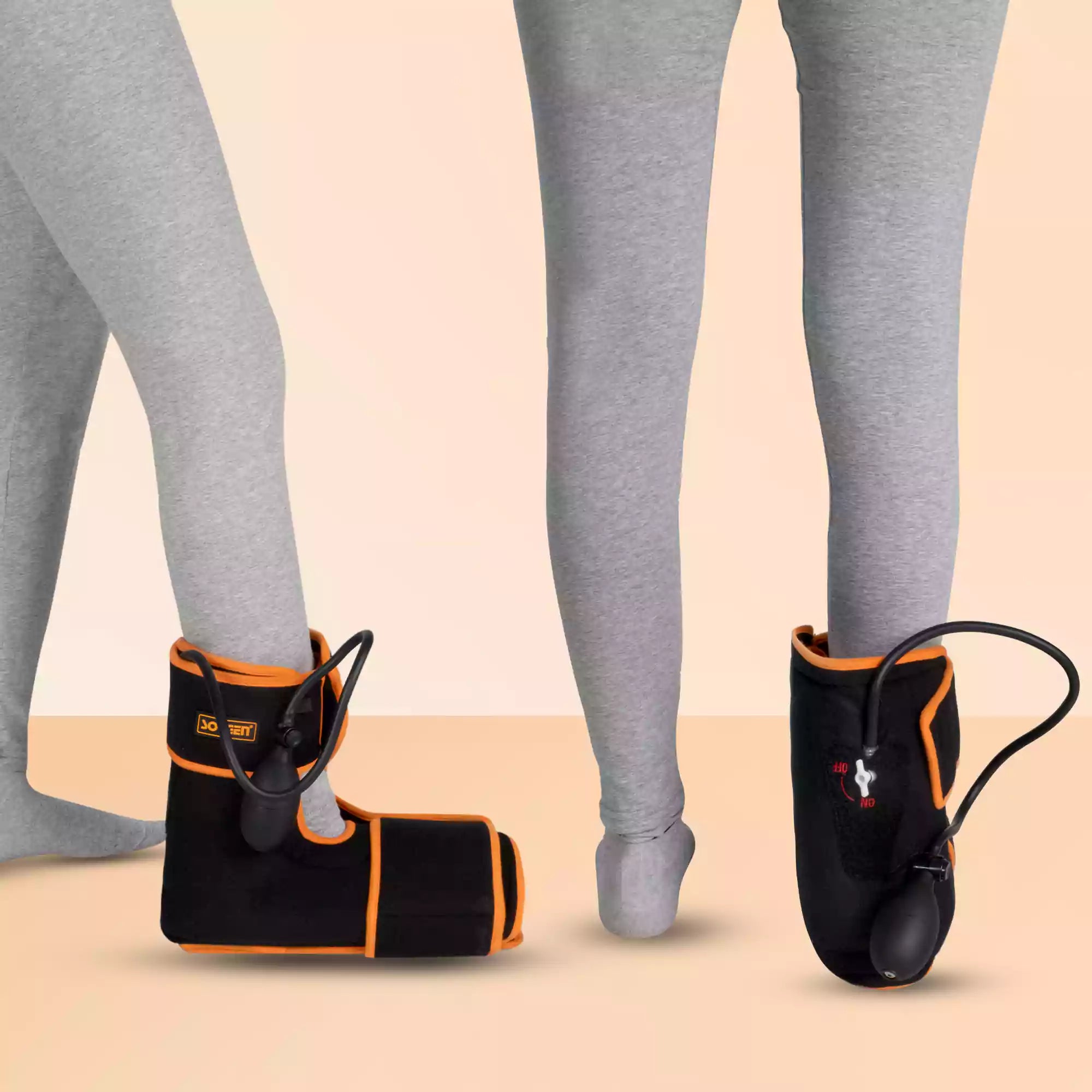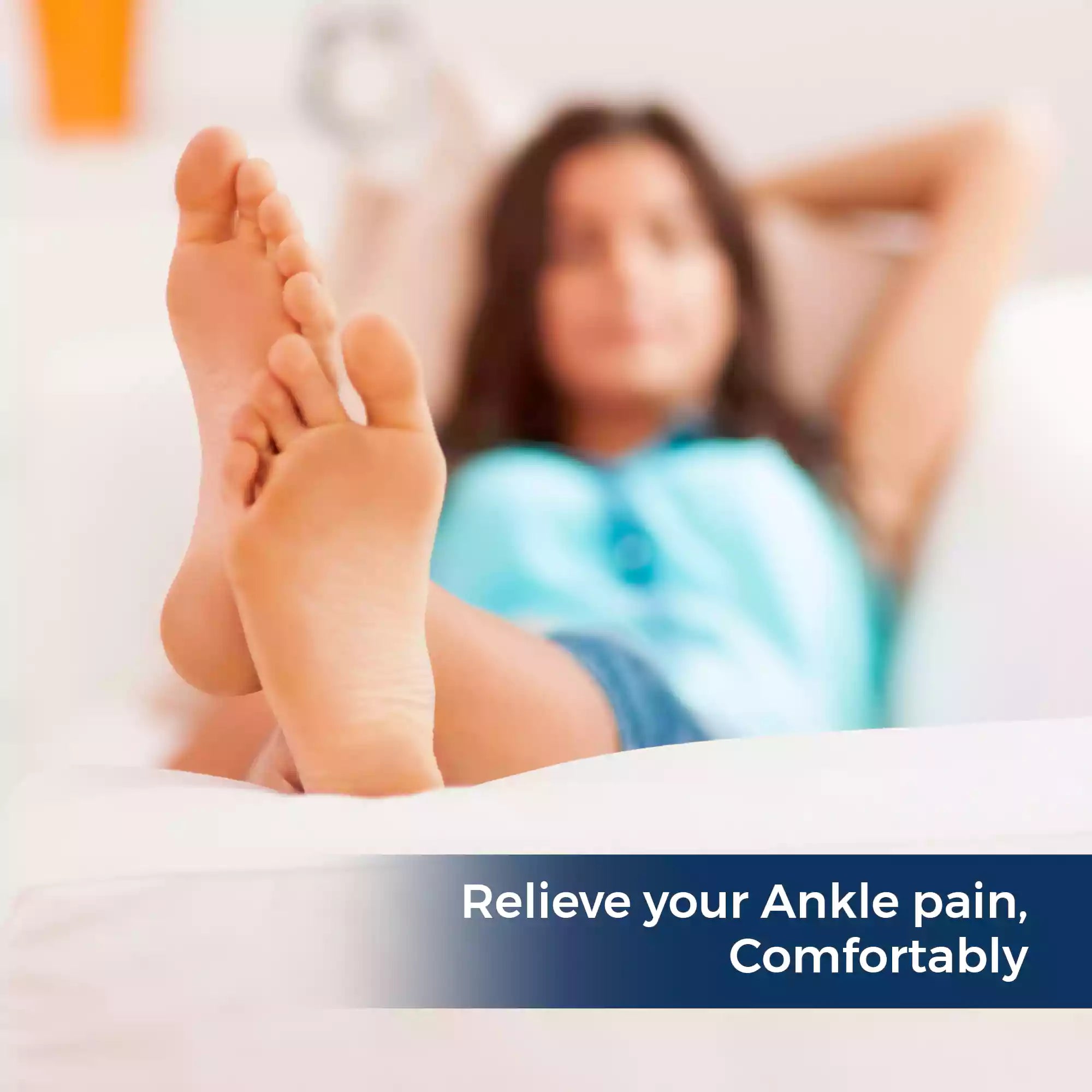 Sorgen® Cold Compression Ankle Wrap
Rs. 3,400.00
Rs. 3,950.00
Sale
Relieve pain and swelling with the Sorgen Cold Compression Ankle Wrap. Perfect for sprains, strains and post-surgery recovery. Order now and get back to living pain-free.
Colour:

Black with blue piping
Type:

Compression Therapy with Cold Therapy
Style:

Outer compression wrap with velco + inner cool gel pack
Fabric:

Outer wrap: Nylon and velvet; Inner gel pack:PVC and Nylon
Size:

Universal
Box Contains:

Compression ankle wrap brace with Velcro straps + 1 Gel Pack + Compression Pump Bulb
Uses:

Post-Surgery, Tissues or Ligament Tear, Patella Tendonitis, Arthritis, Meniscus Tears, Ankle pain, Ankle Impingement, Stress Fractures, and Sprains.
Features:

Unique Compression, Gel Packs, Superior Temperature Resistant Material, Adjustable Velcro Straps, Compression Pump Bulb, Anatomically Designed.
Benefits:

Relieves Inflammation, Reduces Swelling, and Accelerates Recovery with Targeted Compression.
Helps in:
Accelerated Recovery
Anatomic Coverage
Relieves Pain
Deeper Penetration
Lessens Inflammation
Targeted Compression
Recommended For:
Plantar Fasciitis
Ankle Swelling
Achilles tendon injuries
Ankle Sprains
💡Enjoy free shipping on all orders within the India.
📤 Orders are dispatched with Same Day (before 4.PM)
🚚 Same Day Delivery available in Mumbai MMR Region (at additional cost of Rs. 199/-). More details at checkout!
For expedite shipping and more queries, please contact us on 09321102110 or send us a mail at support@sorgen.co
It's okay to change your mind😊 This product qualifies for an exchange or return within 3 days of delivery. We offer a free pickup from your pin code.
Share this product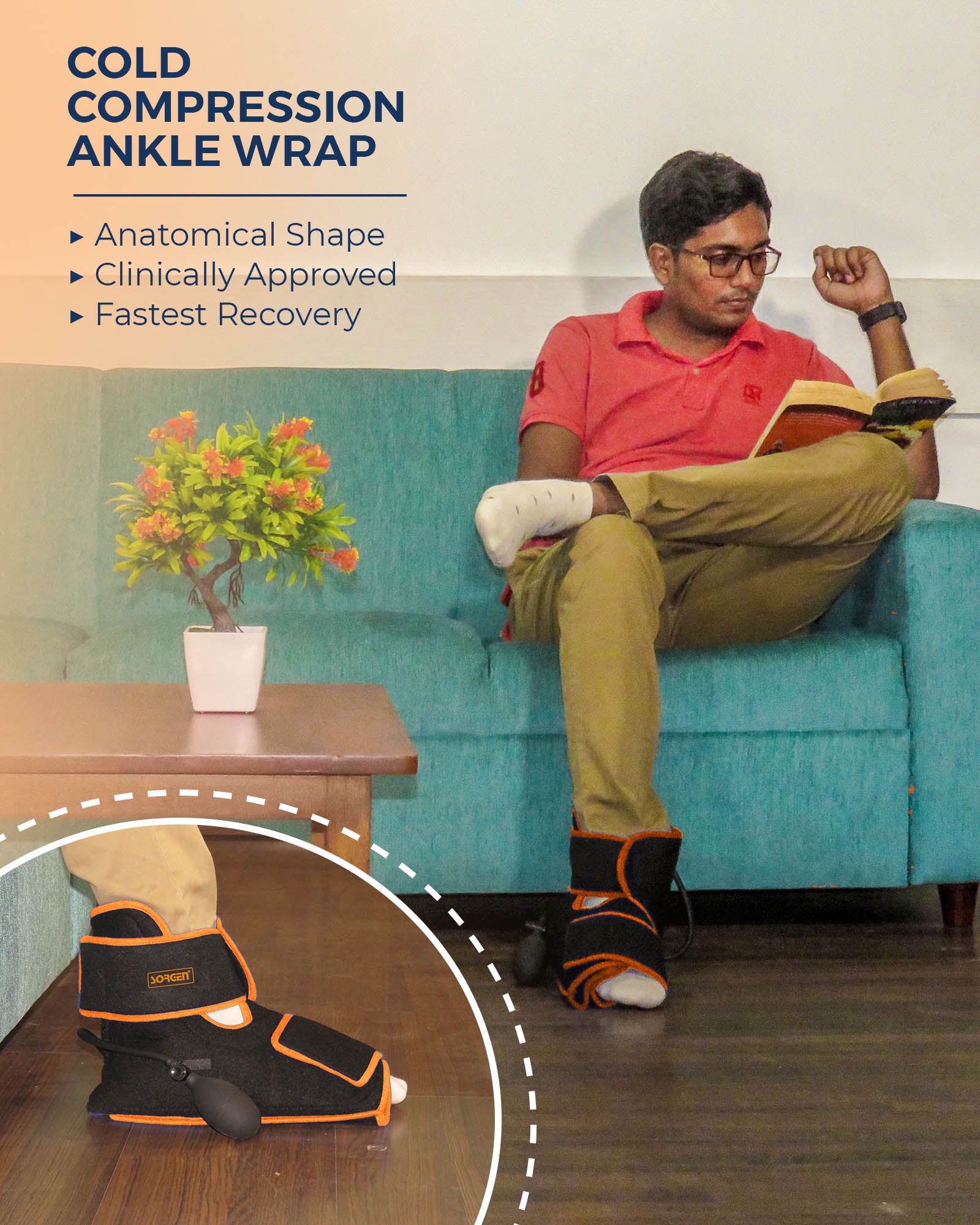 Relief With Sorgen Cold Compression Wraps.
The advanced-designed cold compression ankle wraps are much more convenient than ice packs for foots and ankles. The attached pump helps exert compression on the pain area to heal any tissue inflammation in the region. Sorgen's unisex ankle compression wrap is helpful in severe ankle pain-related issues and is even recommended in post-ankle-surgery recovery. The conditions in which the wrap comes handy are – Plantar Fasciitis, Achilles Tendonitis sprains, tissues wear and tear, and stress fractures. The ankle ice pack can be used in two ways. The detachable pump can be used to set a constant pressure or constantly adjust the pressure as and when needed. The valve on the bulb can be switched on and off as needed.
#Knowyourproduct
Science Behind Cold Compression
Wear and tear can cause soft tissue damage or a rupture in the blood vessel. This results in site inflammation. By applying cold temperature, you can reduce the fluid build-up that results in swelling. Cold therapy does not just offer anti-inflammatory relief. It also offers a positive immune system response.
The Sorgen's ankle wraps help in the following conditions: Plantar Fasciitis is a condition where the thick band of tissue connecting the heels to the toes inflames due to excessive stress in the area. One of the common symptoms includes piercing pain in the heel. Achilles tendonitis is an injury in the Achilles tendon, which connects the calf muscle to the heel bone. Pain and stiffness are some of the common symptoms.
Extraordinary Elements
Wrap It Around To Lessen Pain
The adjustable velcro helps secure the Sorgen cold compression wrap around the ankle and adjust the position as desired. The applied compression on the cold pack imparts a penetrative effect into the tissue, rendering rapid recovery from ankle injuries.
Target-Based Therapy
The cold compression ankle wrap for pain enables effective healing in the target pain area. The idea of cold compression is based on the R.I.C.E. principle.
Leak And Puncture Proof
The make is highly sophisticated and reusable. The ice packs do not puncture or remain intact when under use. The wearing process is easy and super convenient.
Easy Solution For Achilles Tendonitis And Bursitis
Achilles tendonitis is an injury in the Achilles tendon, which connects the calf muscle to the heel bone. Sorgen cold compression ankle wrap once wrapped around shall facilitate speedy recovery from conditions like Achilles tendonitis and bursitis.
Heal Sprain And Foot Swelling
The cold compression wrap with it's targeted method helps to alleviate the pain that follows an accidental sprain. Foot swelling after an exerting day can be relieved with the ankle cold compression wrap.
Several Benefits
Reduces pain and soreness
Relieve different types of inflammation
Improve blood circulation
Calms muscle spasms
Helps heal tendons and tissues
Frequently Asked Questions
Sorgen cold compression ankle wrap prevents swelling, which can help your ankle feel better when recovering from an injury.
You should wear the compression bandage ankle for 20-25 minutes and preferably twice a day. Freeze the gel pack before use.
The wrap is generally snugly fitted. It should not be painfully tight. Some space for blood circulation is required.
Excellent support
I used this cold compression wrap for an ankle tendon injury and found it to be incredibly helpful in my recovery. The wrap provided excellent support for my ankle and helped to reduce swelling and pain in the affected area. The cold therapy feature was also very effective in alleviating discomfort and promoting healing.
Cold compression ankle wrap
This is an amazing product; after a stressful workout, wearing the ankle warp provides quick and long-lasting relief
Great for ankle pain
This sorgen cold compresssion wraps has helped relief my ankle pain and I can see the results in just 1 week.
Use it post running
Ankle cold compression helped me get rid of my ankle sprain pain after running. Helpful.
very good product
Perfect protecting and compression for my ankle.