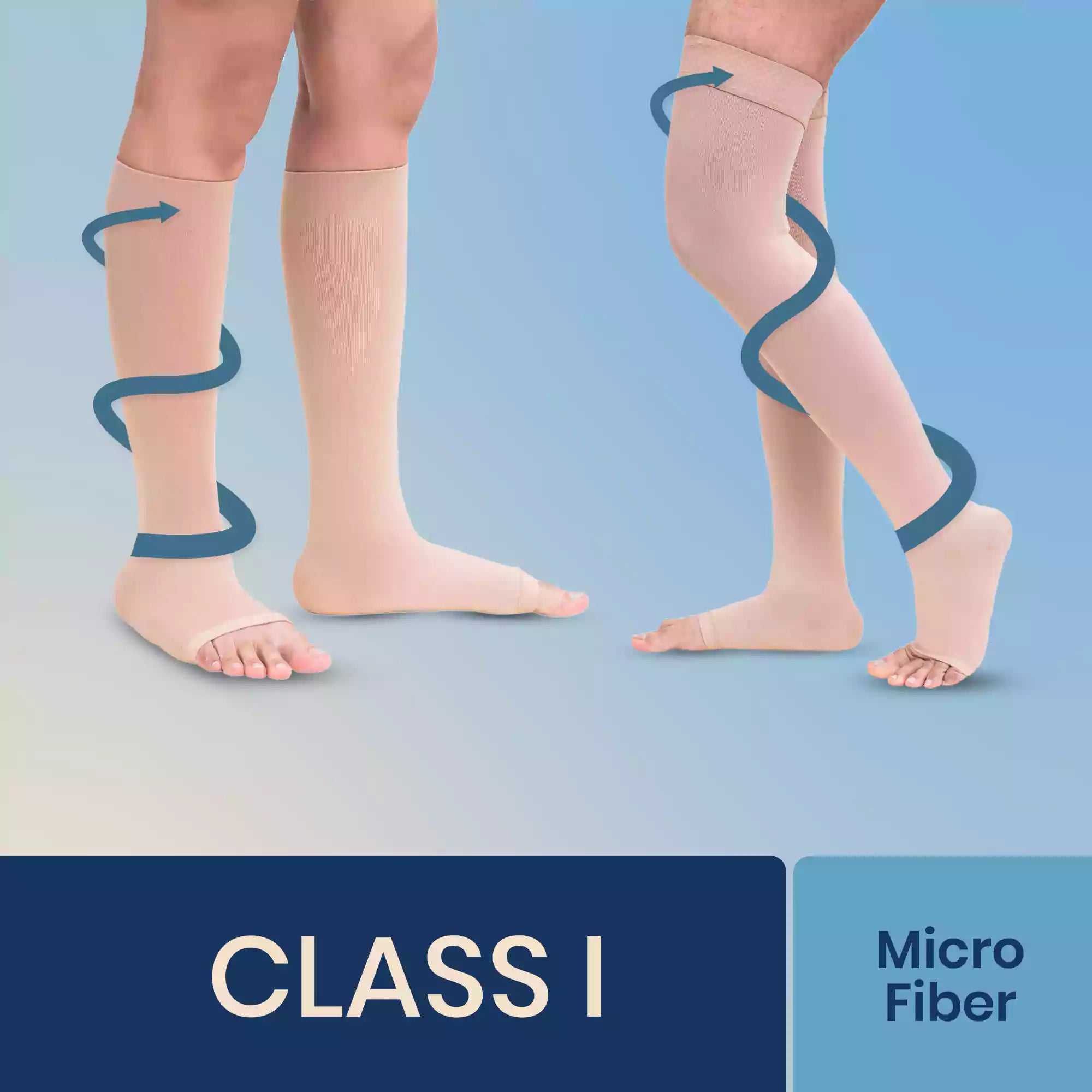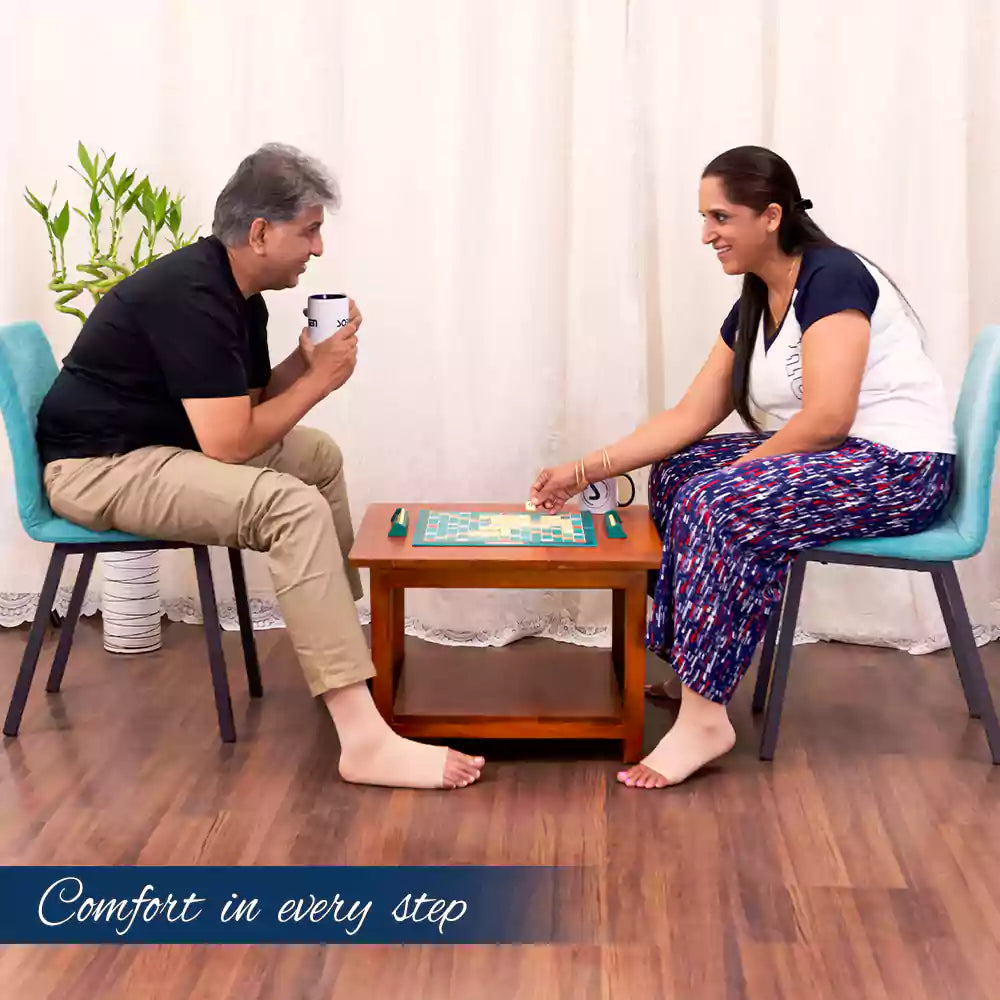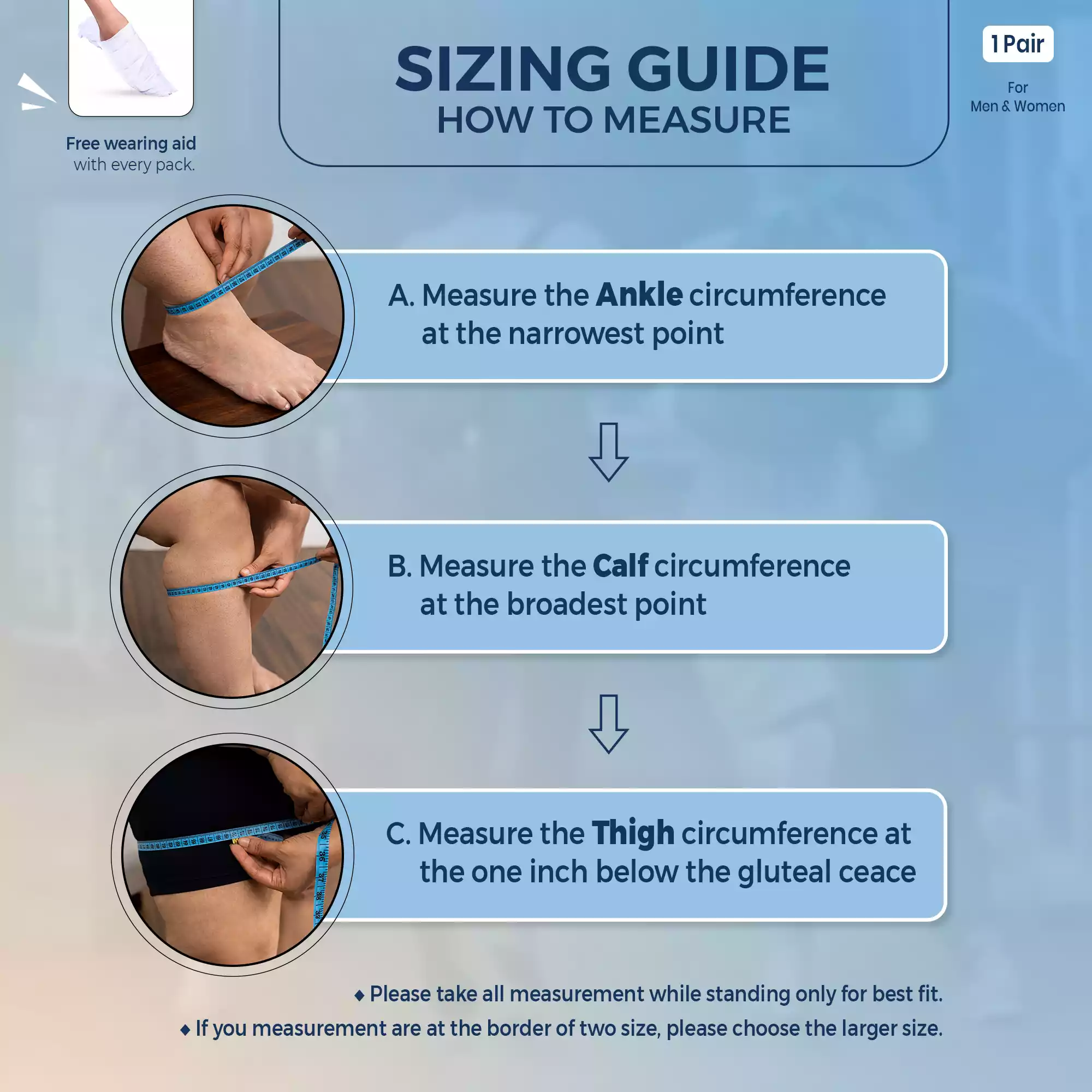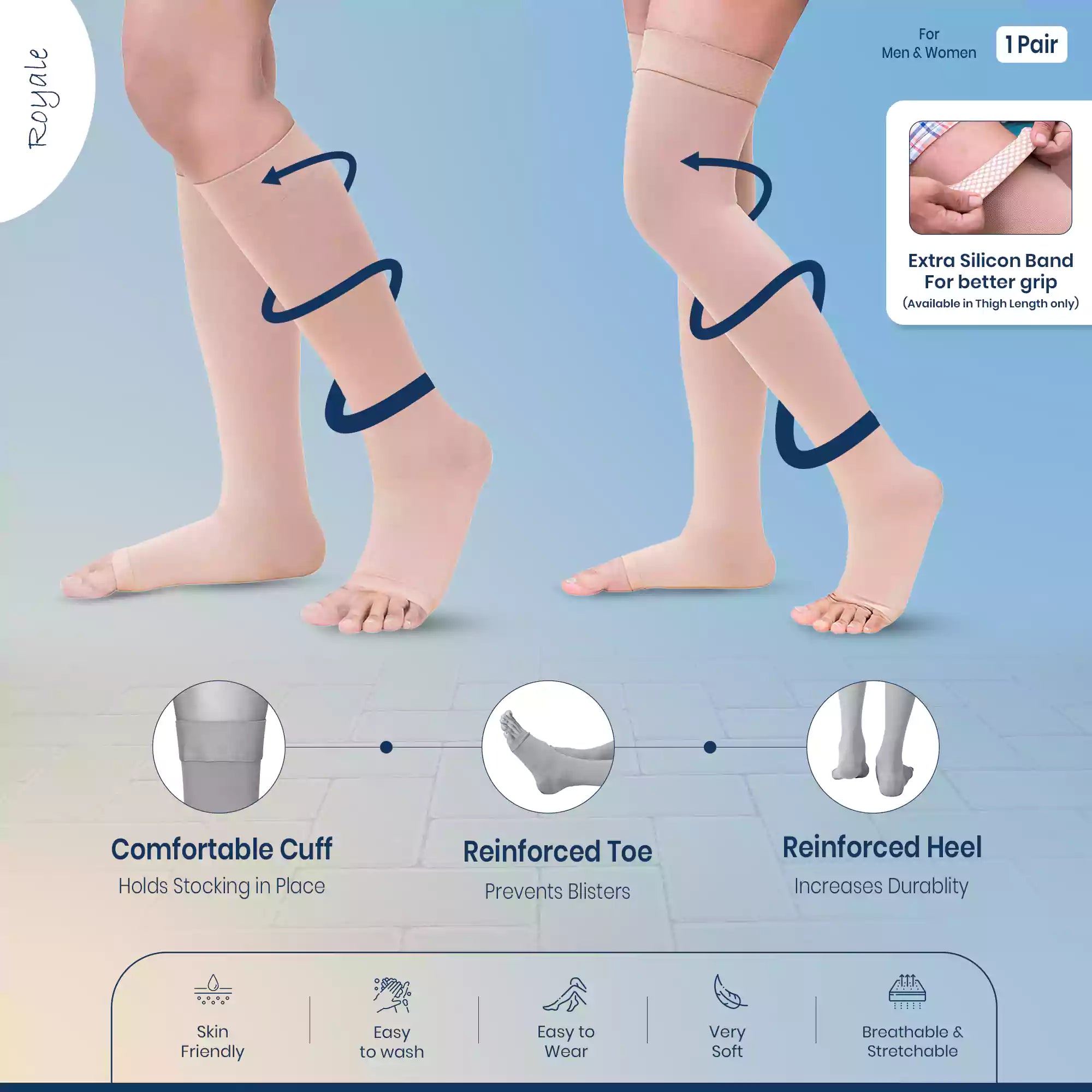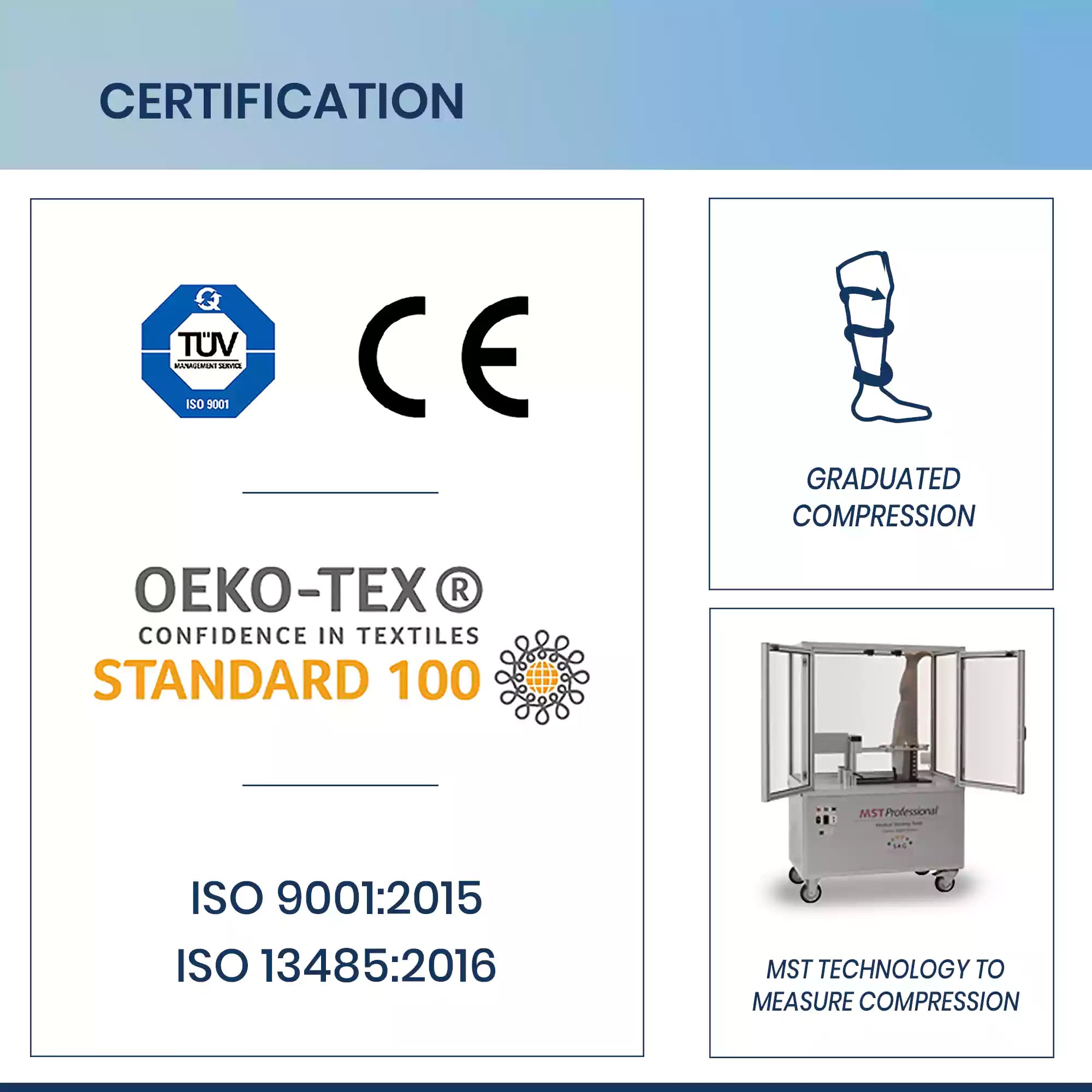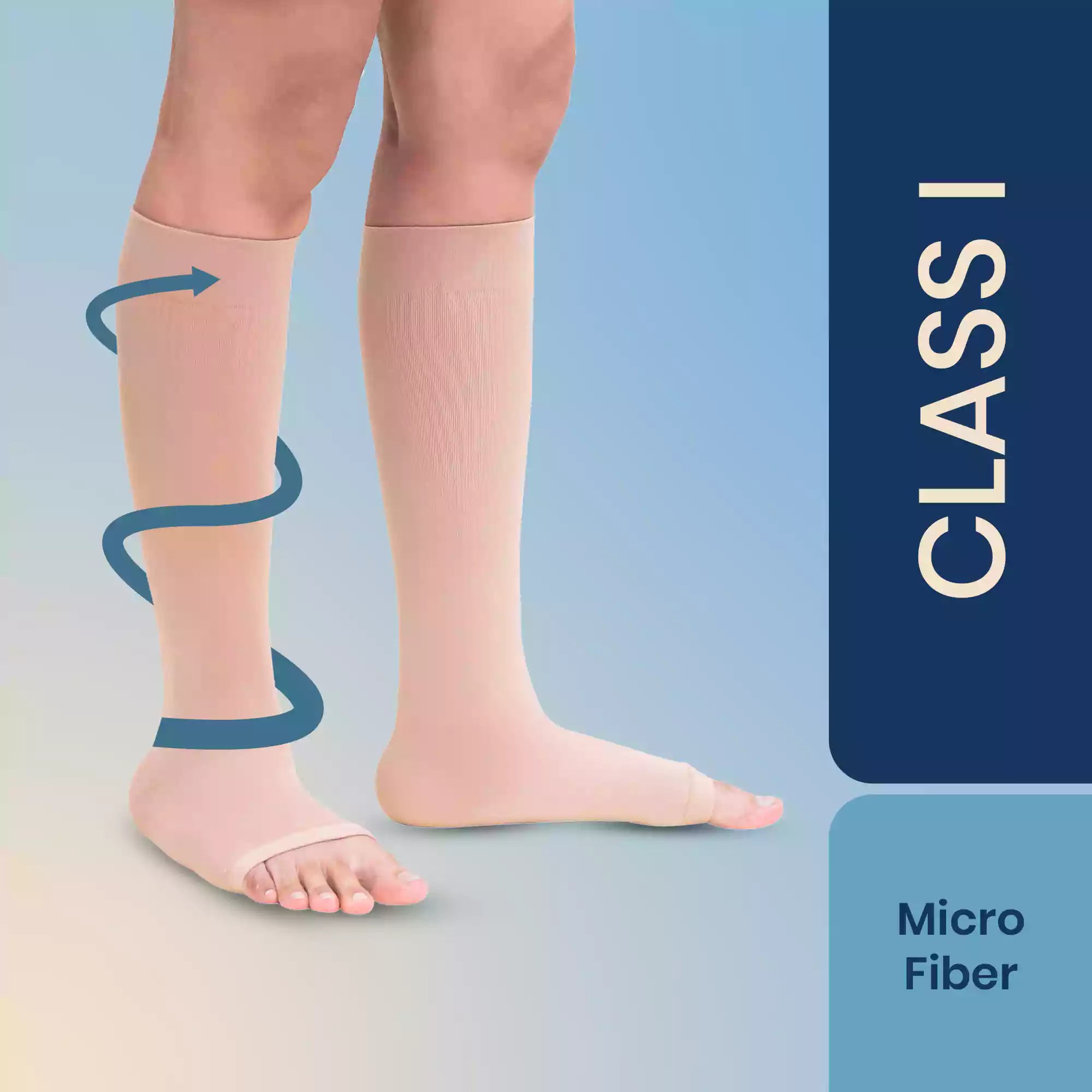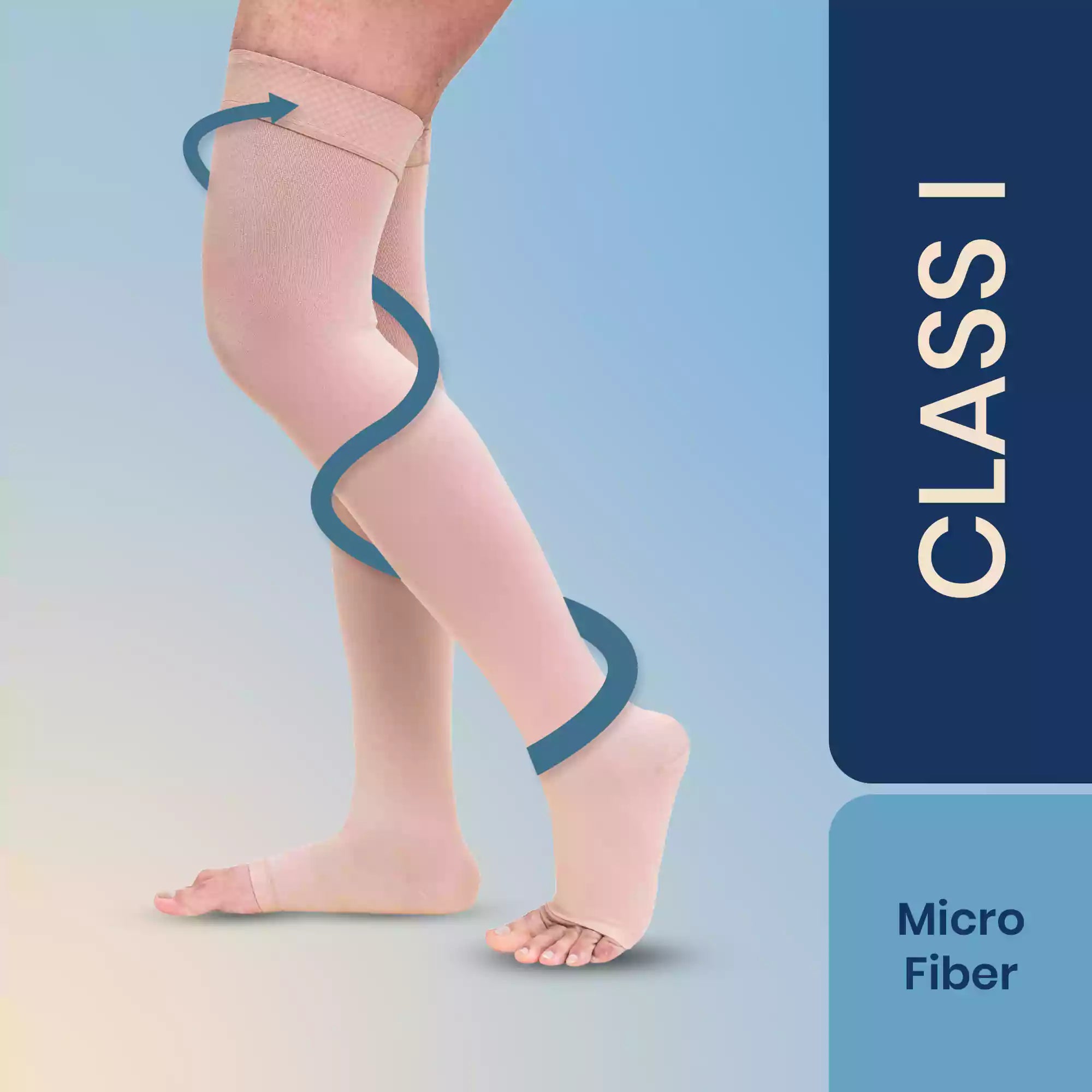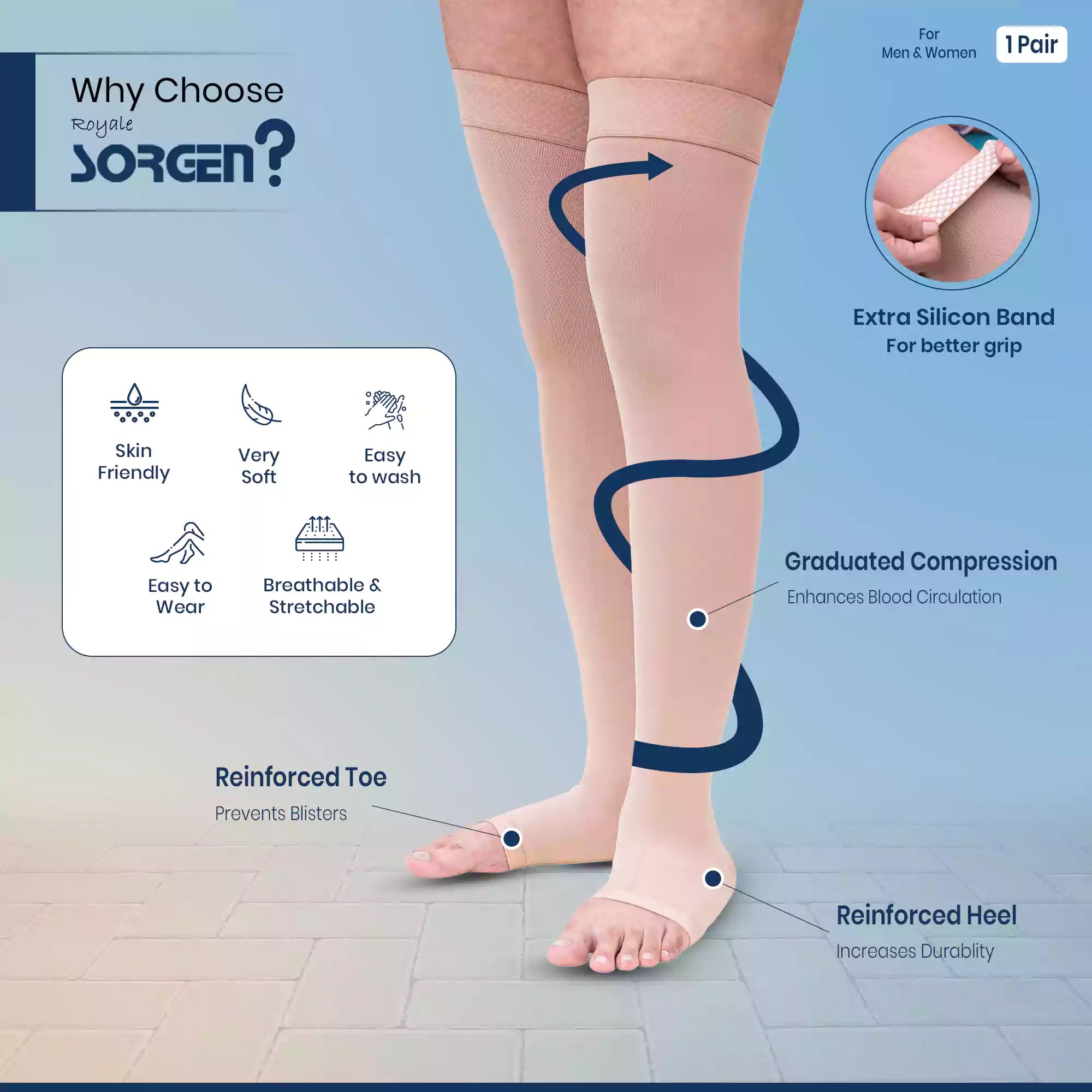 Sorgen® Royale Compression Stockings Class I- Knee/ Thigh Length
Rs. 2,053.00
Rs. 2,850.00
Sale
Made from super soft microfiber fabric are the perfect solution for those living in humid climates. The moisture-wicking technology keeps you dry and comfortable while providing medical-grade support to improve circulation and reduce swelling. Experience ultimate comfort and improved wellness with Sorgen Royale.
Colour:

Skin Colour/ Nude

Type:

Class I Compression Stockings

Compression Level:

18-21 mm hg

Style:

Open Toe Royale Compression stockings

Fabric:

Premium Soft Microfiber (42% Microfiber, 31% Lycra, 27% polyamide)

Box Contains:

One pair of Royale Class I Compression Stockings

Sizes Available:

Small, Medium, Large, X-Large, XX-Large

Lengths Available:

Knee Length/Thigh Length

Uses:

Heavy and Tired Legs, Early Venous Insufficiency or Mild Varicose Veins, Green-Blue colored Spider Veins and Mild Oedema.

Features:

Soft, Skin-Friendly Fabric, Breathable and Stretchable, Comfortable Cuffs, Reinforced Heel, Graduated Compression, Open Toes to Prevent Blisters, Quality Checked with MST Technology.

Benefits:

Improves Quality of Life, Fosters Healthy Blood Circulation, Alleviates Muscle Spasm, Helps with Mild Varicose Veins and Oedema, Prevents Tired and Aching Legs.
Recommended For:
Spider Veins
Tired / Aching Legs
Mild Oedema
Mild Varicose Veins
Helps in:
Improves Quality Of Life
Prevent DVT
Reduces Oedema
Reduces Swelling
Relives Tired And Aching Legs
Improves Blood Circulation
💡Enjoy free shipping on all orders within the India.
📤 Orders are dispatched with Same Day (before 4.PM)
🚚 Same Day Delivery available in Mumbai MMR Region (at additional cost of Rs. 199/-). More details at checkout!
For expedite shipping and more queries, please contact us on 09321102110 or send us a mail at support@sorgen.co
It's okay to change your mind😊 This product qualifies for an exchange or return within 3 days of delivery. We offer a free pickup from your pin code.
Share this product
Relief With Royale Class I Compression Stockings
Many experience tired and aching legs in their everyday life. Some due to lifestyle, some profession, and some medical conditions; it is important to not ignore the pain and use compression stockings as a preventive gear for swelling, pain, and inflammation.
Sorgen's Class I Royale Compression Stockings, made with superior microfiber, have been designed to address unregulated blood circulation in the leg region. Crafted by experts, keeping in mind quality, engineering, and comfort, the compression stockings by Sorgen are durable, easy to wear, and slip-free. Keep these stockings handy while traveling for easy and relaxing journeys.
#Knowyourproduct
How Does Compression Stockings Help?
The role of a compression stocking is to apply a required amount of pressure at the right spot. The application of Class I pressure on the leg muscles not just helps with conditions like varicose veins and mild oedema but also acts as a bolster against erratic blood flow in the region due to restricted leg movement.
Restricted leg movement can cause fluid accumulation in the tissues, which can result in swelling and inflammation, which is common to see in pregnancies; Using compression stockings during such times helps the body to push back the blood and ensure smooth circulation.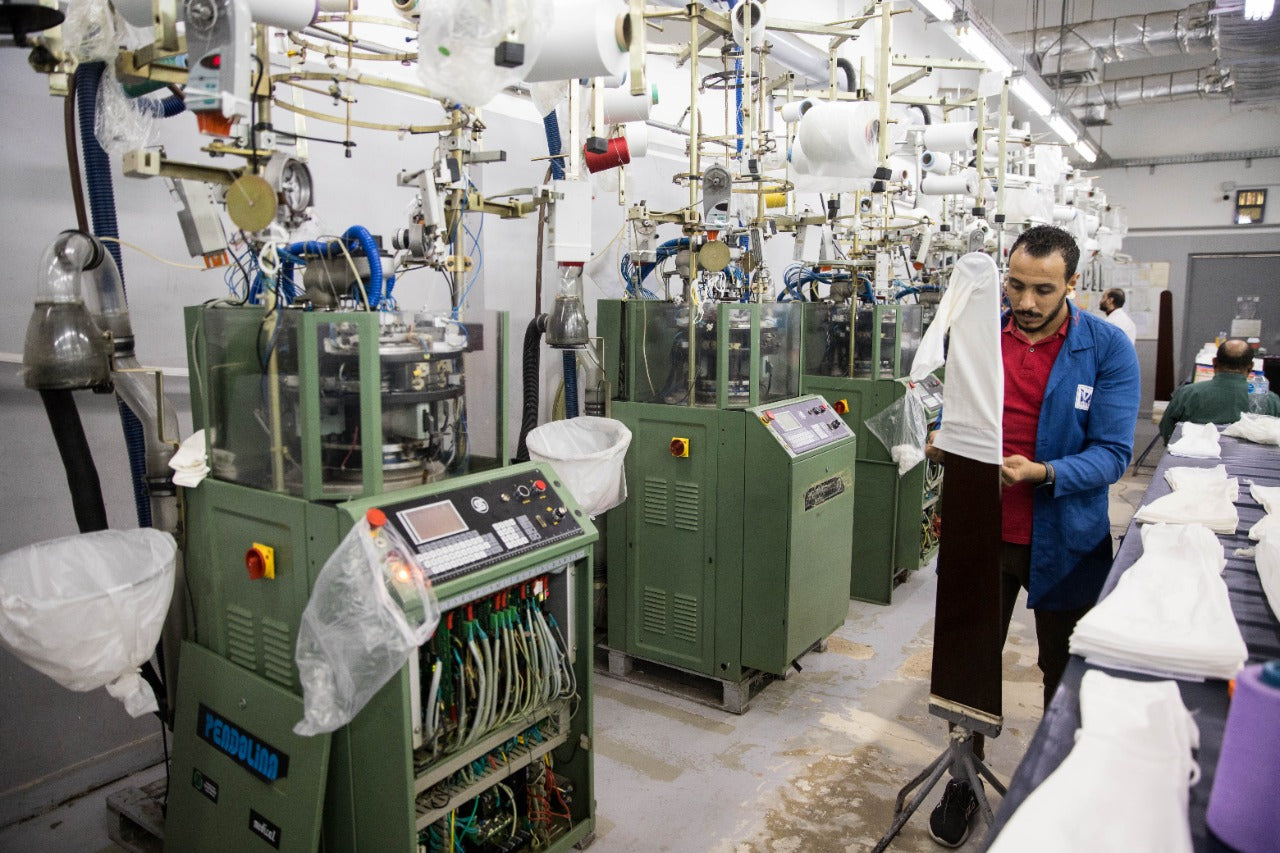 Advanced Features:
Reinforce Heels Ensure Longer Usage
The Royale Class I Medical Compression Stockings have reinforced heels, which ensures that the stockings last multiple uses smoothly and fits perfectly.
Dotted Silicone Band For Better Grip (Thigh Length Only)
The dotted silicone band in the thigh-length DVT stockings makes sure the stockings remain in place and provides constant compression in the leg area.
Grip Top For Perfect Fit (Knee-Length)
The knee-length royale compression stockings come with a grip top for easy wearability as well as a comfortable snug fit.
Compression Stockings Relieves:
Muscle Spasm Due To Movement Restriction
Long hours of standing or sitting are common reasons for muscle spasms in the legs. The Sorgen's Royale Class I Compression Stockings for women and men are engineered for graduated compression. Wear it as preventive gear or an aftercare solution.
Inflammation Due To Fluid Accumulation
When pregnant or working in an environment that demands standing or sitting for hours, experiencing inflammation due to fluid accumulation can happen. If prone to such conditions, it is best to use the microfiber Sorgen Royale Class I compression stockings for varicose veins.
The Onset Of Spider Veins
When small blood vessels dilate on the skin to create a spider-like form, it is called spider veins. Prevent the spider veins with varicose veins socks. These can also be used to manage the condition also.
Frequently Asked Questions
The Sorgen's Compression Stockings can be worn throughout the day. However, it should not be worn while sleeping.
Yes, compression stockings can be worn while walking is doing any other activity throughout the day.
Sorgen's compression stocking is a science-based engineered product, specially designed to inspire wellness.
Sorgen® Royale Compression Stockings Class I- Knee/ Thigh Length
Your size is tight at the ankle and loose at thigh
Service Very Good
Your Knee/Tight material & courier Service is very good.