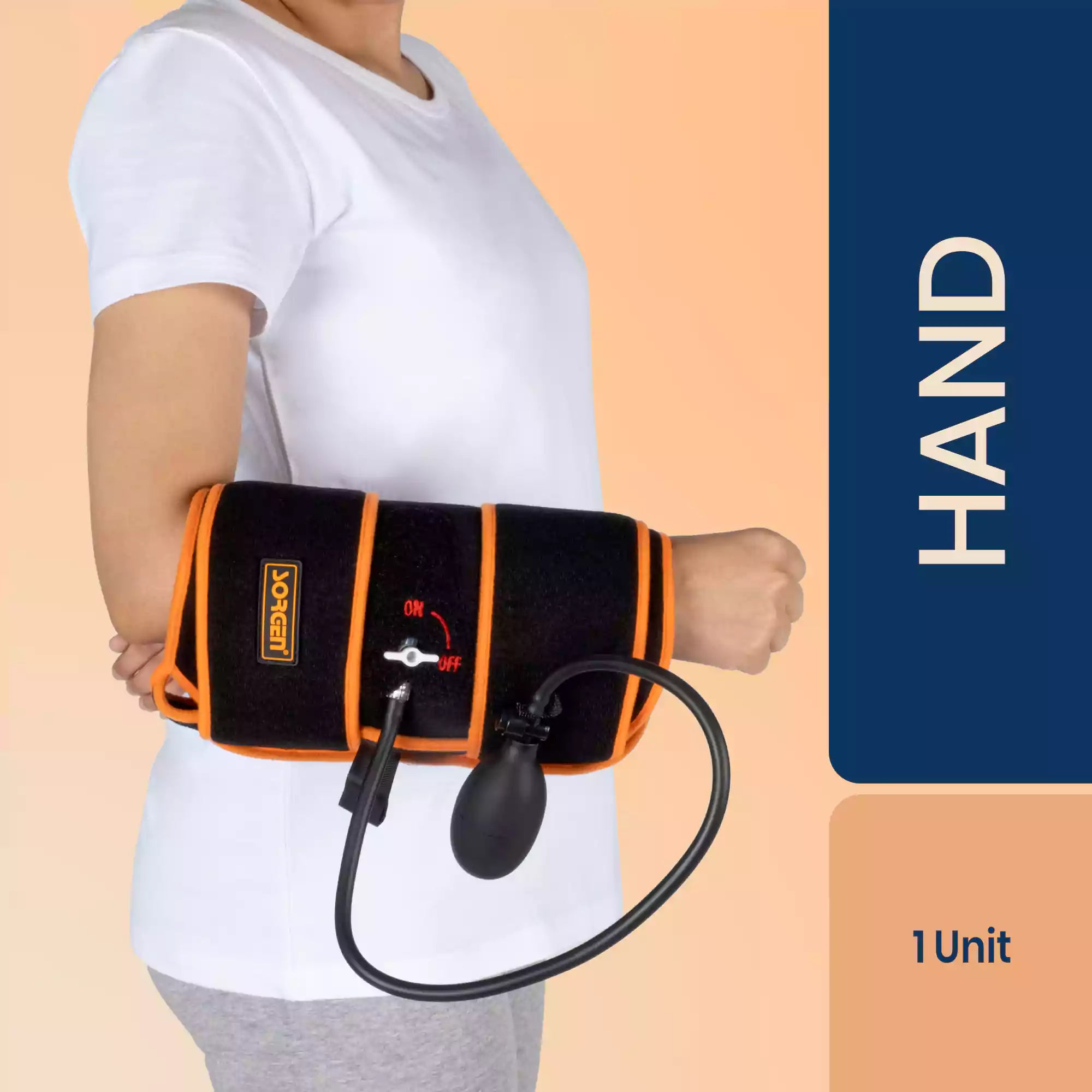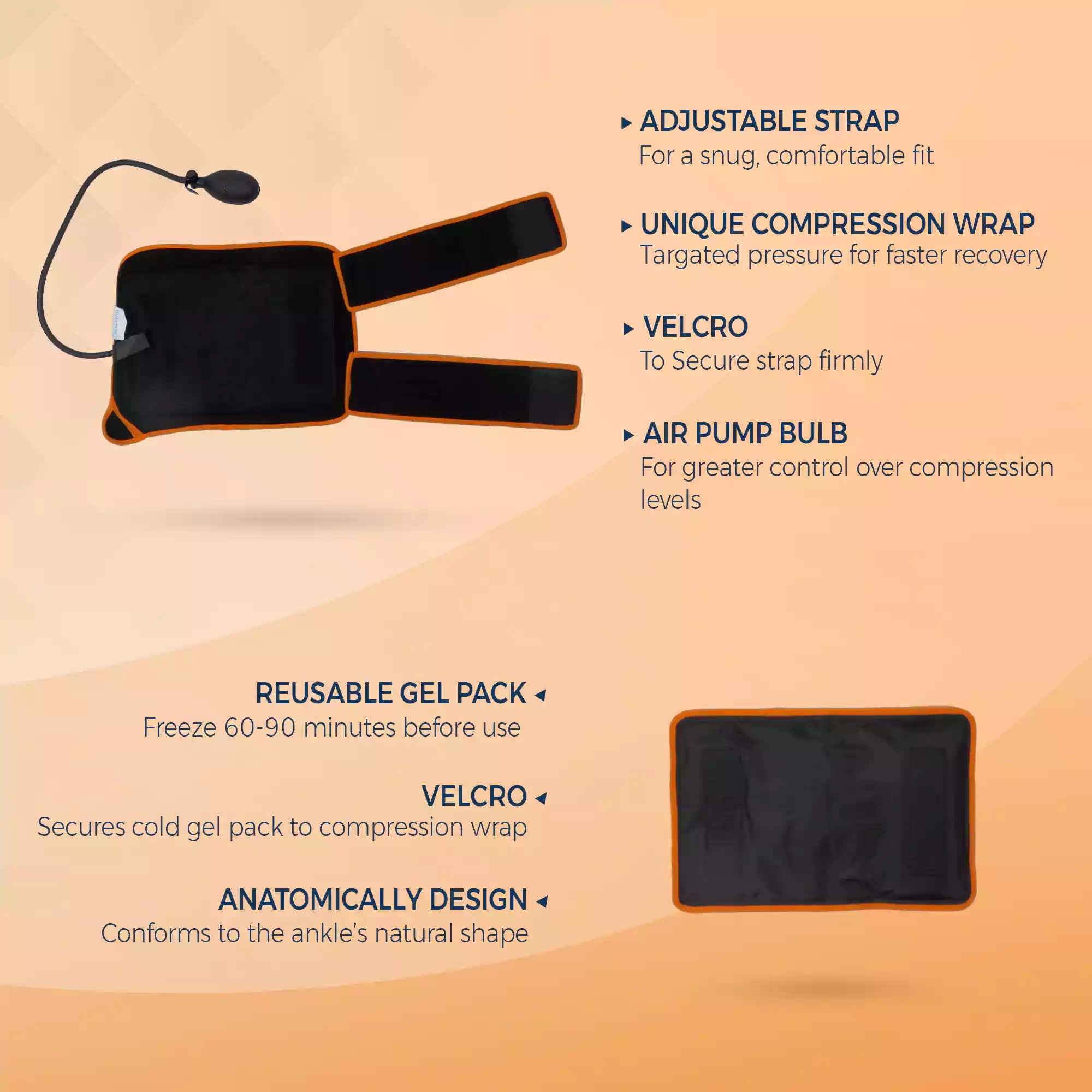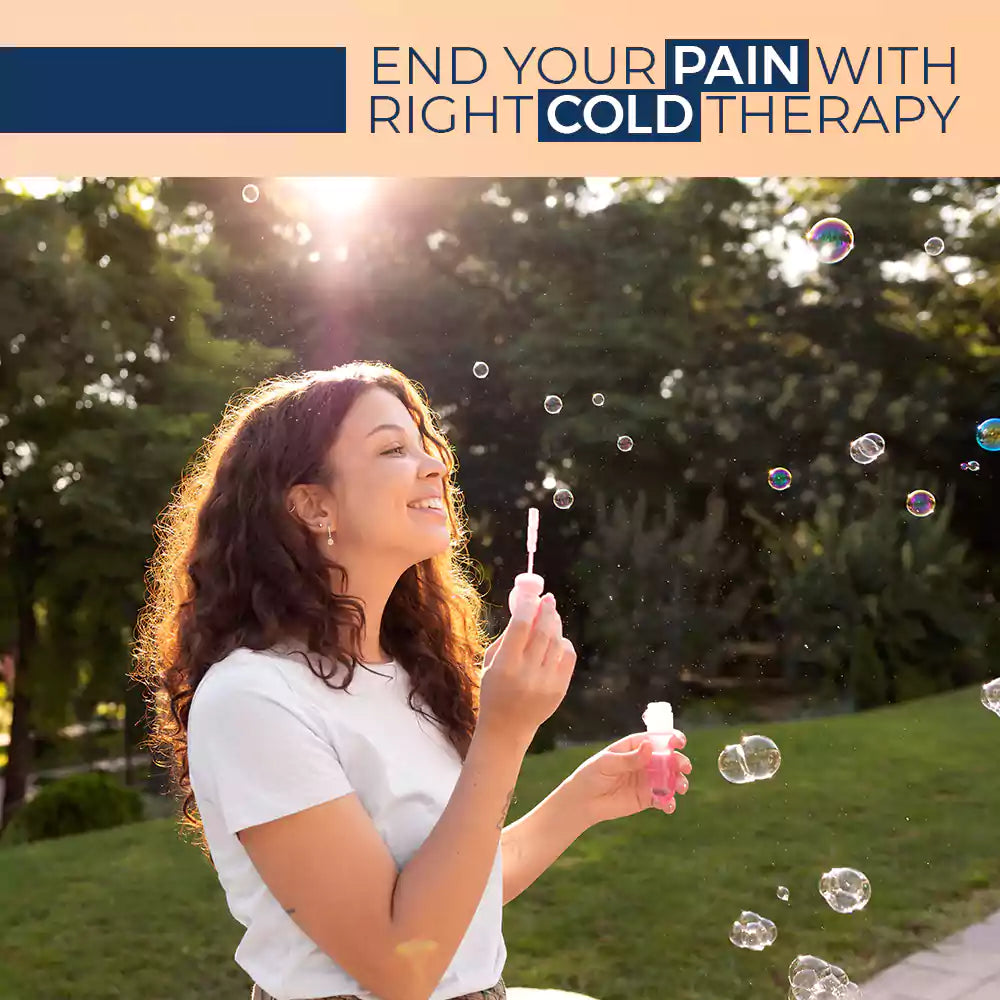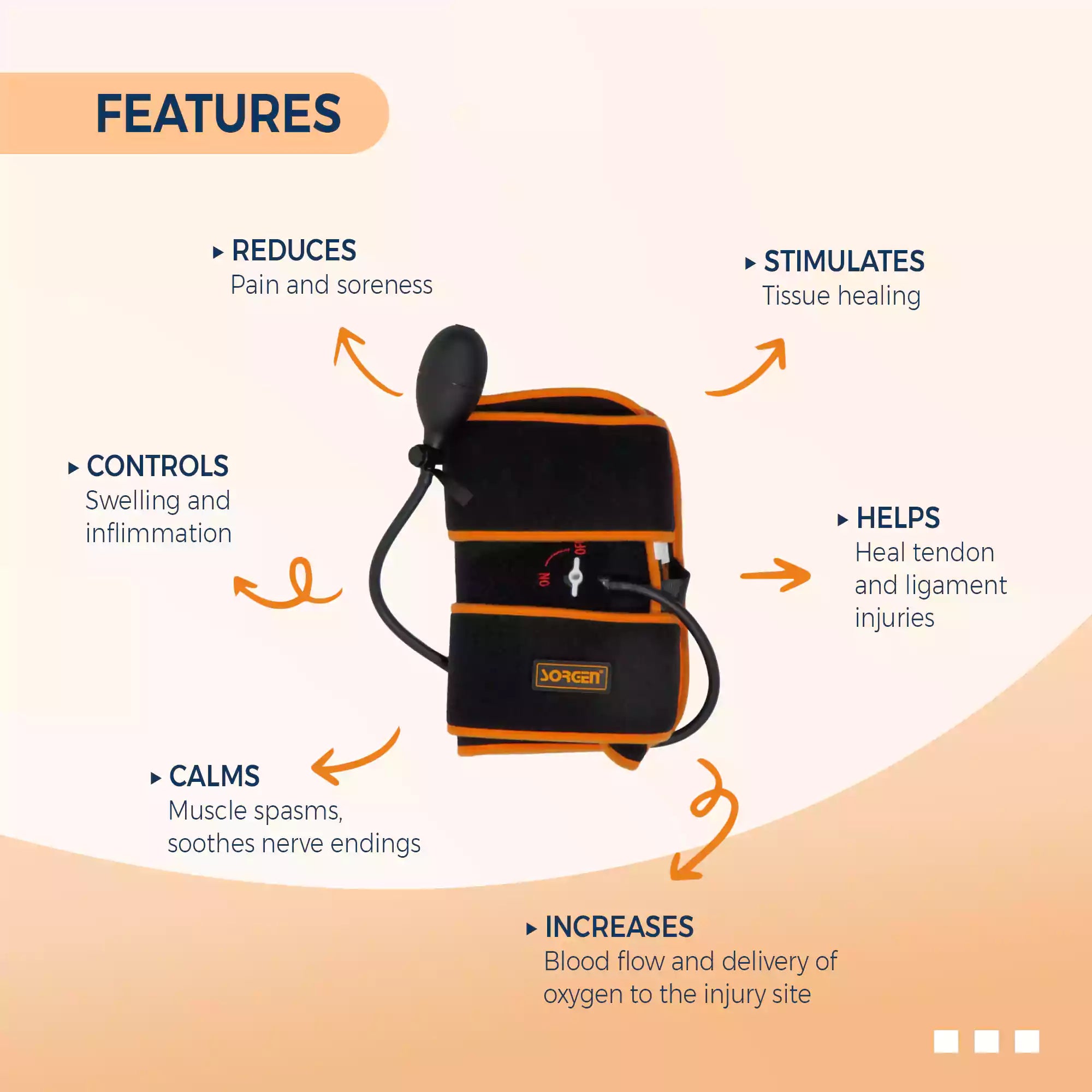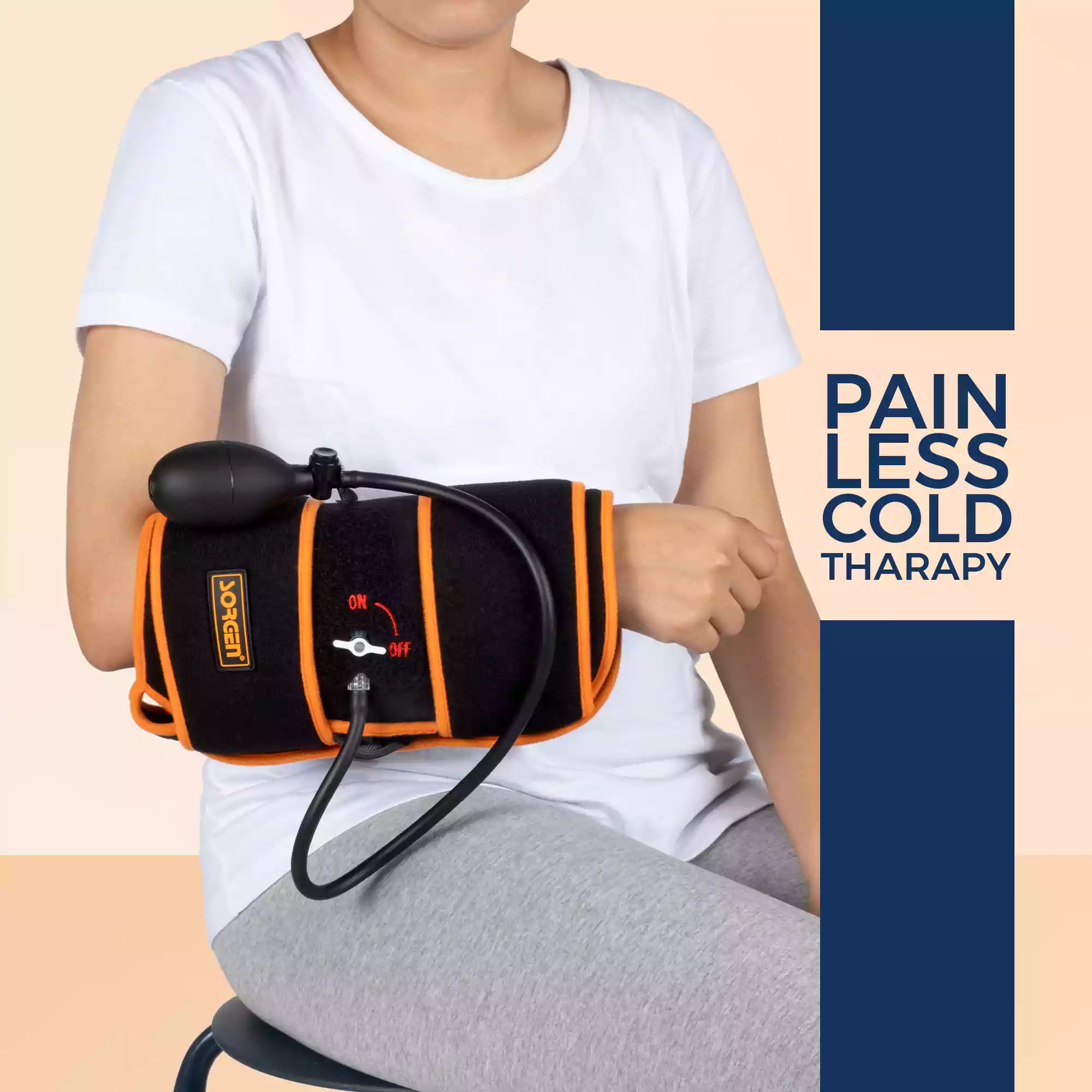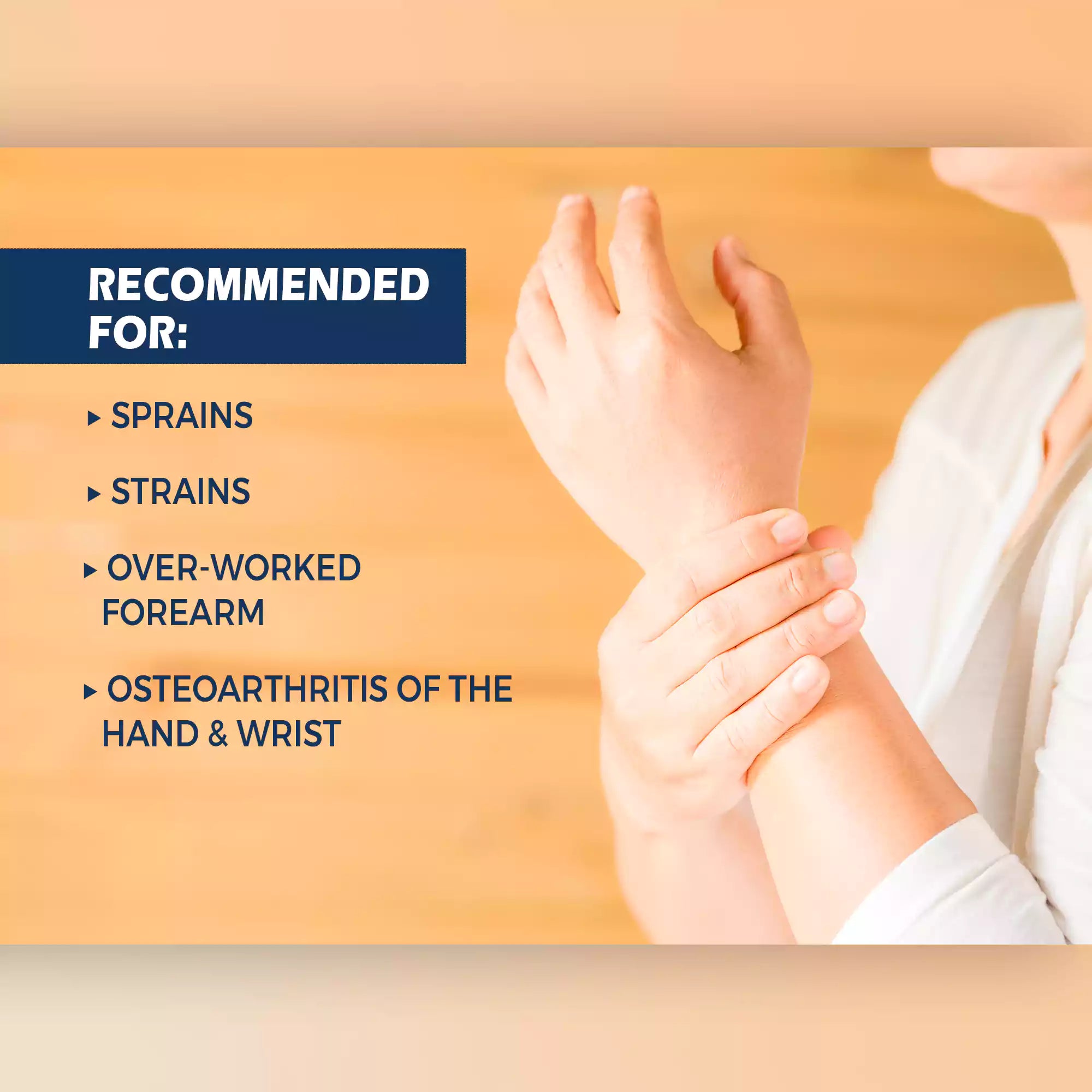 Sorgen® Cold Compression Hand Wrap
Rs. 3,150.00
Rs. 3,500.00
Sale
Relief from hand pain and swelling with the Sorgen Cold Compression Hand Wrap. Custom fit and targeted cold therapy for maximum effectiveness. Order now and regain dexterity
Colour:

Black with Blue Piping
Type:

Compression Therapy with Cold Therapy
Compression Level:

Cold Compression
Style:

Inner Cool Gel Pack + Outer Compression Wrap with Velcro + Detachable Pump Bulb
Fabric:

Outer wrap: Nylon and velvet; Inner gel pack: PVC and Nylon
Box Contains:

Compression Hand Wrap with Adjustable Velcro Straps + Compression Pump Bulb + 1 Gel Pack
Sizes Available:

Universal Size
Uses:

Hand Pain, Hand Soreness, Hand Swelling, Minor Tear and Fractures
Features: Cool Gel Packs for Faster Relief, Superior Quality Material, Velcro Straps that are Adjustable, Pump Bulb for Compression and Leak Proof and Reusable.
Benefits:

Relaxes the Muscles, Reduces Swelling, Enhanced Blood Circulation, and Targeted Compression.
Helps in:
Accelerated Recovery
Anatomic Coverage
Relieves Pain
Deeper Penetration
Lessens Inflammation
Targeted Compression
Recommended For:
Hand Pain
Hand Swelling
Hand Soreness
Femur Fractures
💡Enjoy free shipping on all orders within the India.
📤 Orders are dispatched with Same Day (before 4.PM)
🚚 Same Day Delivery available in Mumbai MMR Region (at additional cost of Rs. 199/-). More details at checkout!
For expedite shipping and more queries, please contact us on 09321102110 or send us a mail at support@sorgen.co
It's okay to change your mind😊 This product qualifies for an exchange or return within 3 days of delivery. We offer a free pickup from your pin code.
Share this product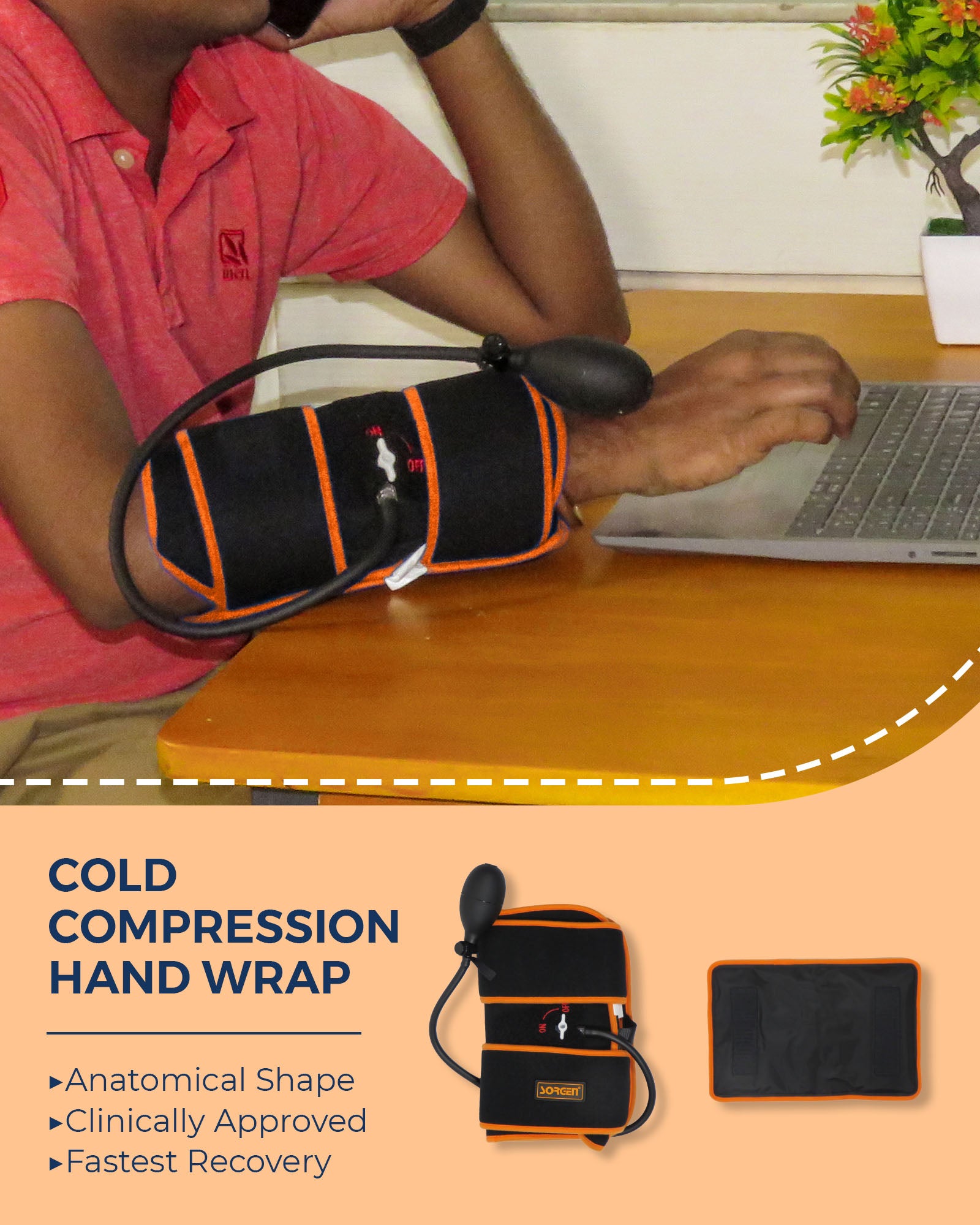 Relief With Cold Compression Hand Wrap
Sudden injuries impacting arm muscles are a common phenomenon in everyday life, so keeping Sorgen's cold compression wrap handy is a great way to be prepared for anything like it. Sorgen has designed this product keeping in mind the human anatomy. Additionally, the gel packs used in the hand wrap are leakproof and can last multiple uses.
What makes Sorgen compression wraps stand out is the pump bulbs that come with a valve. The valve can be used to regulate the compression pressure at convenience. Using Sorgen's cold compression hand wrap helps reduce muscle inflammation in the arm region as it arrests the sudden blood flow in the region due to pain.
#Knowyourproduct
Recovery With Cold Compression
Minor wear and tear, sprain, and other injuries can cause muscle inflammation. Using cold therapy with compression is an expert way to slow down the blood rush in the painful region. When the two techniques are applied together through cold compression wraps, you will experience a difference in pain levels after a few days. Studies also support the practice of cold compression. One study at the Kreiskrankenhaus Bopfingen, Germany, proves that the cold compression method works better than just ice compression.
Sorgen cold compression hand wrap is useful post surgeries, minor wear and tear of tissues and ligaments, pain, and after sport-related injuries.
Cutting Edge Attributes
Quick Recovery With Dual Action
Be it weight-lifters, athletes, or heavy drivers, anyone can get an overworked arm on any day. The Sorgen cold compression hand wrap offers faster relief with its dual combination therapy.
Regulated Compression
The Sorgen cold compression hand wrap comes with an attached pump. It can be regulated to set to a comfortable pressure level for efficient results.
Superior Quality
The product is designed keeping comfort, efficiency, and durability in mind. The superior features and quality of Sorgen cold compression hand wraps keep it one step ahead.
Relieves Overworked Forearm
An overworked forearm can happen to anyone. The easiest way to deal with it is by applying the dual action of cold compression. This product provides relief to overworked forearms that might have undergone various degrees of fatigue and strain.
Provides Post Operative Care
An upper arm surgery or a shoulder operation might have some side effects on the hands if ignored. Sorgen cold compression wrap supports by providing relief to this joint with its cooling and compression feature.
For Sports Enthusiasts
The cold compression hand wraps work well for gym goers and sportspersons who might need it for soreness, swelling, or injuries.
Frequently Asked Questions
No. It has a universal size thereby anyone in the family can you use it.
Yes. The Sorgen cold compression hand wrap can be worn on any of the arms.
It is advised to be worn for 20-25 mins every day.
Will recommend
The hand wrap is a perfect combination of ice and compression to relieve pain.
Lifesaver product
My daughter had very weak forearms and used to twist her wrist because of this very often, I brought her this product after a doctor's recommendation and this has proven to be a lifesaver since then. Very useful and reduces strain.
Pain relief
Being a cricket player I often hurt my body but the pain in my lower arm was not ready to go, then I tried this product and have been using since then. Helped me a lot in speedy recoveries.
Swelling control
I brought this product for my mother, she usually had swelling in her hand. This product has helped a lot to control the inflamation and reduced pain drastically.
Easy to carry
Even after a tough injury on my hand, now I do not need to sit and one place to give cold compression. With this product I can work and give my hand a cold compression at the same time.