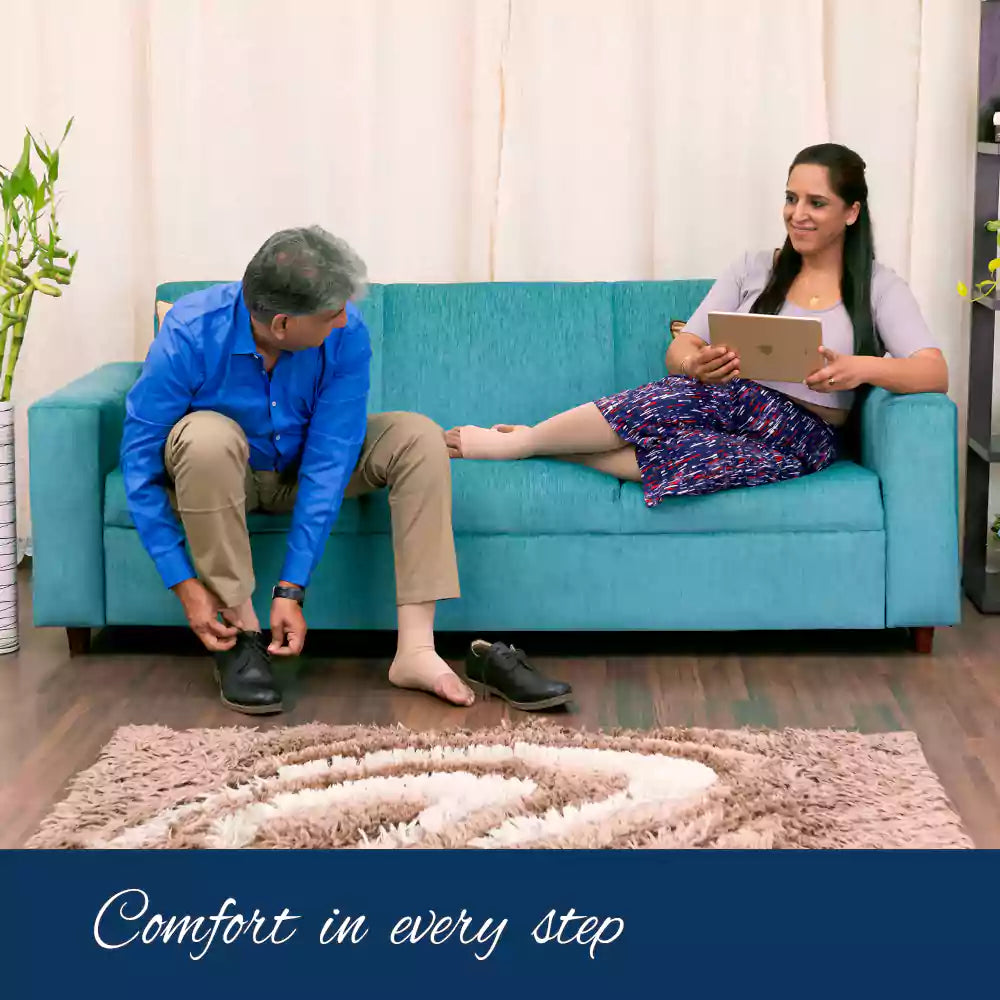 Sorgen® Royale Class 2 Compression Stocking for Vericose Veins - Knee/Thigh Length
Rs. 2,100.00
Rs. 3,000.00
Sale
Made from super soft microfiber fabric, provide medical-grade support and superior comfort even in humid climates. The moisture-wicking technology keeps you dry and comfortable all day long. Sorgen Royale is the perfect solution for comfortable and effective relief.
International Standards: Precisely tested for accurate pressure using MST technology, our compression stockings meet international standards which gives utmost comfort to our customer.
Microfiber Advantage: The addition of Microfibre in the compression stockings with a silky texture provides a soft feeling on your legs, This gives customers long-lasting comfort and stability. The breathability and advanced moisture-wicking ability add to the advantage of keeping the legs cool.
Improved Features: The strengthened heel and toes result in the desired durability and the silicon grip top is made especially for a better grip at thigh level.
Graduated Compression Therapy: By using our medical compression stockings, customers can attain optimum blood circulation which reduces pain and prevent other venous issues due to the execution of graduated compression therapy.
High-Level Durability: Our customers can wear this at all parts of the day during their indoor and outdoor movements irrespective of their day-to-day activity. It stays intact in your legs without the feeling of tightness in legs.
Recommended For:
Spider Veins
After DVT
Moderate Oedema
Post Varicose Vein Surgery
Helps in:
Improves Quality Of Life
Prevent DVT
Reduces Oedema
Reduces Swelling
Relives Tired And Aching Legs
Improves Blood Circulation
💡Enjoy free shipping on all orders within the India.
📤 Orders are dispatched with Same Day (before 4.PM)
🚚 Same Day Delivery available in Mumbai MMR Region (at additional cost of Rs. 199/-). More details at checkout!
For expedite shipping and more queries, please contact us on 09321102110 or send us a mail at support@sorgen.co
It's okay to change your mind😊 This product qualifies for an exchange or return within 3 days of delivery. We offer a free pickup from your pin code.
Share this product
Experience Worry-Free Mobility with Sorgen Royale
Varicose veins are conditions of venous insufficiency which is swollen under the surface of the skin with veins looking unusual. The bulges caused by it look blue or purple by appearance and the spider veins around it appear as red or purple.The compression stockings for varicose veins help the veins to free flow and assist in the return of the blood resulting in the reduction of pain on a faster basis. Our Sorgen Royale Class II compression stockings will help you be worry-free from the thoughts of varicose veins, you can comfortably focus on your work as the standards of our varicose socks will allow you to walk and move hassle-free.
#Knowyourproduct
Why Should You Use Sorgen Stockings For Varicose Veins?
Sorgen Royale Class II compression stockings can be worn by men and women irrespective of the profession. People who stand for long hours are recommended to wear our compression socks which protect you from getting affected by varicose veins.
We manufacture all our products using the latest technology and international RAL standards. The Class II stockings which are available below the knee and above the knee allow you to have a free flow and risk-free movement of your legs during your work hours and also in your leisure time. The compression stockings remain intact once worked and help you function without sacrificing your leg movements.
The Class II compression stockings come with a microfibre advantage which is a feel-good factor against your legs resulting in high-class comfort and durability. The stockings help you get through the toughest of your days easier.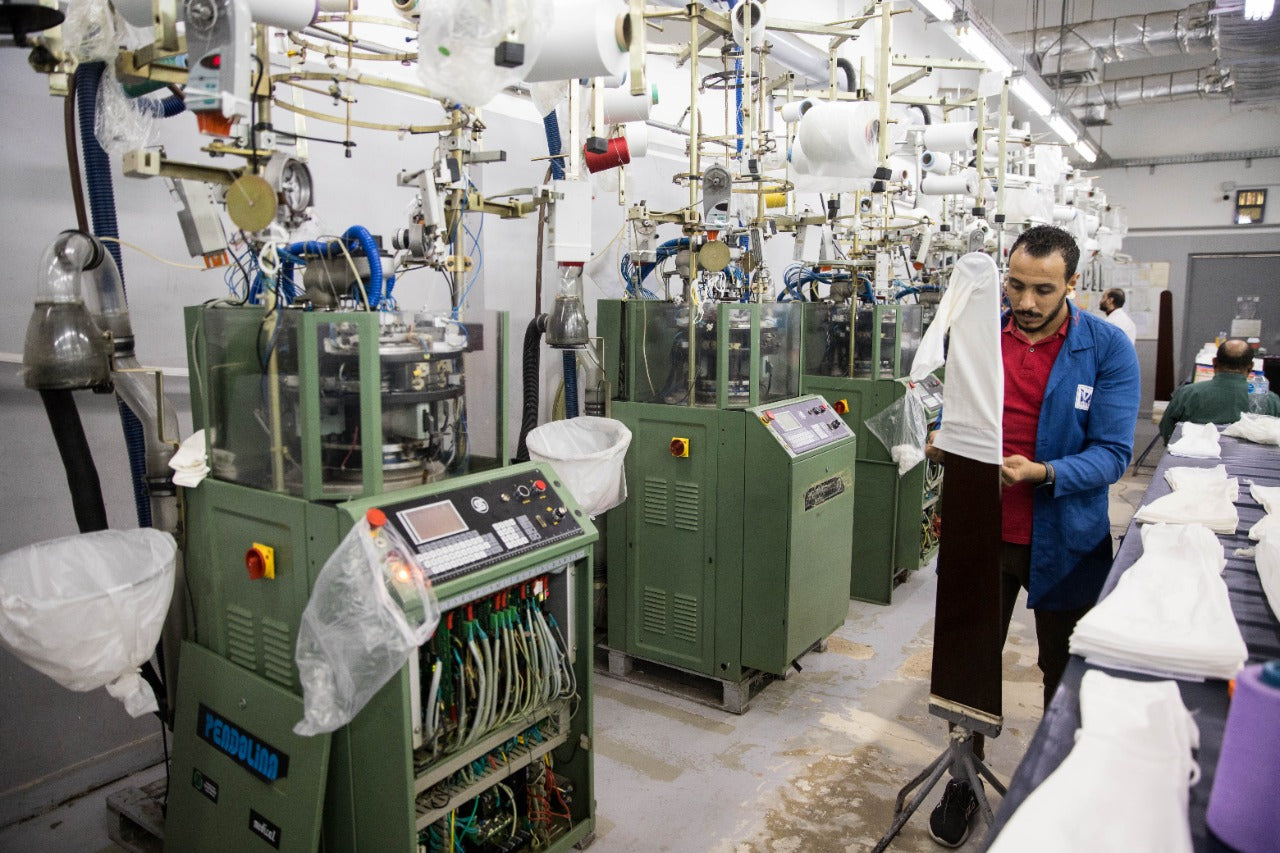 Added Benefits With Sorgen
Premium Quality
At Sorgen, Our compression stockings are manufactured according to the RAL standards using the latest technology. Our customers can enjoy a premium level of comfort and skin love and it is oeko tek 100 tested products. The usage of Microfiber helps in the breathability of the skin keeping the sweat and moisture away.
Free Glider For Easy Wear
Sorgen compression stocking comes with a free glider and wearing aid which makes the wearing process easier for the customers keeping away the usual challenges of wearing compression stockings
Uncompromising Durability
The strengthened heel helps in giving an additional layer to the high durability of leg stockings for varicose veins. Designed with a proper fit ensures the stockings stay in your legs intact which allows you to perform day-to-day activities without any hassle. Wearing our compression stocks helps in reducing pain and retaining the circulation of blood.
Sorgen Compression Socks For Men And Women
Unisex Comfort and Style
Tired and aching legs are the common causes of leg issues in today's generation, wearing our stockings can prevent those issues. Sorgen compression stockings are unisex and can be worn by any gender.
Reducing Swelling, Enhancing Relief
Sitting for long hours can cause swelling and pooling of red which results in varicose veins and other painful leg internal injuries and swelling. Wearing our compression stockings can help you in reducing pain and swelling which brings back optimum blood circulation.
Helps in Varicose Veins
Long hours of standing and sitting in a place can result in a reduction of blood circulation in the lower part of the legs. This can also cause pain and swelling and the formation of varicose veins. Our sorgen varicose stockings help veins in the legs to push the blood back to the heart. It gives relief to tired and aching legs.
Frequently Asked Questions
Compression stockings are classified depending on the level of compression they provide.
All the Sorgen Class II compression stockings provide MST-tested RAL compression profile 23-32 mm Hg compression.
The difference is in the materials and thereby the comfort on the skin.

Sorgen Royale

Stockings are made using premium microfiber fabric making them extremely soft and easy to wear.
Sorgen Premiere are made using premium Egyptian cotton making which is a fine blend of comfort and quality.
Sorgen Classique are made from Synthetic fibers making it more economical with durability
Depending on the problem or the indications you pose. It is commonly recommended to reduce the discomfort caused by moderate to severe varicose veins, moderate oedema, and DVT. It helps relieve circulation in the legs - ideal when sitting or standing for long periods.
Future permanently I prefer this product.
3 months back I have purchased 3 sets of stocking. I am very much satisfied the quality,comfotablity & compression. After wash the quality & comfotablity not changed. This is 1st time I am using in future permanently I prefer this product.
A Nice product
A Quality product from Sorgen for varicose veins. Physically to see the results it took 3 months of time. Definitely will recommend. After results 2nd set of socks has been ordered now. Thanks to Sorgen
Sorgen compression stocking knee length
Excellent..the material used is very compatible..gives the required protection and comfort..thank you
Sorgen® Premiere Class 2 Compression Stockings - Knee/Thigh high Length
Sorgen® Royale Class 2 Compression Stocking for Vericose Veins - Knee/Thigh Length