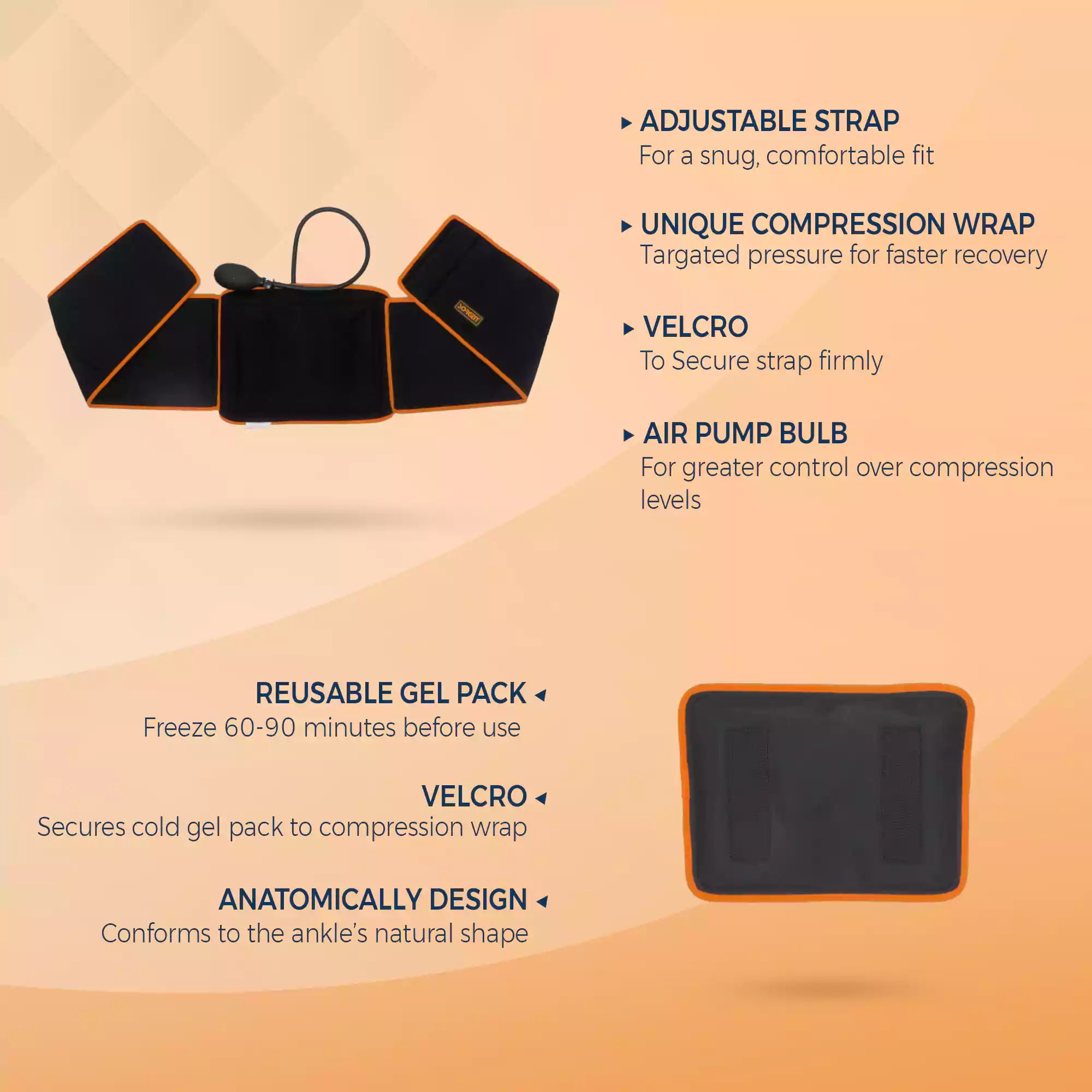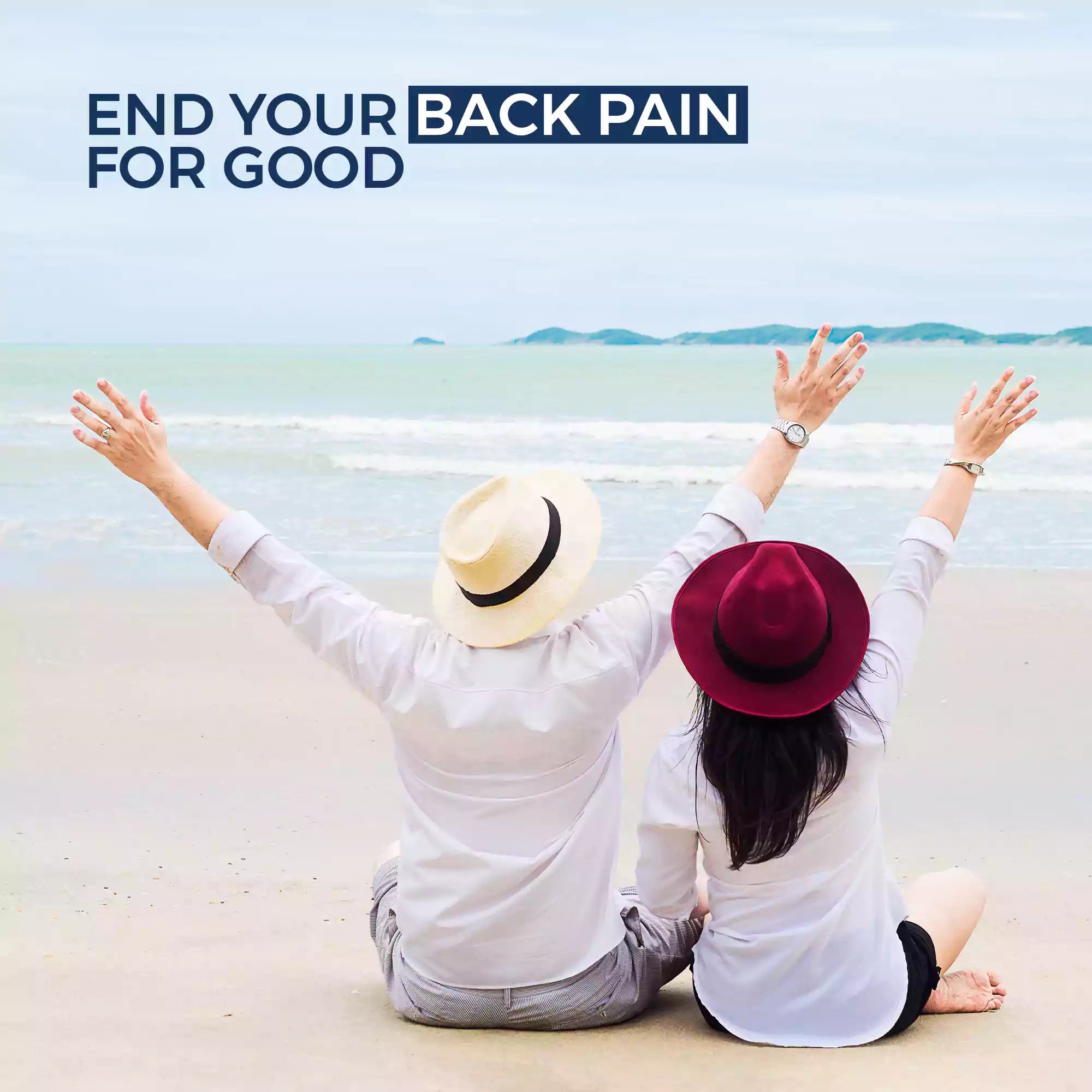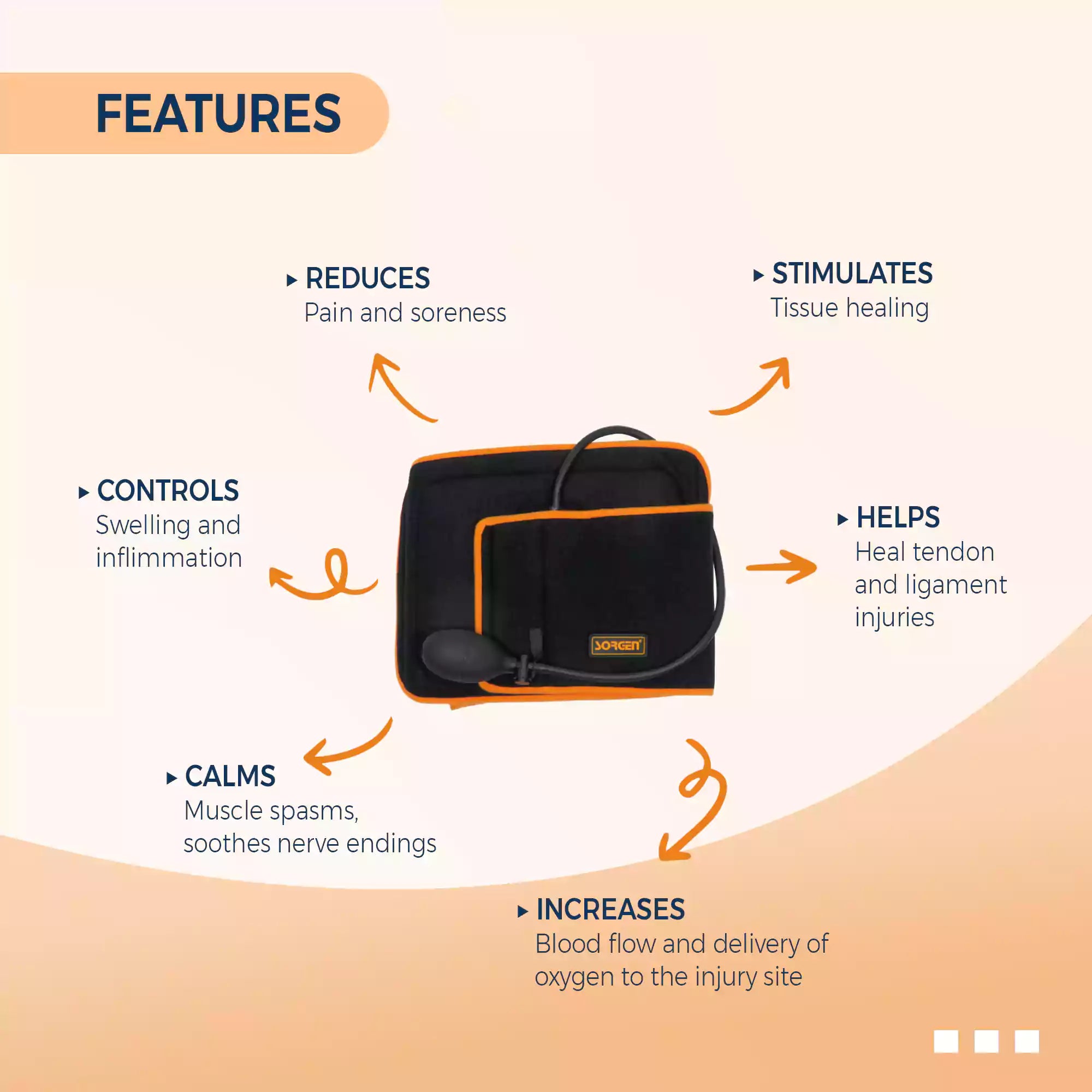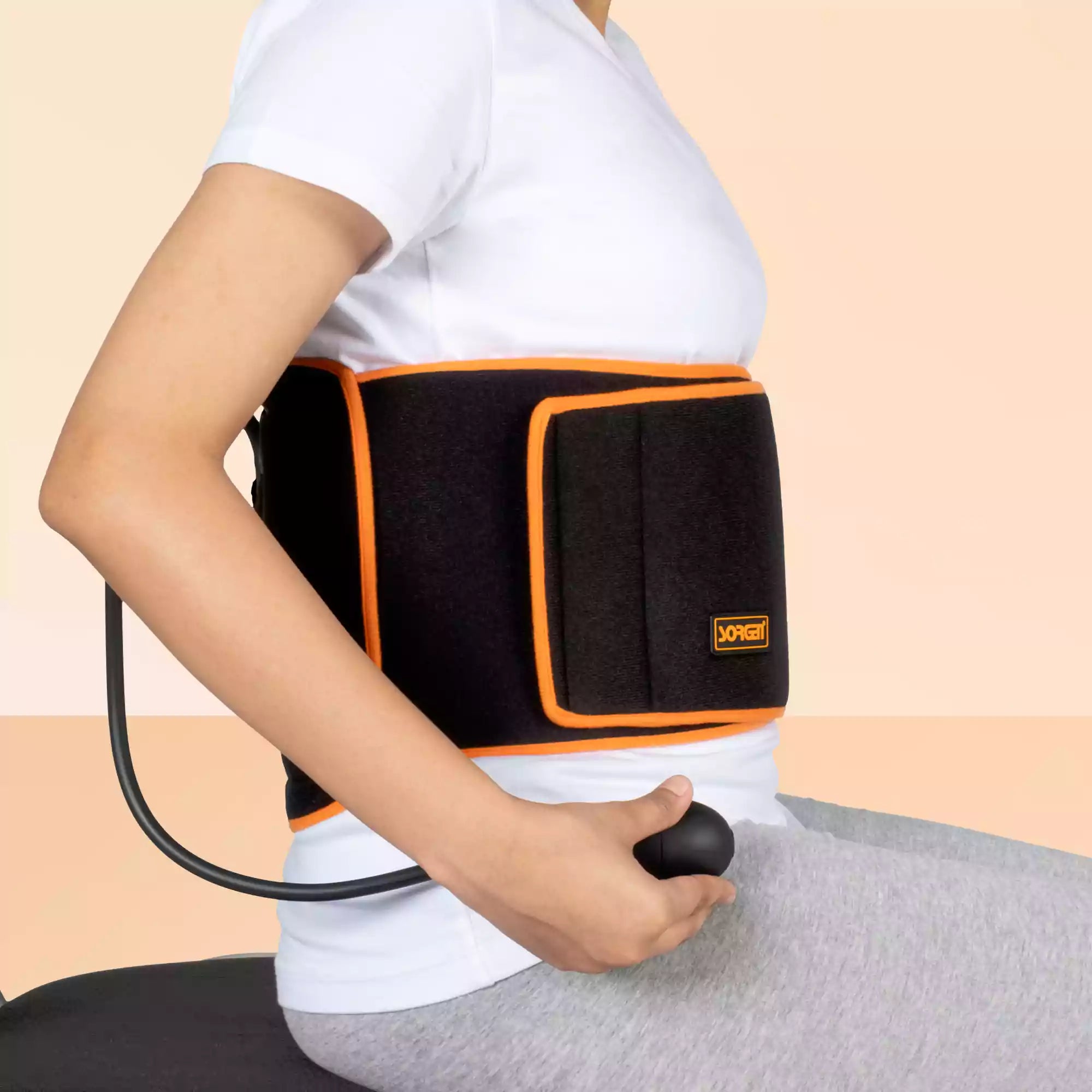 Sorgen® Cold Compression Back Wrap
Rs. 3,150.00
Rs. 3,500.00
Sale
Ease back pain and inflammation with the Sorgen Cold Compression Back Wrap. Custom fit and targeted cold therapy for maximum relief. Order now and get back to your daily activities.
Colour:

Black with blue piping
Type:

Compression Therapy with Cold Therapy
Style:

Outer compression wrap with velco + inner cool gel pack
Fabric:

Outer wrap: Nylon and velvet; Inner gel pack:PVC and Nylon
Box Contains:

Compression back wrap brace with Velcro straps + 1 Gel Pack + Compression Pump Bulb
Uses:

Disc Derangement, Lower Rib Periostitis, Back Injuries, Back Pain, QL Strain, SIJ Dysfunction, Latissimus Dorsi Strain, Erector Spinae Strain, Facet Joint Injury, Stress Reaction/Stress Fracture, and Other Sports Injury.
Features:

Unique Compression, Adjustable Velcro Straps, Compression Pump Bulb, Anatomically Designed, and Reusable Non-toxic Gel Packs.
Benefits:

Relieves Inflammation, Reduces Swelling with deeper penetration, and Targeted Compression for accelerated recovery.
Helps in:
Accelerated Recovery
Anatomic Coverage
Relieves Pain
Deeper Penetration
Lessens Inflammation
Targeted Compression
Recommended For:
Disc Derangement
Back Pain
Back Injuries
Lower Rib Periostitis
💡Enjoy free shipping on all orders within the India.
📤 Orders are dispatched with Same Day (before 4.PM)
🚚 Same Day Delivery available in Mumbai MMR Region (at additional cost of Rs. 199/-). More details at checkout!
For expedite shipping and more queries, please contact us on 09321102110 or send us a mail at support@sorgen.co
It's okay to change your mind😊 This product qualifies for an exchange or return within 3 days of delivery. We offer a free pickup from your pin code.
Share this product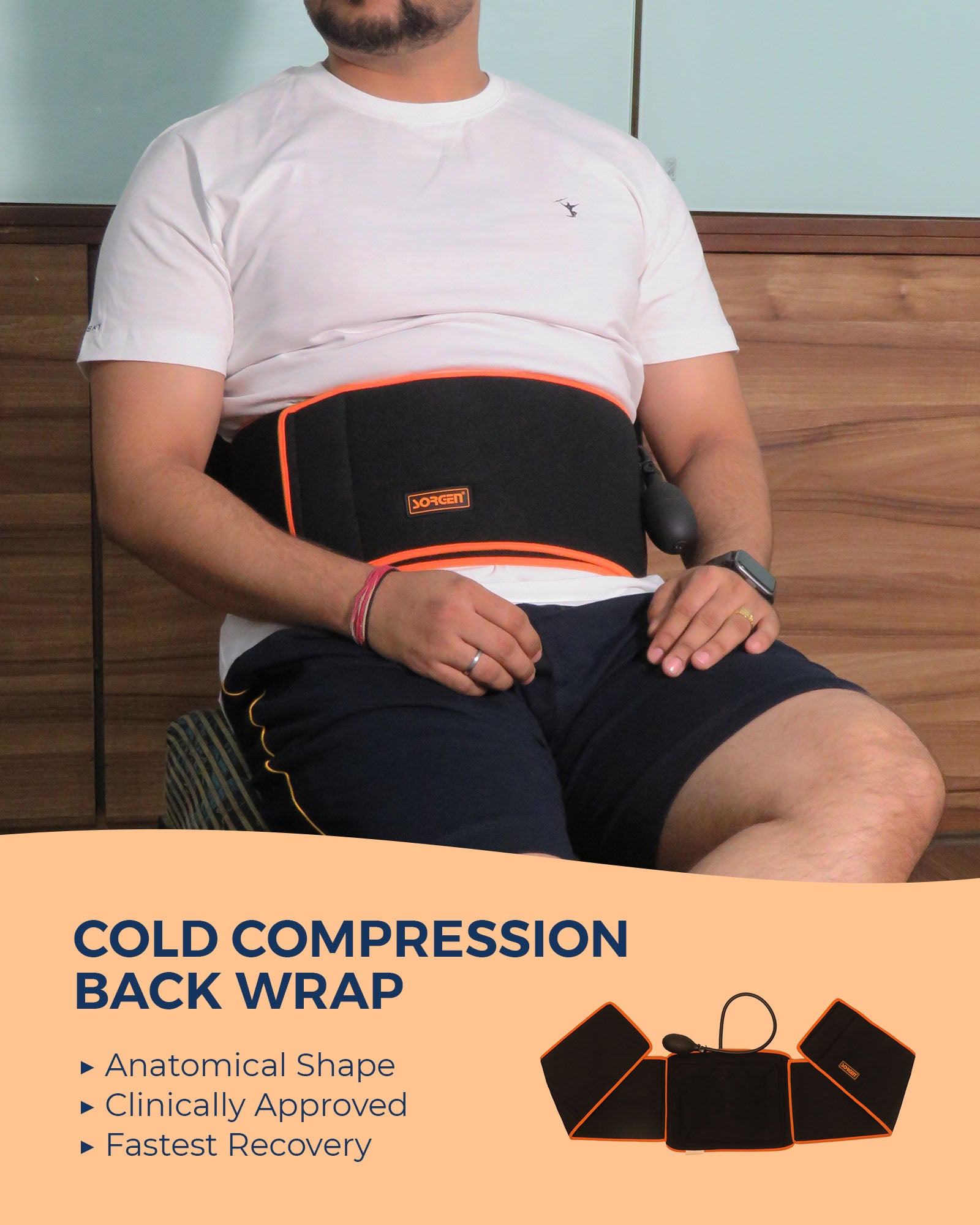 Relief With Sorgen Cold Compression Back Wrap
Alleviate back pain with Sorgen's cold compression back wrap. The wrap especially helps in pain related to back injuries, disc derangement, lower rib periostitis, and other similar conditions.
The advanced-designed cold compression back wrap is much easier to use than regular ice packs. Further, the mix of ice therapy and regulated compression fosters rapid healing. What makes the product unique is the adjustable valve in the pump bulb, which you can regulate for the right amount of pressure.
#Knowyourproduct
Why Cold Compression?
The lower back compression wrap supports the lumbar region, provides cryotherapy or cold therapy (a clinically approved principle for pain management), and regulates compression.
Applying ice to the affected area reduces inflammation. It slows down the blood rush directed toward the aggravated area. Combining ice and compression shows quicker relief in pain levels because the temperature-resistant fabric helps the coolness in the gel packs last for a longer time. Science shows that combined therapy is much more beneficial for tissue or muscle inflammation than just ice compressing.
Cold compression helps in conditions like: Lower Rib Periostitis is a medical condition in which a band of tissue surrounding the bones in the lower rib area inflames. Disc Derangement is when the intervertebral discs in the spine bulge or are displaced from their original position.
Amazing Attributes!!
Pump Bulb For Air Compressiony
The most unique feature of the Sorgen lower back compression wrap is the added air compression pump bulb. The bulb has a valve attached to it which helps regulate the air pressure.
Anatomic Design
The Sorgen's lower back compression wrap is scientifically designed to foster swifter healing. The right fit with adjustable velcro straps gives sturdy support. Further, the comfortable fabric makes it easy to wear.
Works As A Post-Surgery Supports
Lumbar surgeries can be critical, and proper care is essential for quick recovery. Sorgen's cold compression back wrap provides care and support, and accelerates healing post-surgical events.
Bandage For Back Pain
Bad posture or sudden excessive pressure on the back can lead to accidental injuries. It is common among athletes, those with an active lifestyle, and people with Arthritis. The Sorgen cold compression back wrap can help heal from the pain.
Leakproof Ice Gel Packs
Using the traditional ice pack is a messy process. The leakproof ice gel packs make Sorgen's lower back cold compression wrap hassle-free.
Temperature Resistant Fabric
The superior quality fabric used in making the cold compression wrap makes it both long-lasting and durable.
Frequently Asked Questions
Compression wraps can be worn for up to 20-30 mins everyday.
No, lower back compression wrap should not be worn to bed when sleeping.
Yes, cold compression wraps assist in efficient blood flow.
Good quality
Been using it for a month now and there is no leakage or puncture in the gel pack. Impressed with the quality.
Sorgen® Cold Compression Back Wrap
Comfortable
Comfortable and long lasting, serves its purpose. Helps my back pain a lot
Premium Gel back
Firm and steady to give the best result, gel pack is reusable and quality is good.
Much recommended for chronic back pain
Gives a relaxing effect to my lower back pain, couldn't get a better product.