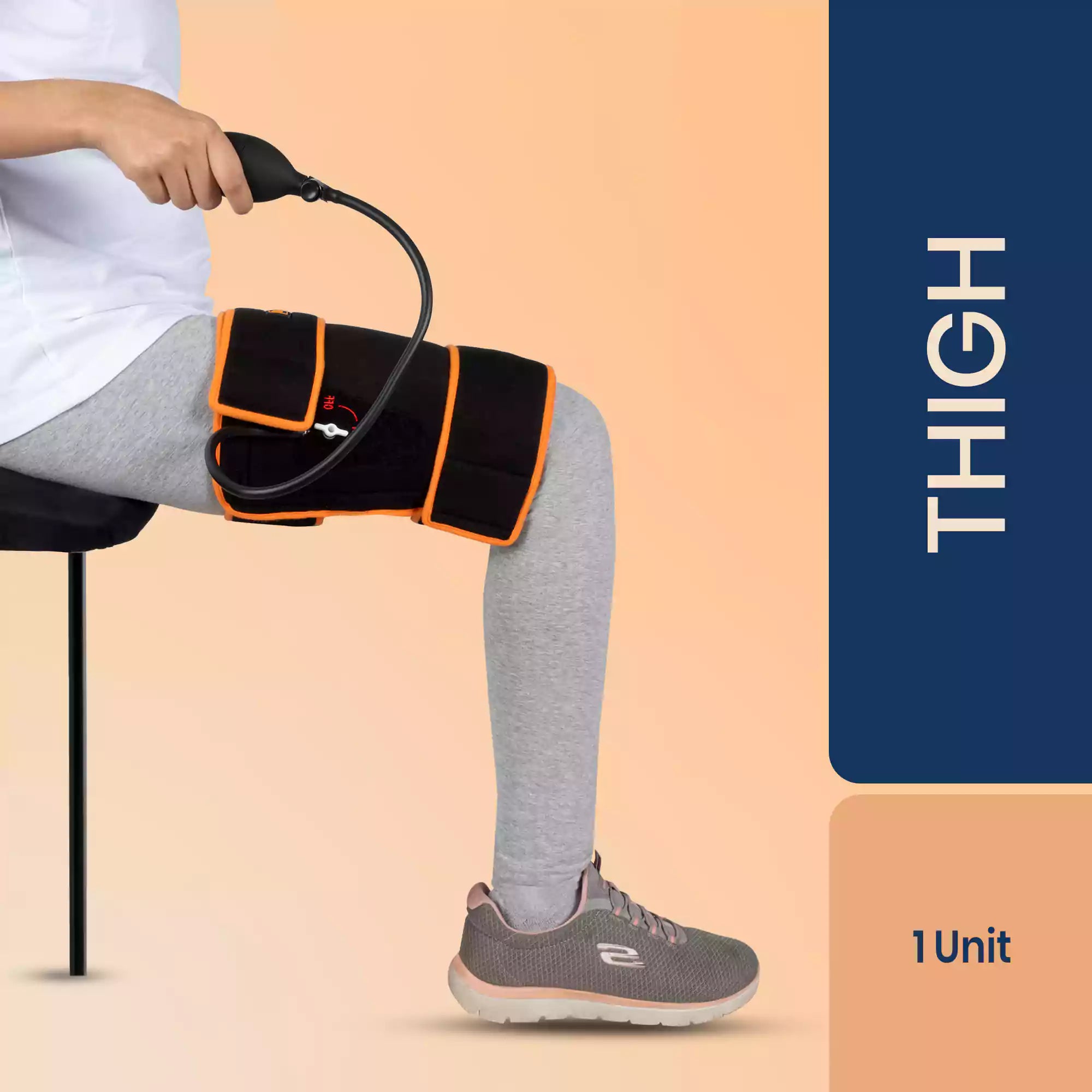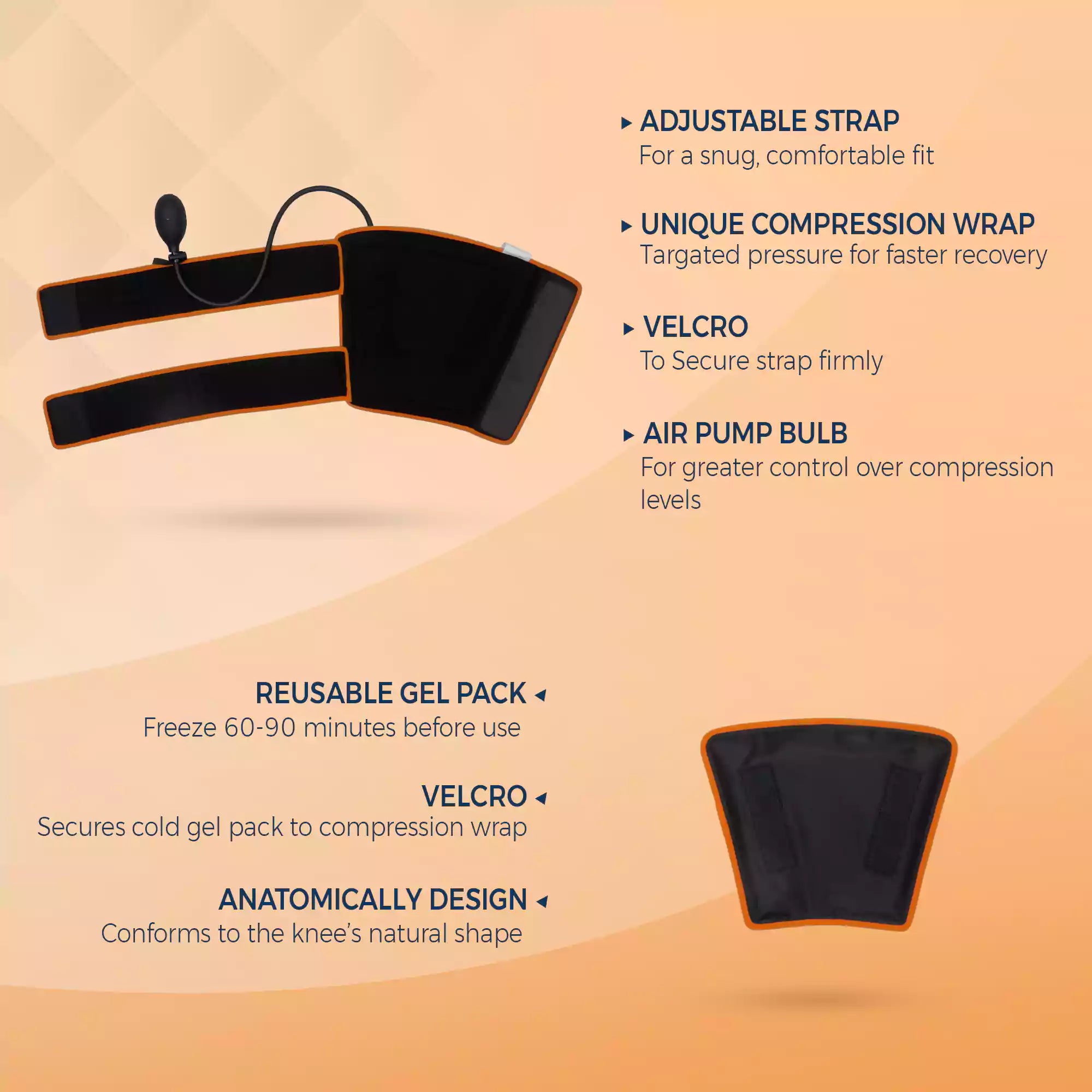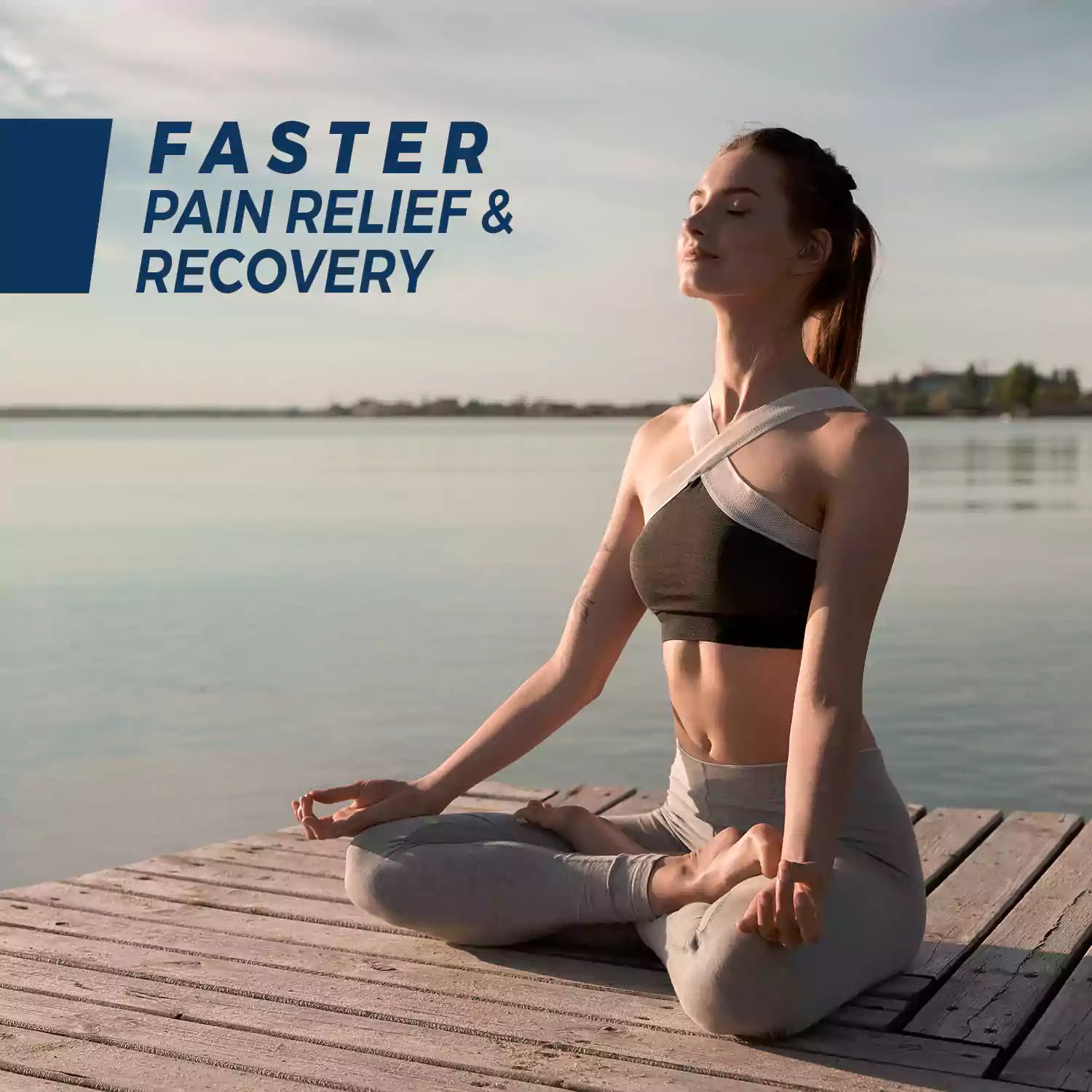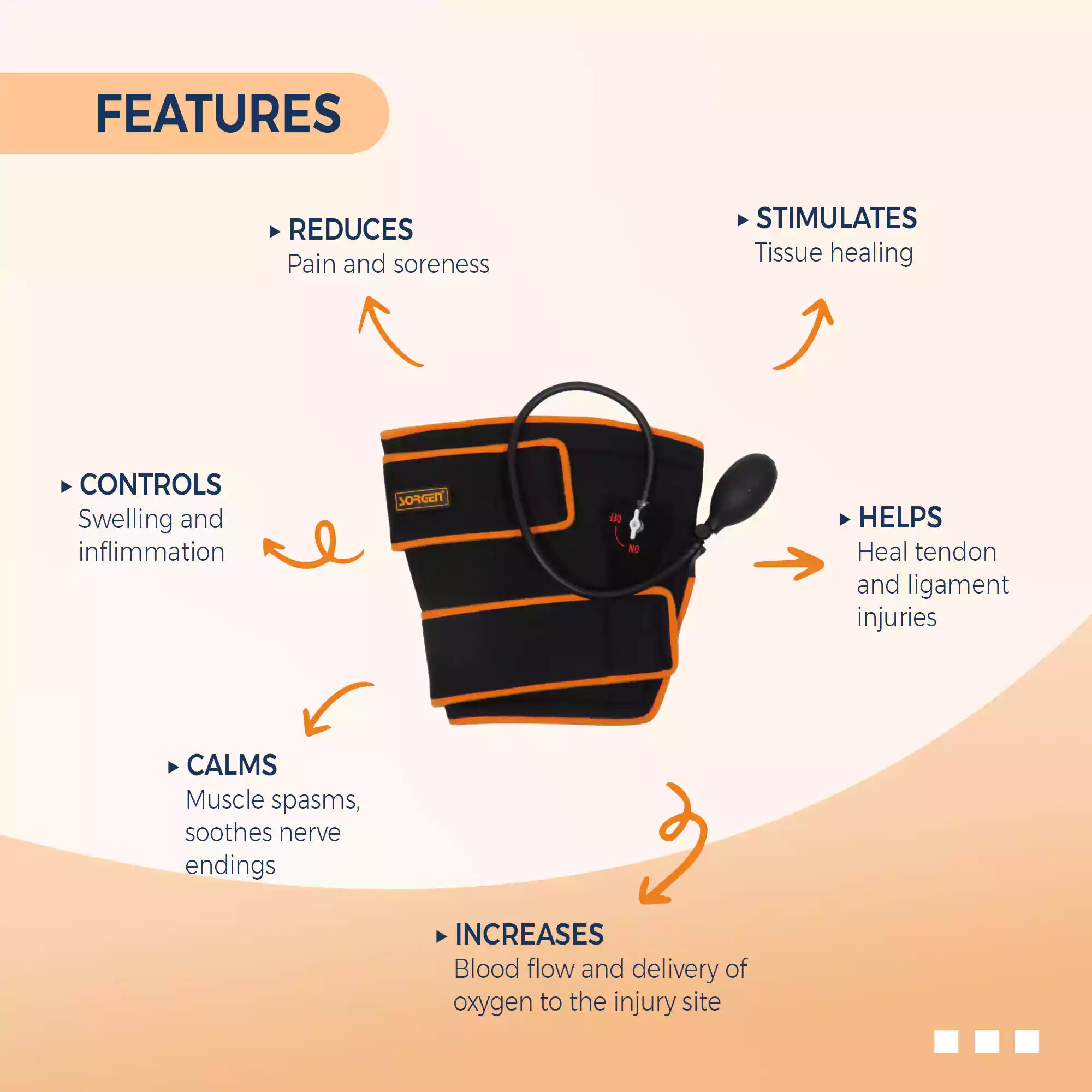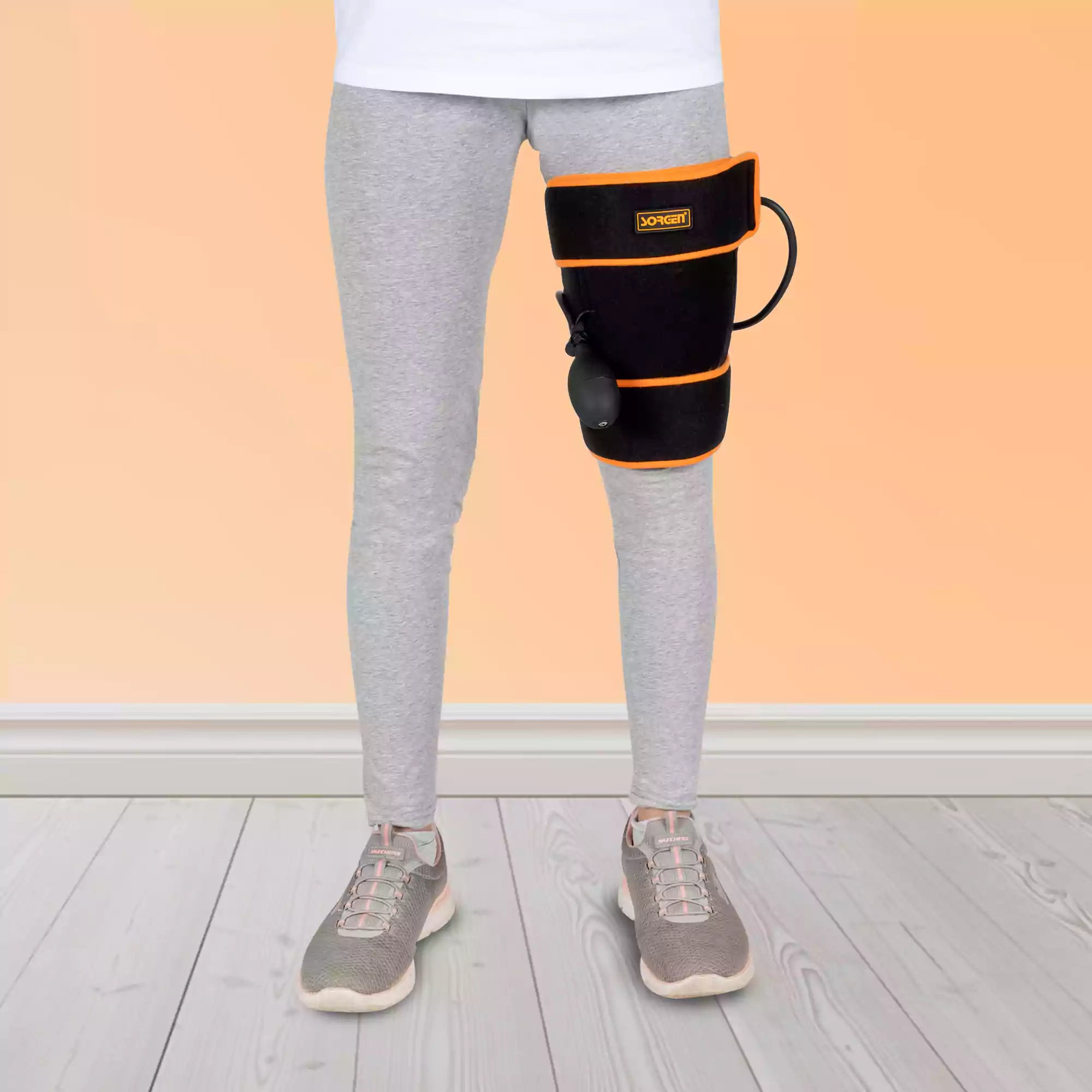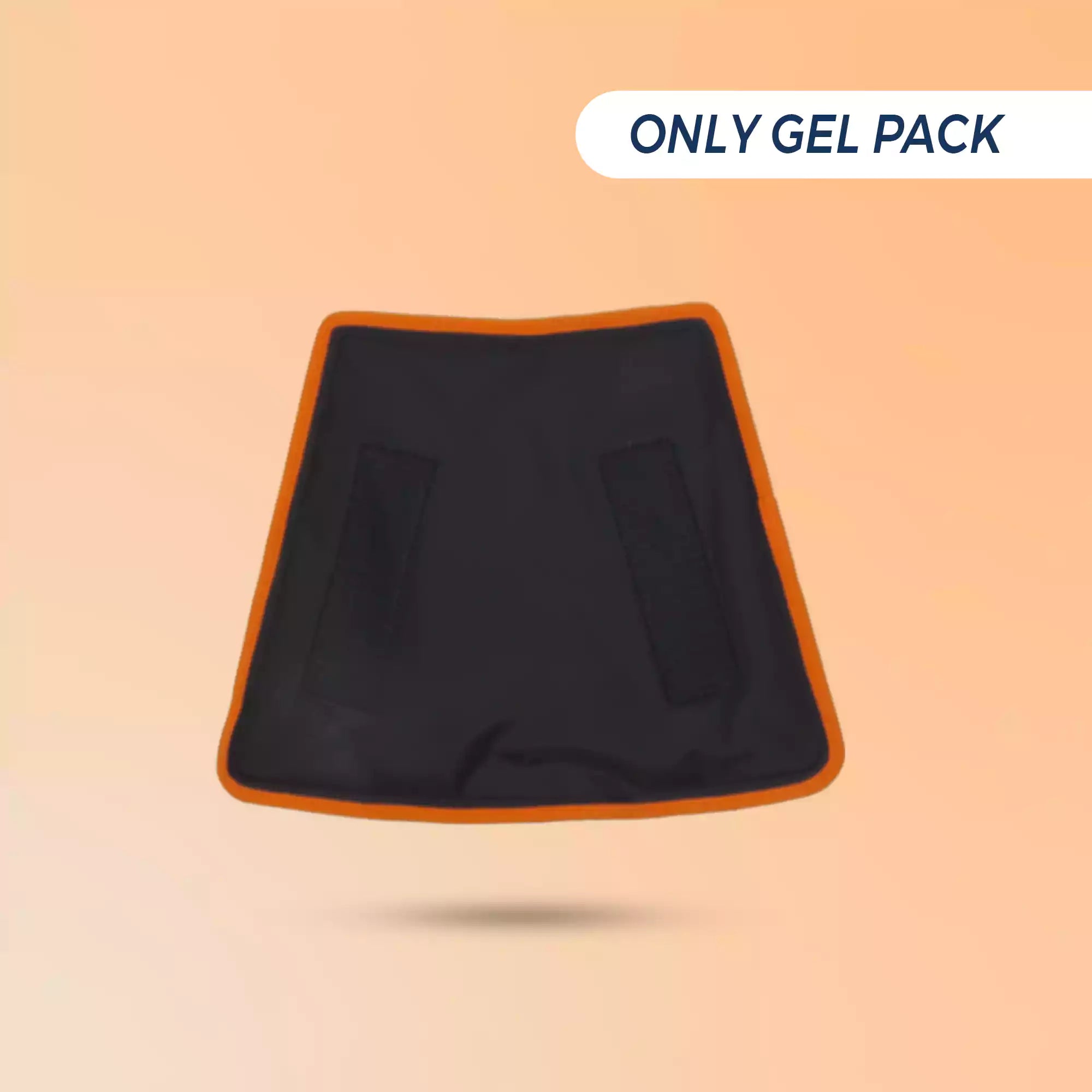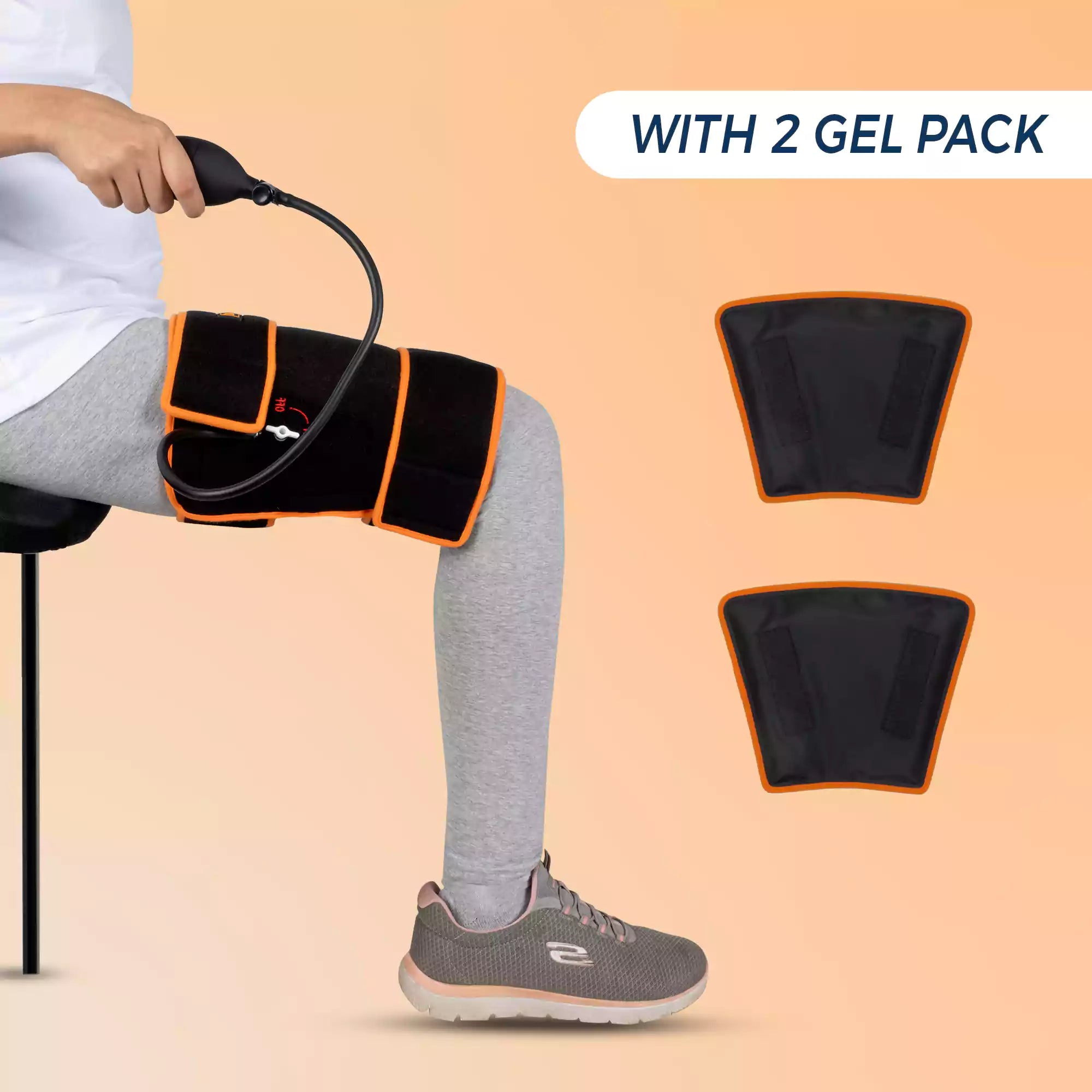 Sorgen® Cold Compression Thigh Wrap
Rs. 3,150.00
Rs. 3,500.00
Sale
Ease thigh pain and swelling with the Sorgen Cold Compression Thigh Wrap. Custom fit and targeted cold therapy for maximum relief.
Colour:

Black with Blue Piping
Type:

Compression Therapy with Cold Therapy
Compression Level:

Cold Compression
Style:

Outer compression wrap with Velcro and pump bulb+ inner gel pack
Fabric:

Outer wrap: Nylon and velvet; Inner gel pack: PVC and Nylon
Box Contains:

Compression Thigh Wrap with Adjustable Velcro Straps + Compression Pump Bulb + 1 Gel Pack
Sizes Available:

Universal Size
Uses:

Thigh Pain, Leg Fatigue, Hamstring Strain, Hamstring Weakness, Post Workout Recovery, Femur Fractures, Quad Strains, and General Pain.
Features:

Cold Compression, Cool Gel Packs that is Temperature-resistant, Durable Superior Material, Velcro Straps, Pump Bulb for Regulated Compression, Utmost Comfort.
Benefits:

Has Therapeutic effect, Improves Blood Circulation, Removes Swelling, and Provides Faster Recovery with Targeted Compression.
Helps in:
Accelerated Recovery
Anatomic Coverage
Relieves Pain
Deeper Penetration
Lessens Inflammation
Targeted Compression
Recommended For:
Thigh Pain
Post Workout Recovery
Hamstring Strain
Femur Fractures
💡Enjoy free shipping on all orders within the India.
📤 Orders are dispatched with Same Day (before 4.PM)
🚚 Same Day Delivery available in Mumbai MMR Region (at additional cost of Rs. 199/-). More details at checkout!
For expedite shipping and more queries, please contact us on 09321102110 or send us a mail at support@sorgen.co
It's okay to change your mind😊 This product qualifies for an exchange or return within 3 days of delivery. We offer a free pickup from your pin code.
Share this product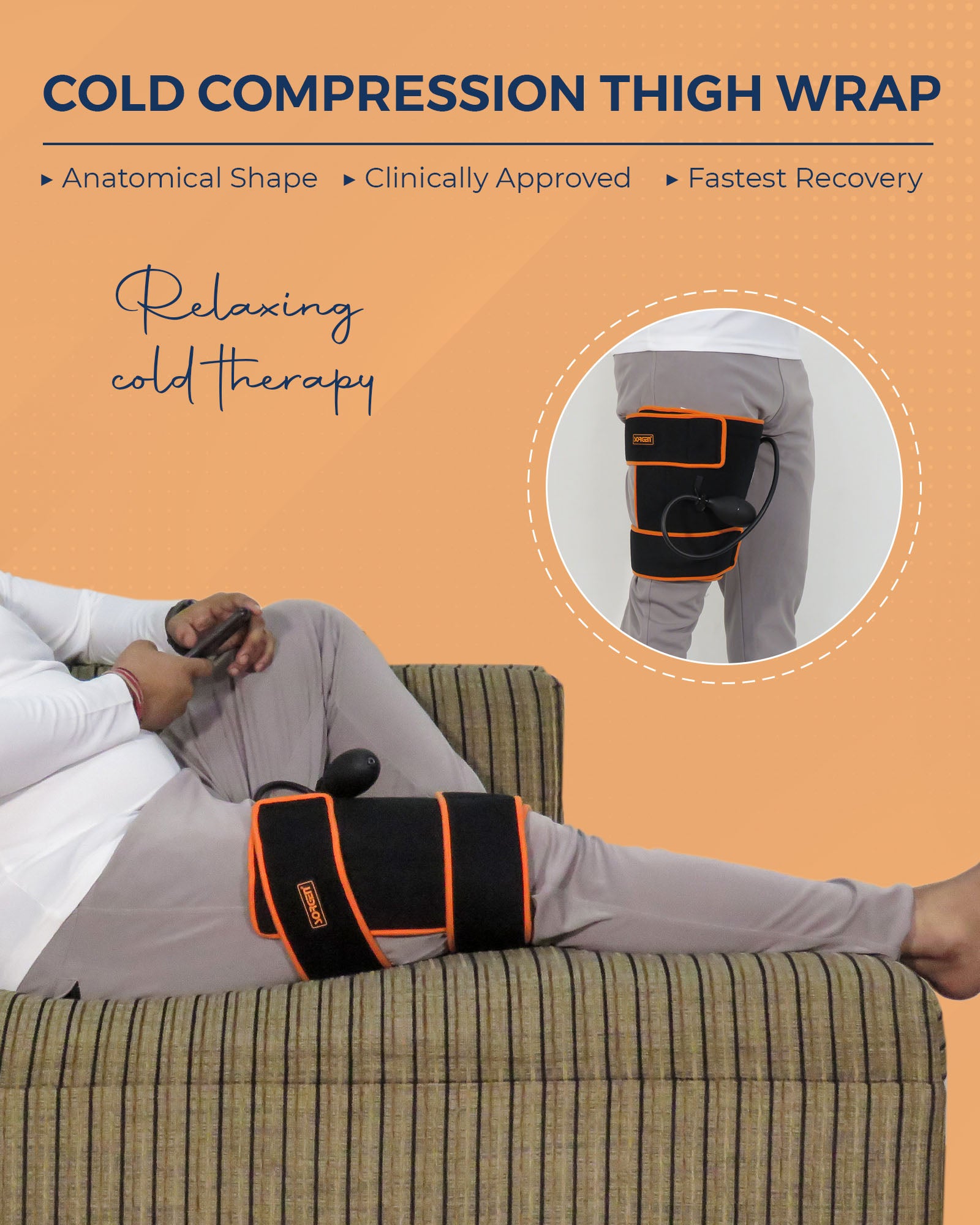 Relief With Cold Compression Thigh Wrap
Whether you are an athlete, a gym fanatic, or someone with an active lifestyle, incurring sudden pain in the thigh area is common. Made with quality material and convenient features, Sorgen's cold compression thigh wrap can be used in several pain-causing conditions like strain, injury, fatigue, and weakness. Compression combined with cold in the thigh wrap supports and stabilizes the thigh muscles and enhances blood circulation. The anatomically designed upper thigh compression wrap with velcro straps makes it convenient to adjust the wrap according to your size.
Sorgen cold compression thigh wrap is useful for Hamstring Strain, Hamstring Tendonitis, Thigh Contusions, Groin Strain, Femur Fractures, Adductor Strain, Greater Trochanter Pain Syndrome, Femoroacetabular Impingement, thigh soreness pain, and after sport-related injuries.
#Knowyourproduct
Why Cold Compress?
Cold compression is a scientifically proven method to fasten the recovery process. While cool gel pack help reduces inflammation in the affected area by reducing the rush of blood in the pain region, regulated compression helps the coolness of the gel pack penetrate deeper into the muscles and last for a long time. Regular cold compression in the pain area can result in a noticeable change in the pain levels. Studies at Kreiskrankenhaus Bopfingen, Germany, show that combining compression and cold therapy is more beneficial than only using an ice pack in the painful region.
The cold compression thigh support wrap by Sorgen uses this exact principle to help treat painful muscles, tendons, and tissues faster.
Top Traits!!
Faster Healing
People with an active lifestyle, like runners, athletes, weight lifters, and other enthusiasts, strain their thighs quite often. The Sorgen cold compression thigh wrap provides relief with its unique combination therapy.
Lasts Mulpile Uses And Reusable
With neoprene as the main fabric, the thigh bandage wrap is comfortable to wear. Further, the leakproof ice gel pack is reusable and provides maximum coldness at the pain site.
Right Amount Of Compression At The Right Place
Applying an ice pack to the thigh region can be a cumbersome process. The air pump attached to the wrap can be regulated to maintain a comfortable amount of pressure to improve the healing process.
Improves Pain Due To Fatigue
Provides relief from pain due to fatigue that thighs often undergo. The wrapping fits perfectly to provide superior support.
Supportive Gear For Fitness Freaks
The Sorgen's thigh wrap is a reliable gear for fitness freaks and sports enthusiasts, who require regular care for their thighs.
Helps With Hamstring Strain
The combination of cold therapy and compression in the Sorgen thigh compression bandage supports the thighs in hamstring sprains and hamstring tendonitis.
Frequently Asked Questions
Yes. The Sorgen cold compression thigh wrap can be worn on any of the thighs.
Yes, the cold compression wrap is reusable.
The Sorgen's cold compression thigh wrap support should be worn for 20-25 minutes every day.
Helps in recovery
The cold compression thigh wrap helped me a lot in after gym muscle pulls and relieved pain much faster than expected.
Happy to buy
Good product, great design, can be worn on either of the thighs, quick shipping.
Reduces pain ans swelling
I am a runner and ofter suffer with spasms but this wrap ensures that I don't stop due to pain or swelling in my thigh.
Easy to use
Really love the way it wraps around my thigh. Easy to use and gives good results.
Worked perfectly for my problem
My doctor recommended cold compression after a muscle strain in my thigh. This wrap worked perfectly for me. Glad I bought it.