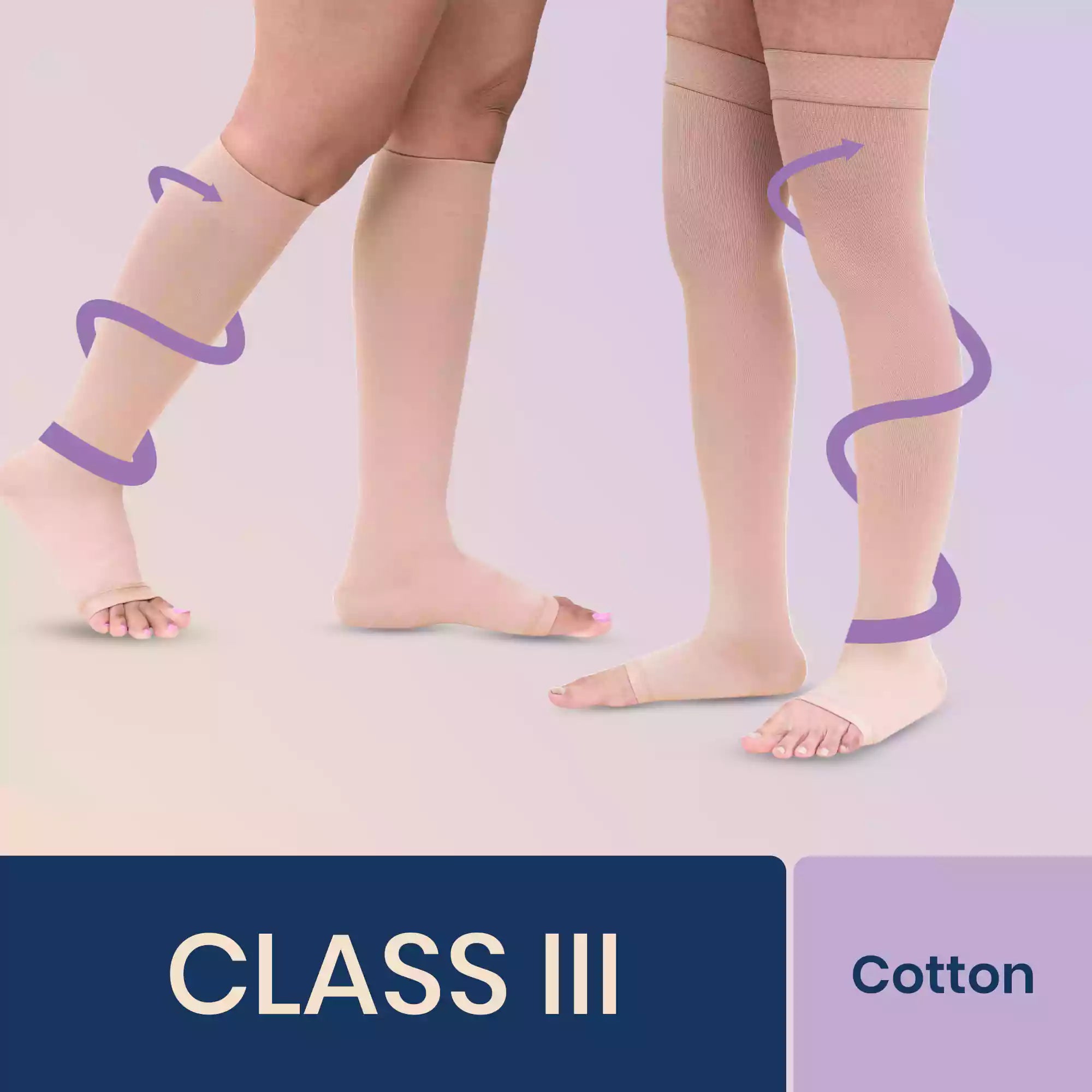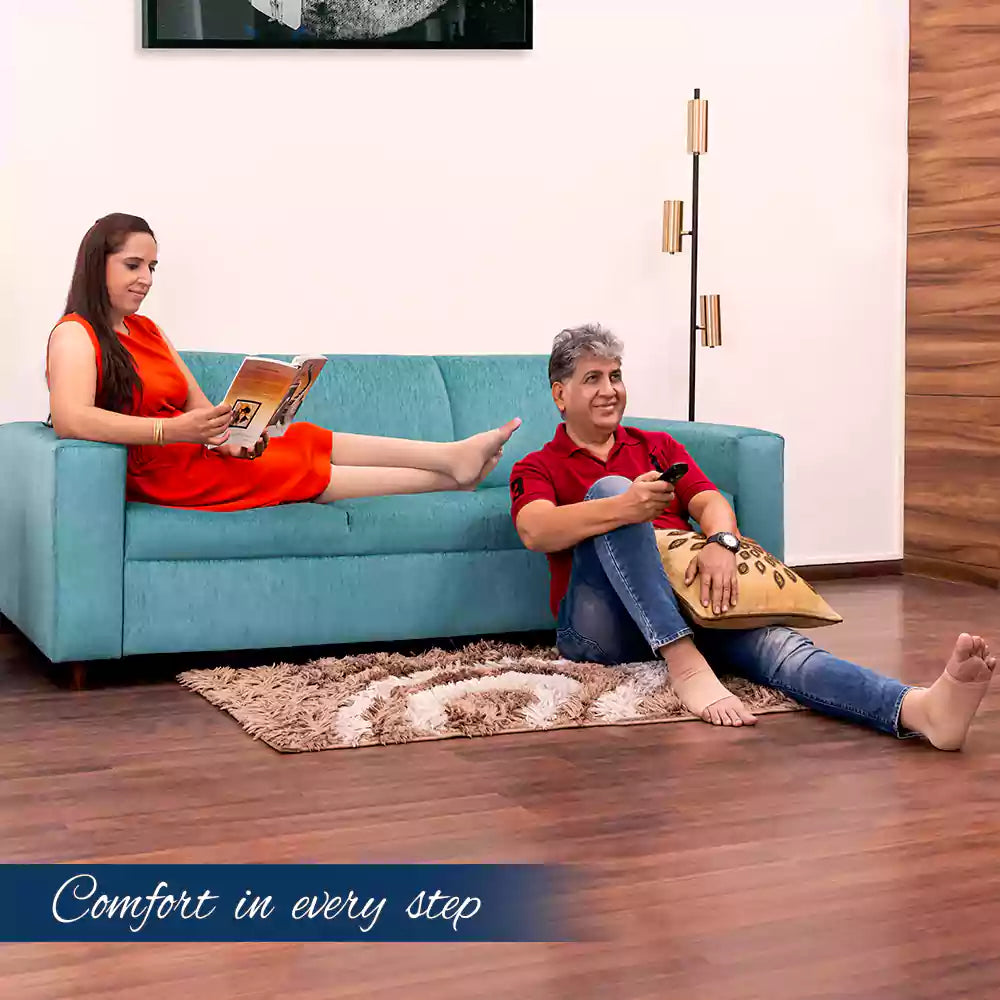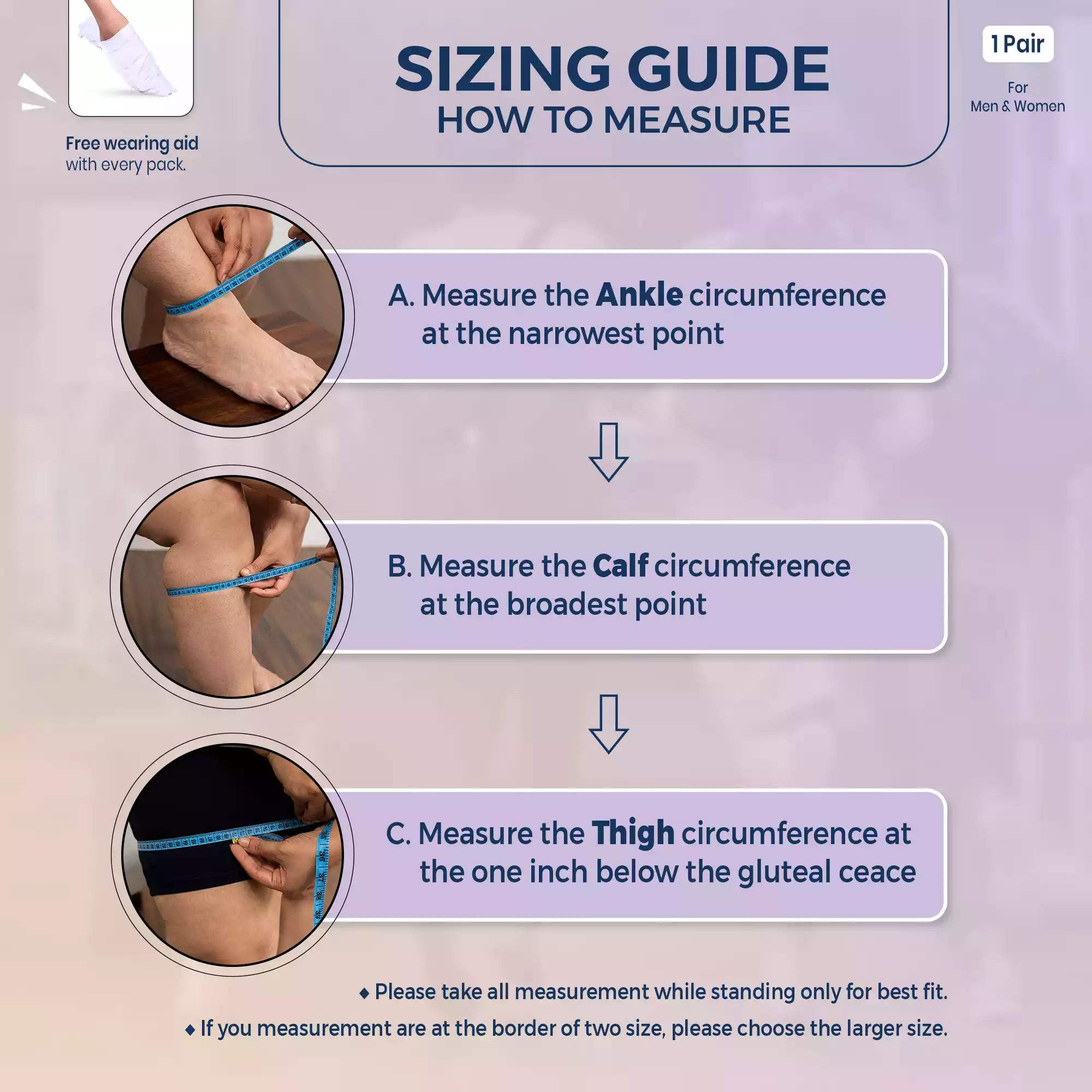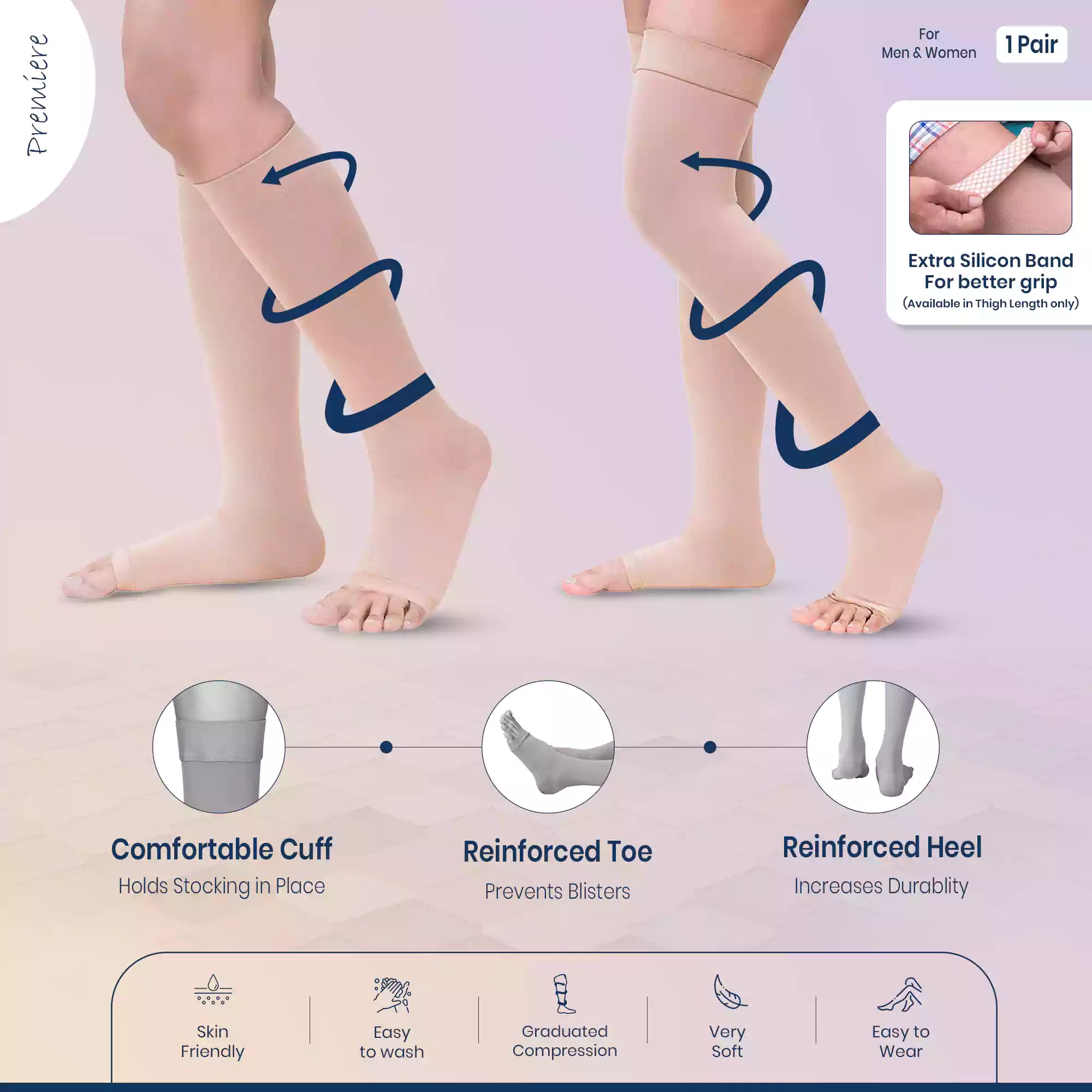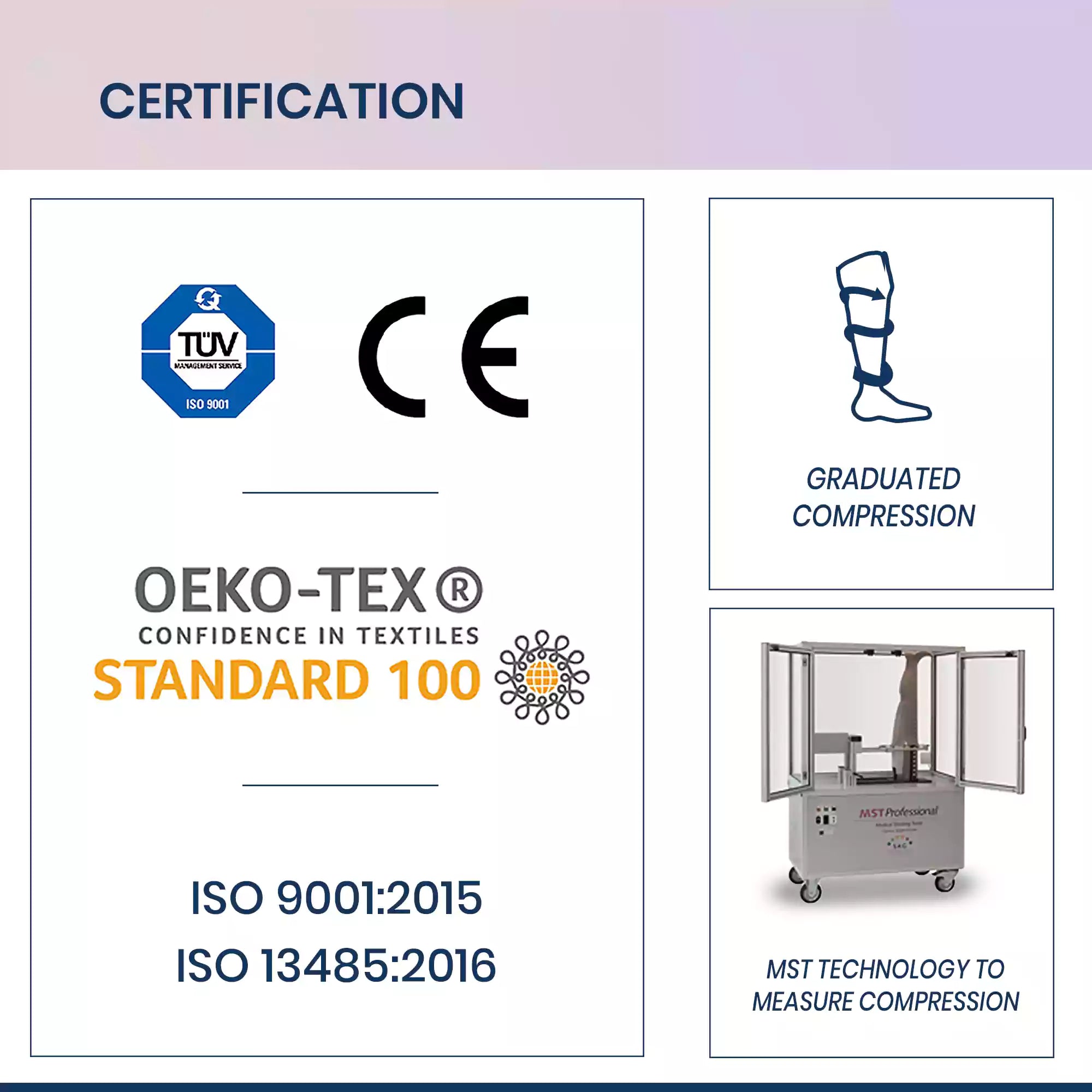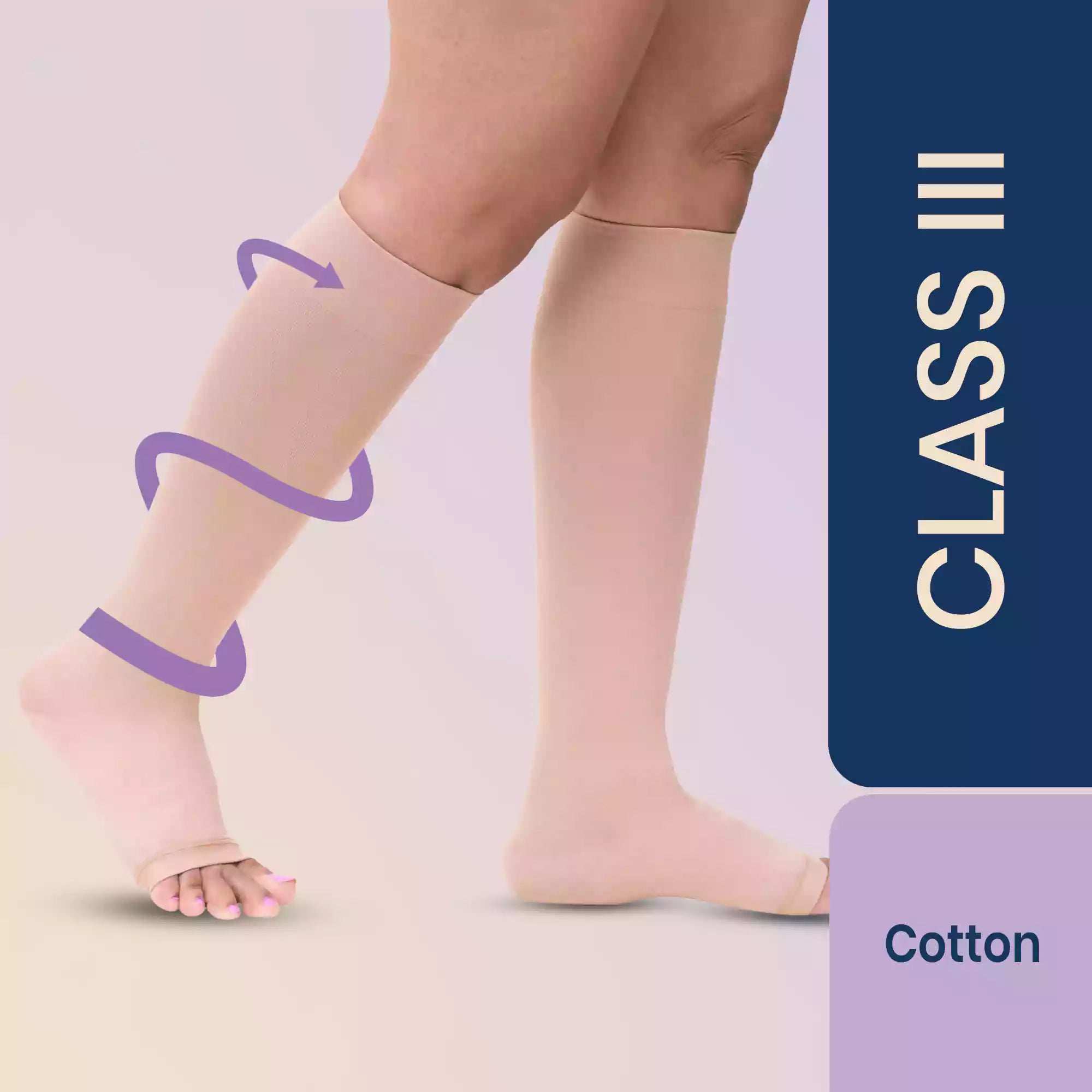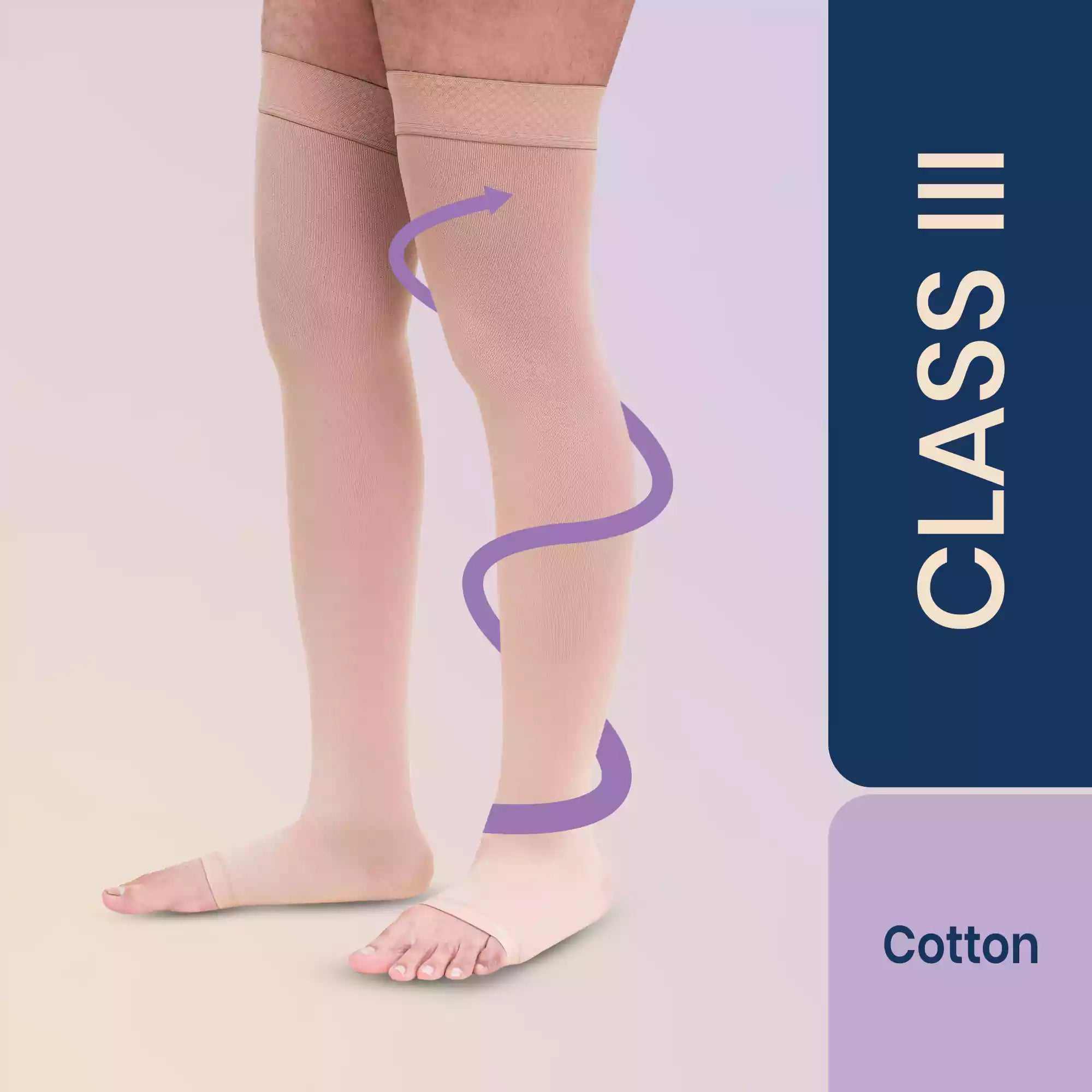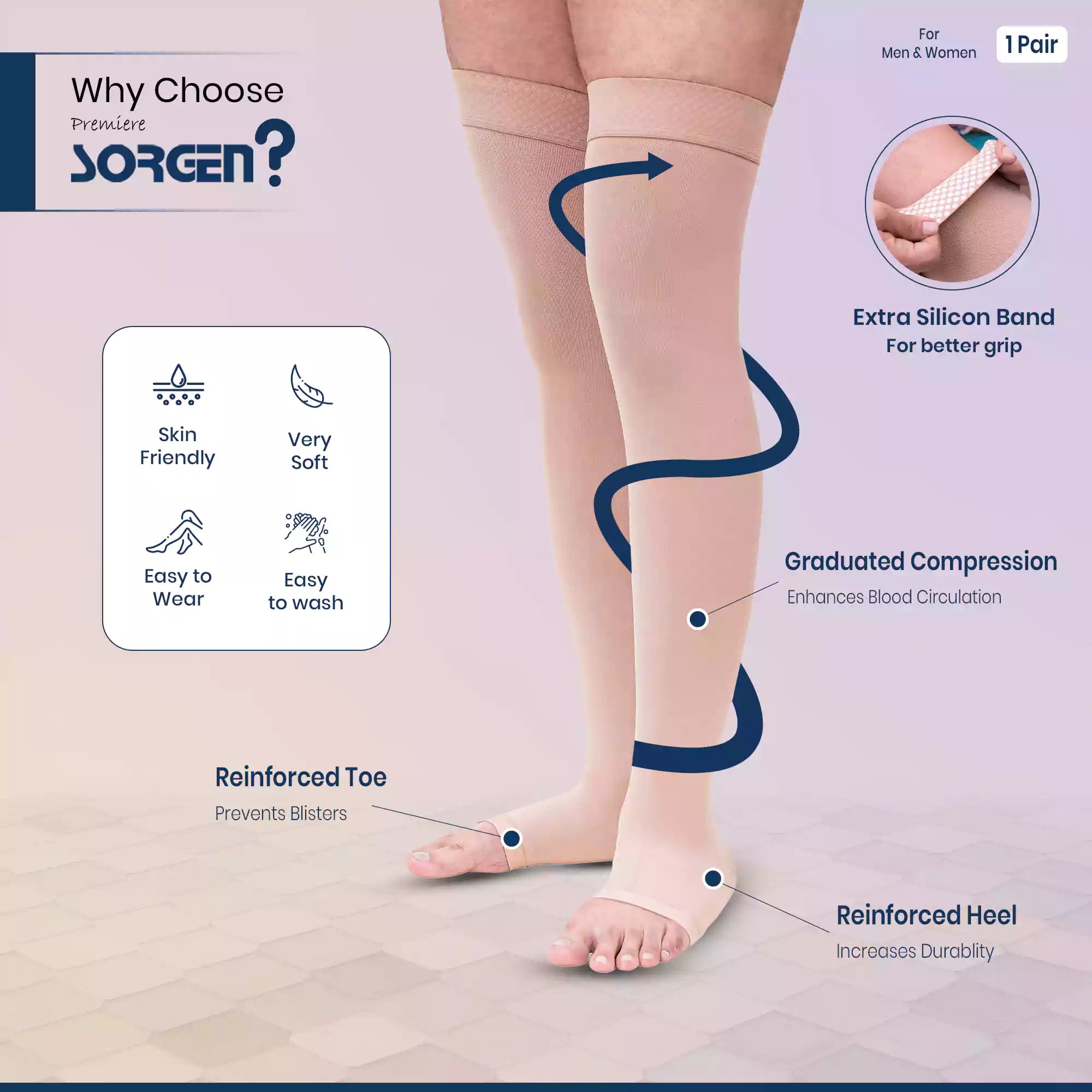 Sorgen® Premiere Compression Stockings Class III- Knee/Thigh Length
Sorgen Premiere
Rs. 4,320.00
Rs. 4,800.00
Sale
Colour: Skin / Nude Colour
Type: Class III Compression Stockings
Compression Level: 34-36 mm hg
Style: Open toe Compression Stockings
Fabric: Premium Egyptian Cotton (17% Cotton, 24% Lycra Elastane, 59% Tactel Polyamide.)
Box Contains: One pair of Premier Class III Compression Stockings
Sizes Available: Small, Medium, Large, X-Large, XX-Large
Lengths Available: Knee Length/Thigh Length
Uses: Chronic venous insufficiency, Atrophy Blanche, Pronounced oedema, Dermatosclerosis, and Aftercare for Severe Ulcers
Features: Approved by MST Technology, Skin-friendly, Stretchable, Premium Egyptian Cotton Fabric, Reusable, Reinforced Heel Pockets, Grip Tops for Secured Fit
Benefits: Relaxes Calf Muscles, Improves Blood Flow, Manages Chronic Venous Insufficiency and Oedema
Recommended For:
Spider Veins
Atrophie blanche
Pronounced oedema
Dermatosclerosis
Helps in:
Improves Quality Of Life
Prevent DVT
Reduces Oedema
Reduces Swelling
Relives Tired And Aching Legs
Improves Blood Circulation
💡Enjoy free shipping on all orders within the India.
📤 Orders are dispatched with Same Day (before 4.PM)
🚚 Same Day Delivery available in Mumbai MMR Region (at additional cost of Rs. 199/-). More details at checkout!
For expedite shipping and more queries, please contact us on 09321102110 or send us a mail at support@sorgen.co

Manufactured By:
Yogi Kripa Medi Chem Pvt. Ltd.
Gala No. B-59, M.R. Brothers Inds. Estate,Kohinoor Industrial Complex, Plot No. J-7/J-8/J-9, 
M.I.D.C., Taloja,Navi Mumbai Maharashtra - 410208
CDSCO Reg. No: Yogik-Mumba-Mh/M/Md/009124
It's okay to change your mind😊 This product qualifies for an exchange or return within 3 days of delivery. We offer a free pickup from your pin code.
Share this product
Relief With Premier Class III Below Knee Compression Stockings
Sorgen compression stockings are made with extreme precision and go under several quality checks. Premium Egyptian cotton ensures sweat-free and rash-free skin at all times.
The compression applied through the Class III Premium Compression Stocking might feel tighter than regular stockings, as it is designed for serious medical conditions. Available in multiple sizes, the compression stockings come in skin colors, making them camouflage with most skin colors.
#Knowyourproduct
How Does Compression Help?
Compression stockings come in handy when your leg starts hurting on a random day. Leg pain can trigger for multiple reasons, sometimes due to lack of movement or due to pre-existing medical conditions like DVT (Deep Vein Thrombosis) or other venous insufficiencies.
The most common causes of such conditions are: Hampered blood flow in the region, Fluid accumulation in the tissues.
Compression stockings or DVT stockings apply graduated pressure in the lower leg region to help the blood flow return to normal circulation. Compression stockings have proven to help with some medical conditions, but it is best to follow expert medical guidance when experiencing severe pain.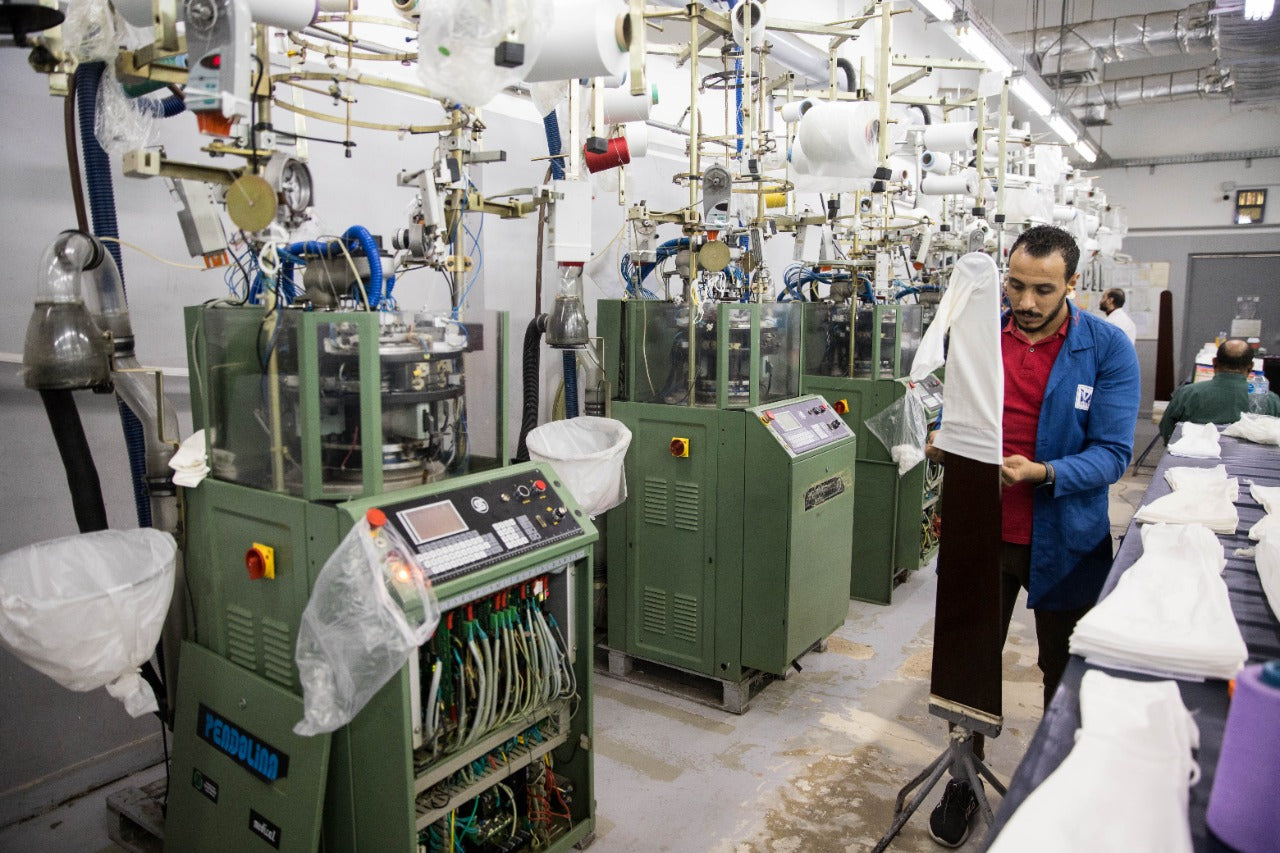 Features Of Class III Premium Compression Stockings
Fabric Advantage
The premiere range of compression stockings by Sorgen uses Egyptian cotton. It is 100% cotton on the side touching the skin.It is skin-friendly and especially advised for people with high skin sensitivity.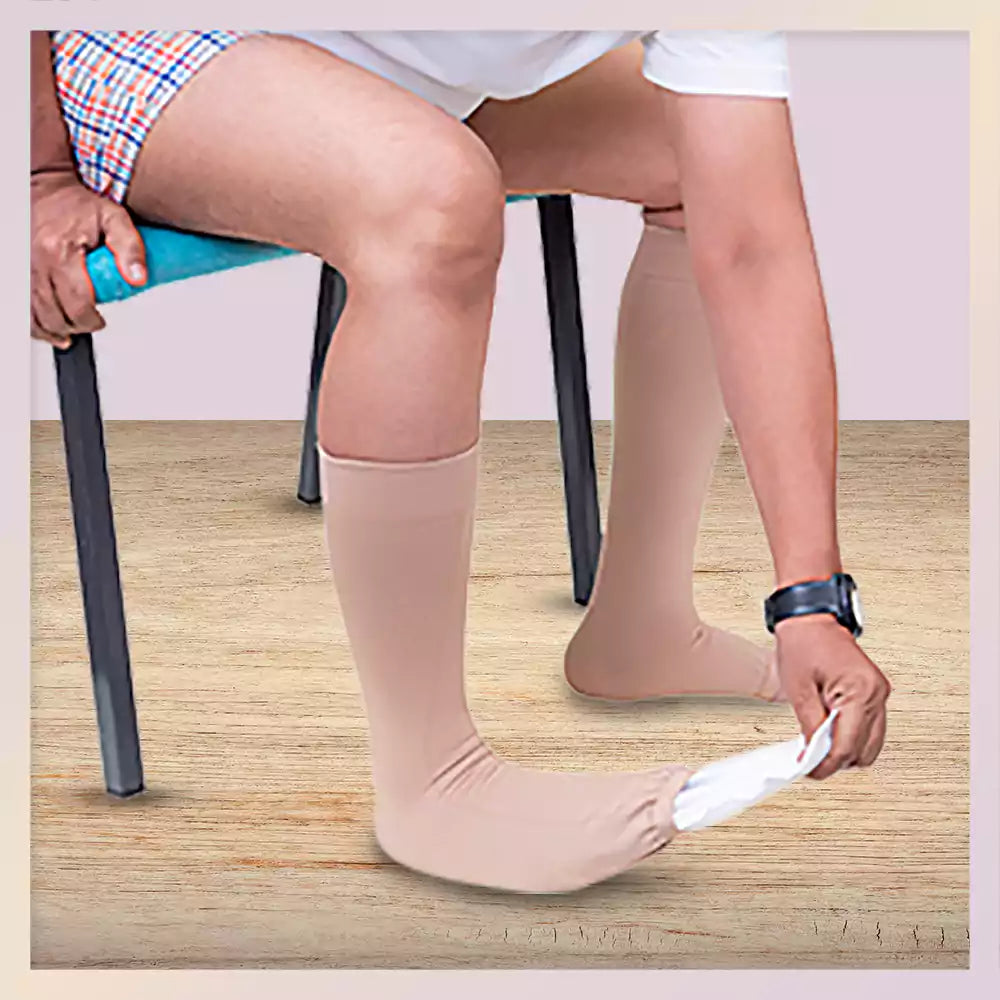 Comes With A Glider
The Sorgen compression stockings come with a glider for easy wearability. Stockings with compression can get difficult to wear at times, which is why the free glider comes in handy when wearing the stockings.
Reinforced Heels
Sorgen makes sure all its compression socks last multiple uses. The reinforced heel pockets add a layer of durability to the fabric that is rare to find in other compression stockings.
Class III Compression Stockings Manages:
Leg Pains Due To Ulcers
Class III compression stockings generally have a higher pressure than Class I and Class II stockings, so it is best to take expert advice before using medical compression stockings class III.
Feet Or Calf Muscle Inflammation
Blood pooling in the leg/foot region can cause muscle inflammation. Blood pooling is a common phenomenon to happen if one stays stationary for long hours. Using compression stockings can be helpful. Understanding if Class III compression will be suitable for your condition is also essential.
Insufficiency In The Veins
Some of the common conditions that might result from venous insufficiency are varicose veins, DVT, spider veins, and oedema. Weakness in the veins results in erratic blood flow which then causes these conditions. Varicose veins socks apply pressure to regulate blood movement to lower pain levels
Frequently Asked Questions
Compression stockings are classified depending on the level of compression they provide. Class III compression provides 34-46 mm Hg pressure.
All the Sorgen Class III compression stockings provide a compression profile of 34-36 mm Hg compression. The difference is mainly in the fabrics and, thereby, the comfort.Sorgen Premiere uses premium Egyptian cotton. It gives the right blend of comfort and quality.
Class III compression stockings for women and men are recommended to reduce the discomfort caused by chronic venous insufficiency. It helps relieve circulation in the legs.
Perfect Fit
Help reduce the risk of developing deep vein thrombosis (DVT) during long-haul travel.
Comfortable and Conforming
Provide a comfortable fit that conforms to the natural shape of the leg.