🩰 Soft & Skin-Friendly: Made from premium Egyptian cotton for a gentle, comfortable feel.
🏃‍♀️ Improved Circulation: Graduated compression reduces swelling, inflammation & improves blood flow.
🌈 Durable: Built to last and withstand wear & tear.
💯 Quality & Comfort Guaranteed: Enjoy exceptional support and relief with our superior quality product. Satisfaction guaranteed.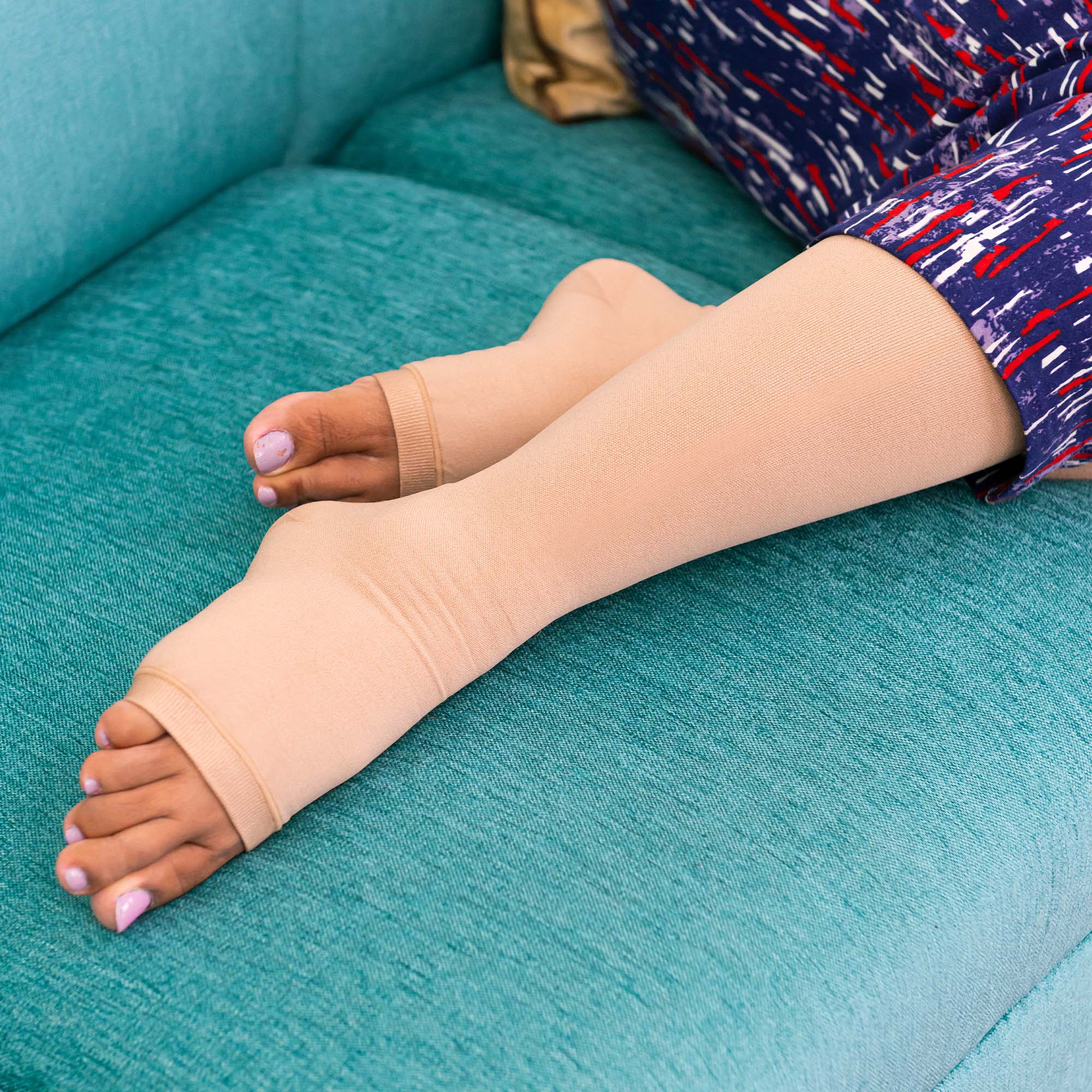 They have been a game-changer for me.
The compression and support they provide are perfect for reducing swelling and improving blood flow. I no longer experience the pain and heaviness that I used to feel in my legs, even after standing or sitting for extended periods
Drishti Jain, 55 Years, Mumbai
I no longer feel drained or achy.
Compression stockings have changed my life in ways I never thought possible. As a tailor, my work requires me to be on my feet all day, which often left me feeling exhausted, in pain, and unable to enjoy my day-to-day activities.
But now, with Sorgen compression stockings, I feel like a new person. They provide me with the support and comfort I need to carry out my work without feeling any discomfort.

Mahesh Babu, 43, Bengaluru
Step into comfort and style with Sorgen Premiere Cotton Compression Stockings.
If you try to wear compression stockings like you wear regular socks, you might find them difficult to put on. Compression stockings are meant to be tight and hence it is preferable to wear them in a particular way in order to make them easy to put on.
Wear the compression stockings the right way!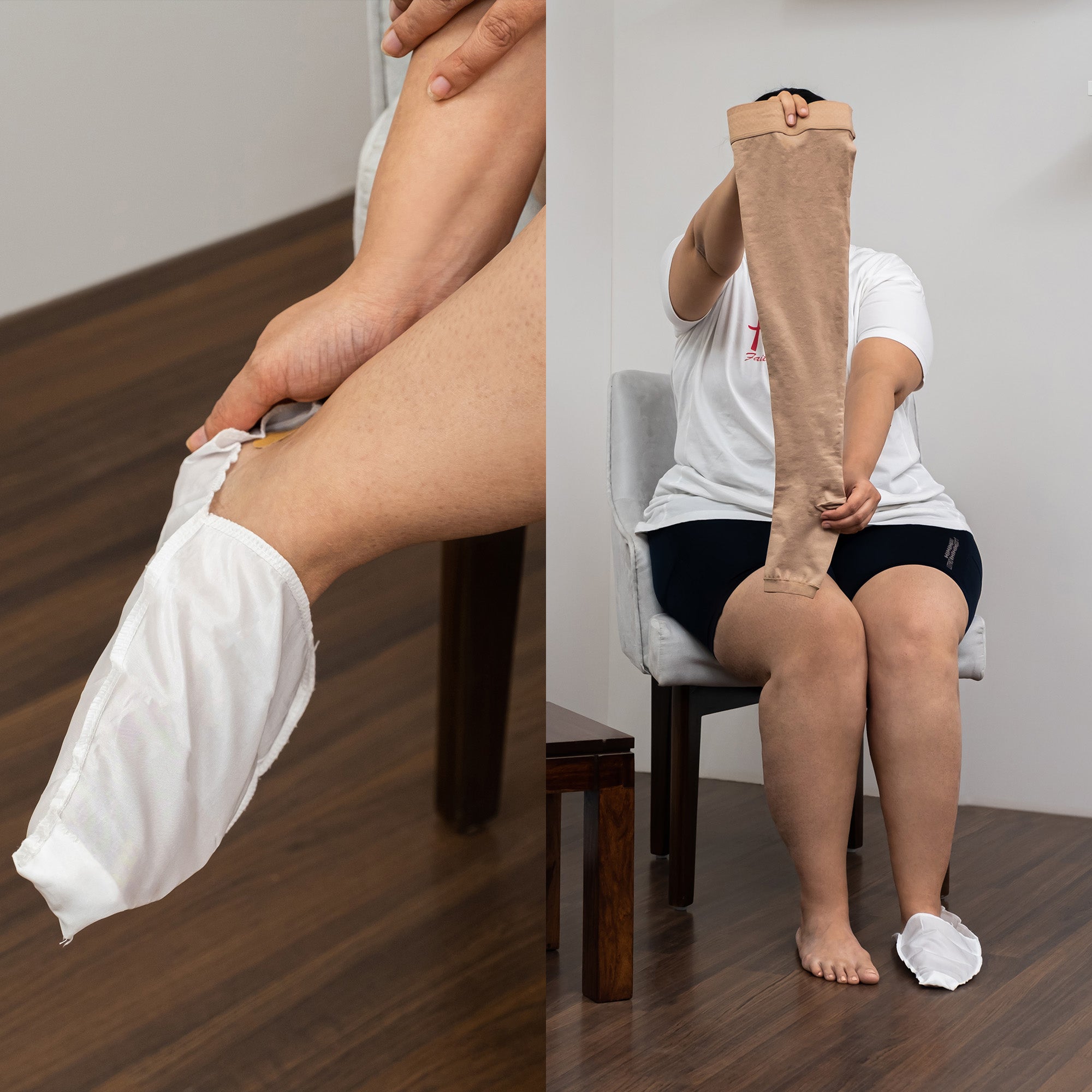 step 1
Take out of the glider/ wearing aid from the box and wear it on your leg.
Now take the stocking in your hand with its heel facing down.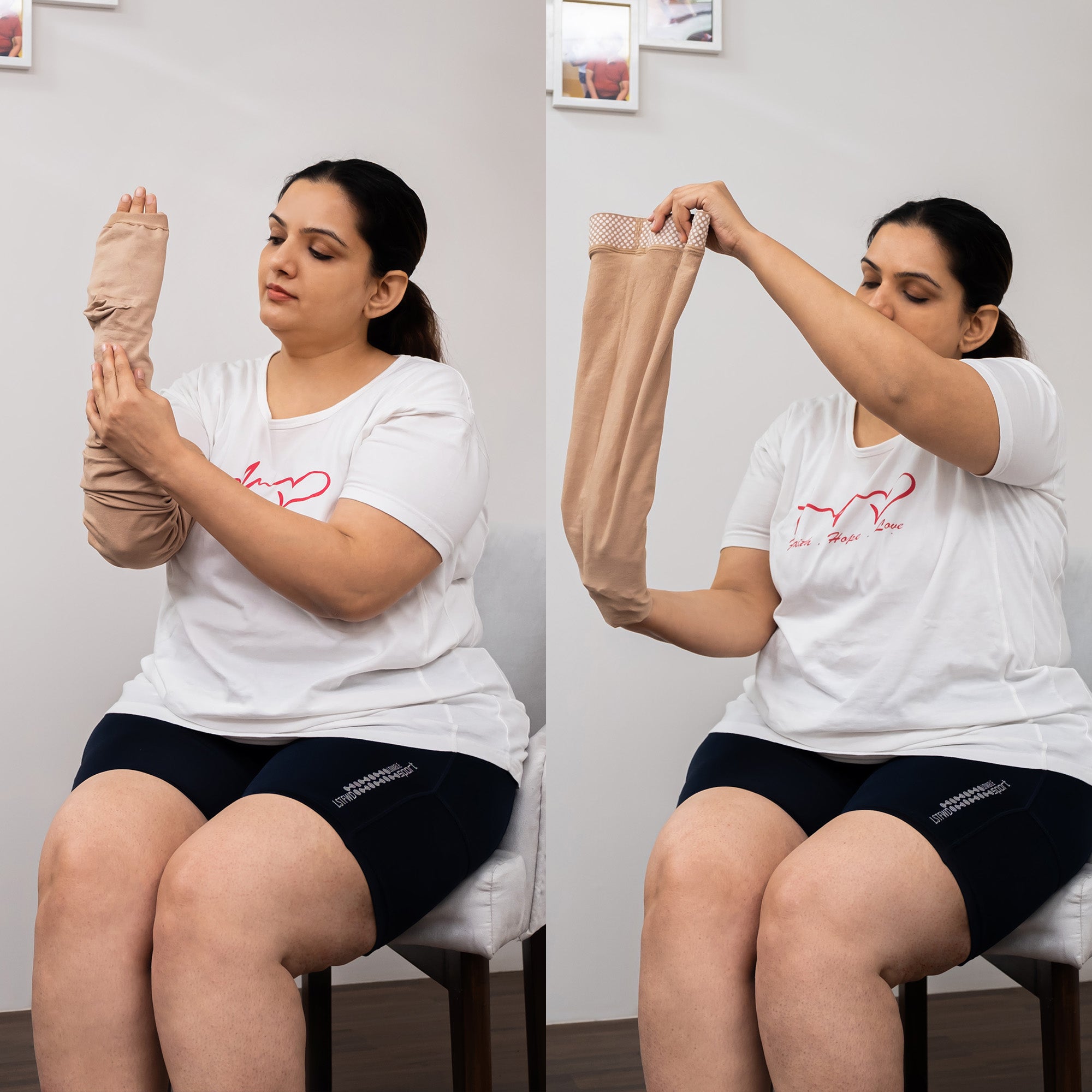 Step 2
Put your hand inside the stockings facing your palm upwards.
Hold the stocking top in the other hand and pull down turning the stocking inside-out stopping at the
heel.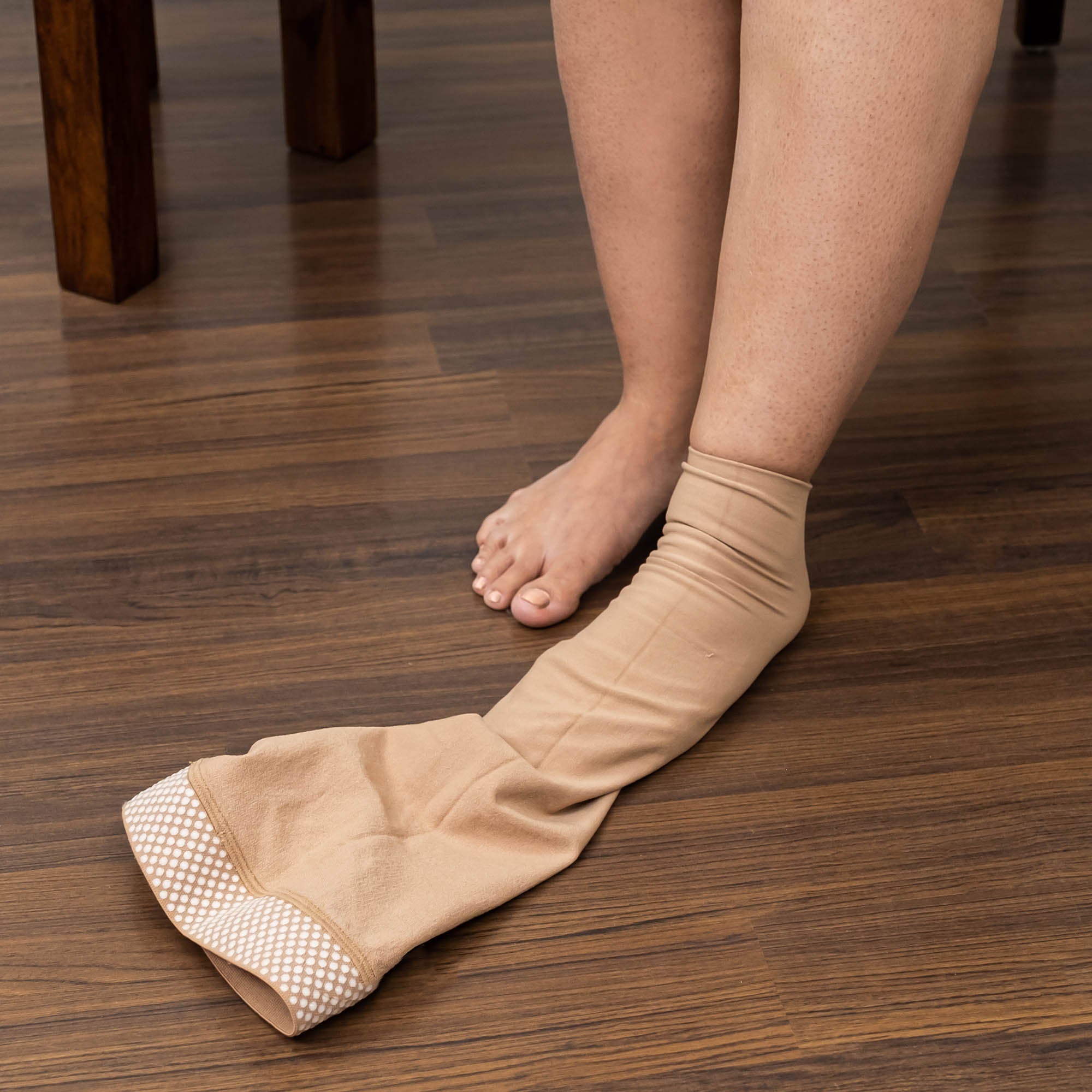 Step 3
Remove your hand from inside, stretch the stockings sideways at the heel.
Gently Slide your foot into the heal of the stockings.
Make sure that your toes slide till the very end.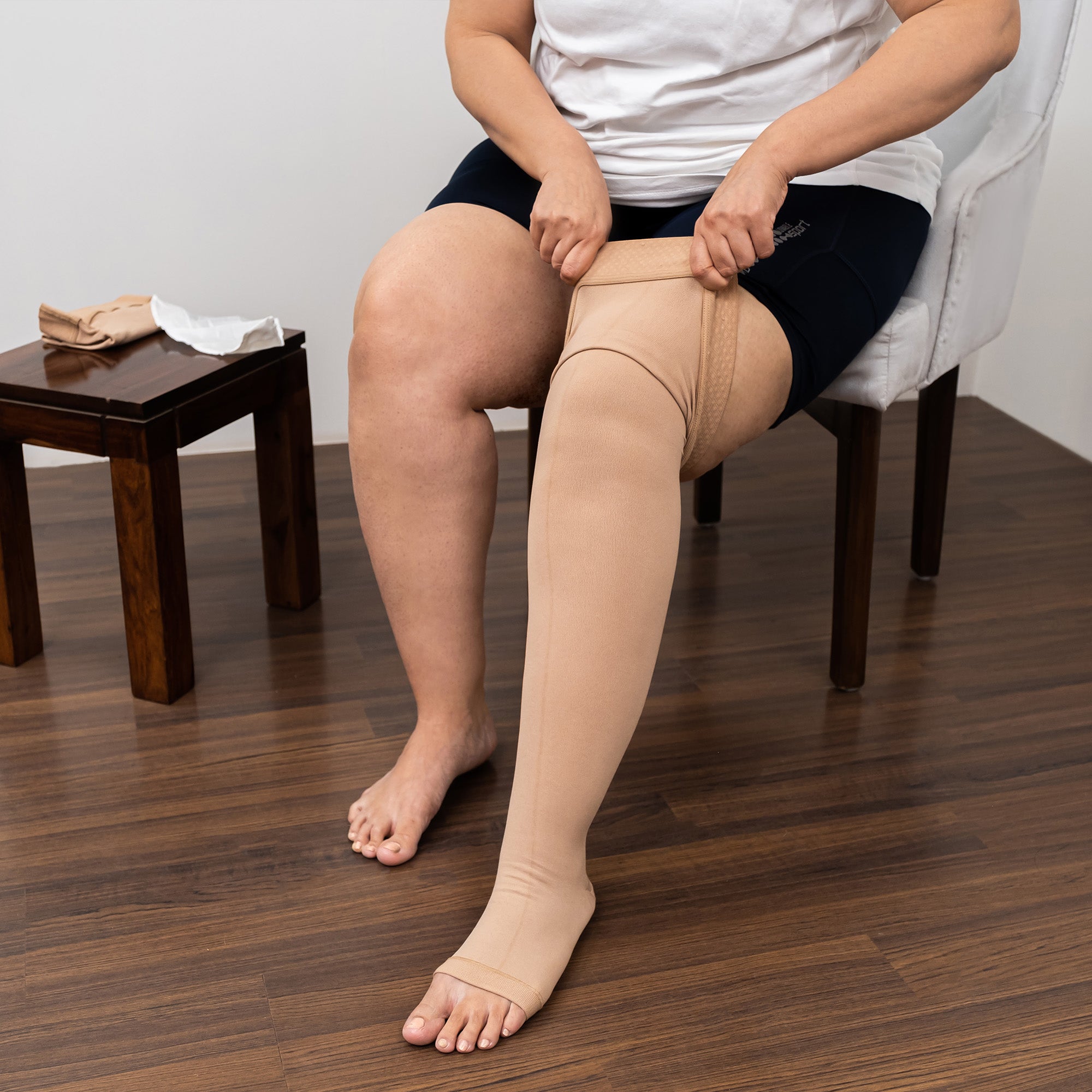 Step 4
Grasping the top of the stockings, gently pull the stocking over the ankle and continue to gently pull it
up over the leg.
Gently pull up the stockings to your knee.
Why do we do what we do?
At Sorgen, we believe in more than just providing products. We believe in improving lifestyles. That's why we're committed to educating our customers about the benefits of compression therapy and providing resources that can help you live a healthier, more active life.
What makes our product unique?
They're made from high-quality materials that are breathable, comfortable, and durable, so you can wear them with confidence throughout the day.
Frequently asked questions
Sorgen premiere cotton compression stockings are made from premium Egyptian cotton offering breathability and comfort, which can be especially beneficial for people who live in humid countries like India or who experience excessive sweating.
The natural properties of cotton also make it a hypoallergenic option for those with sensitive skin
Compression stockings are meant to be snugly fit. Choosing the right size plays a very crucial role in finding the right fit for compression stockings.
The level of compression you need depends on your individual needs and other medical conditions. Consult with your doctor or a medical professional to determine what level of compression is right for you.
Compression stockings cannot be made from 100% cotton as the cotton fibers do not contribute to compression. It can only be blended with cotton.
Sorgen premiere stockings have 17% premium Egyptian cotton. The inner side of the stocking which touches the skin is 100% cotton make it very comfortable on the skin.
This product provides class II compression which 23-32 mm Hg. (This is by RAL compression profile)
Yes, the product can be worn by both men and women. It is the proper sizing that matters.
Trusted by All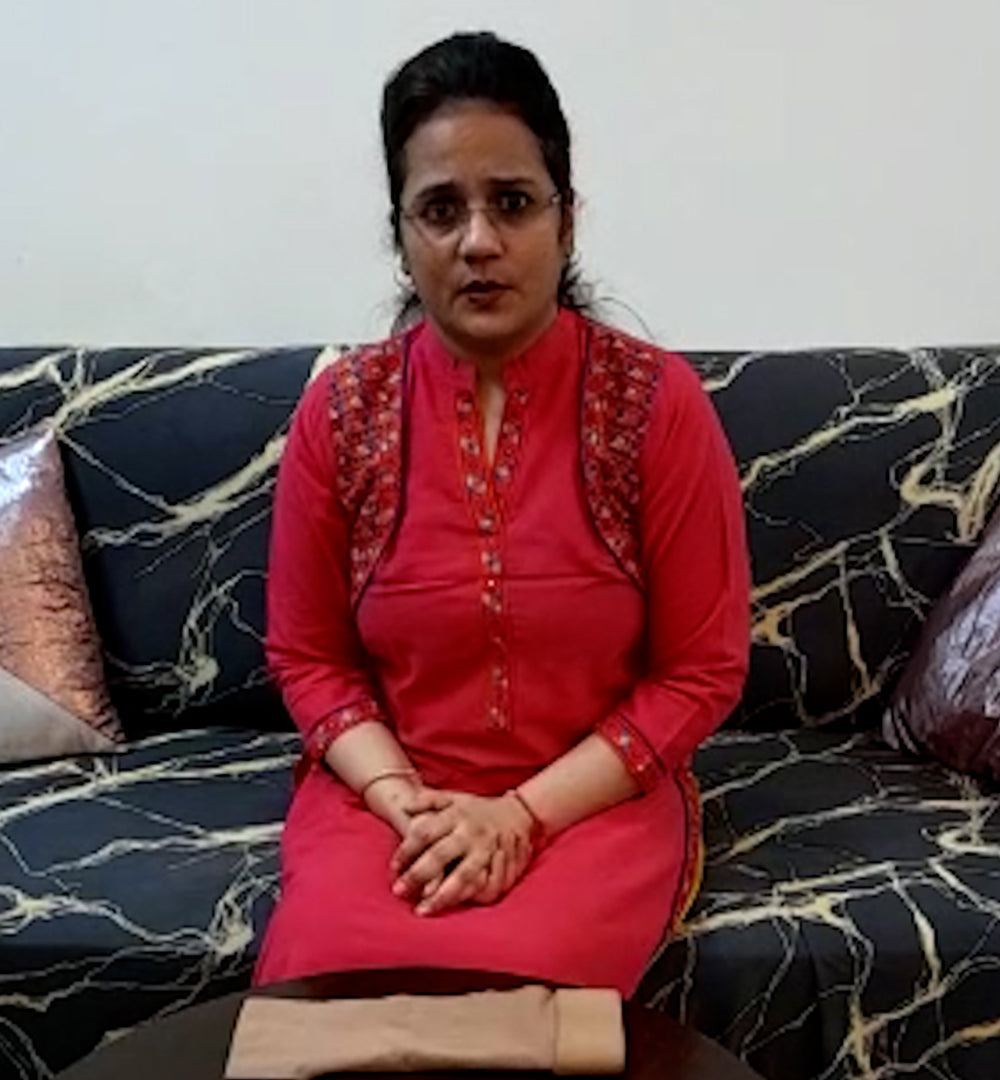 Dr Shilpa Dua
Living with vein inflammation in my right leg since 1995, I've tried many compression stockings. But Sorgen's brand has been a game-changer since 2010, particularly in Delhi's extreme climate. It's been a relief not to have any more trouble!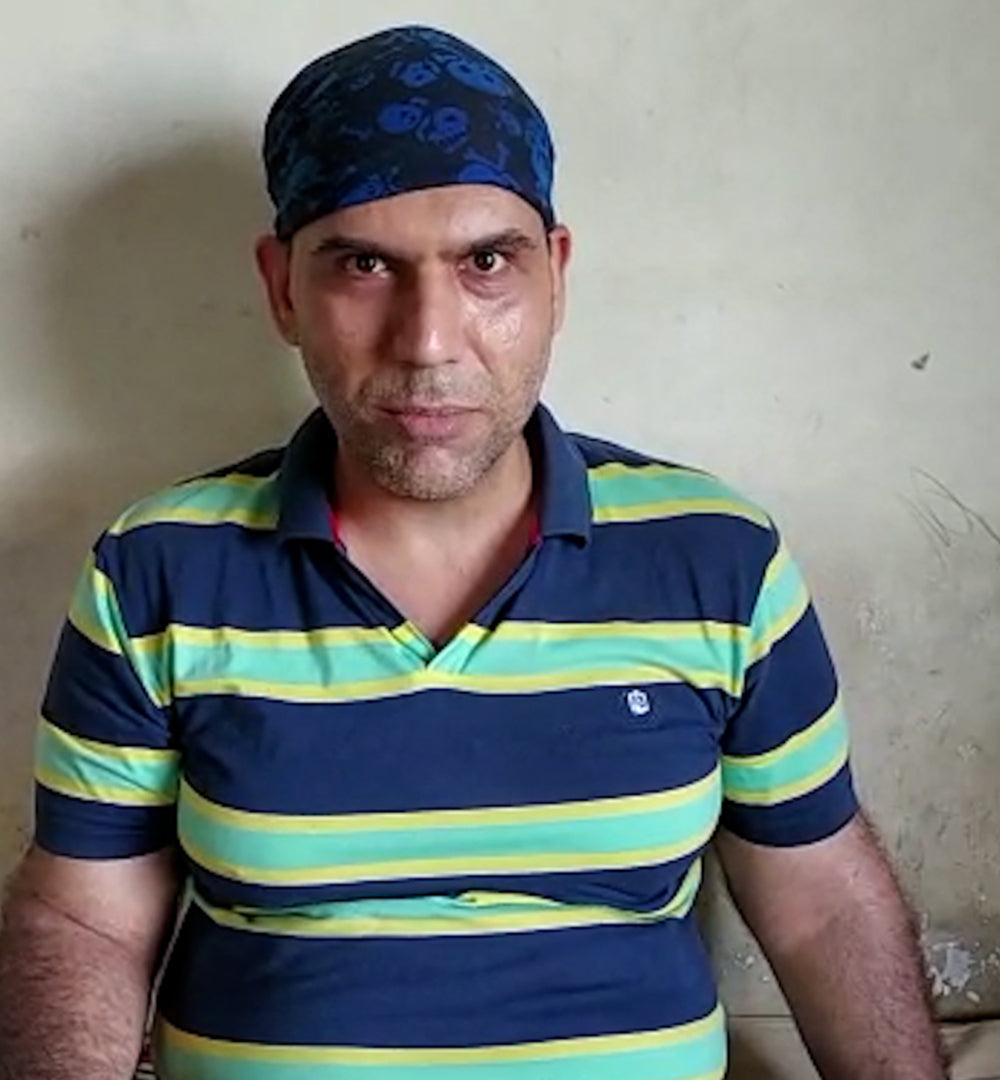 Ashish Irani
Varicose veins were a problem until my doctor recommended compression stockings. Sorgen's brand is superior quality - great grip and no slipping down. I can do all activities comfortably. Highly satisfied with its reasonable price!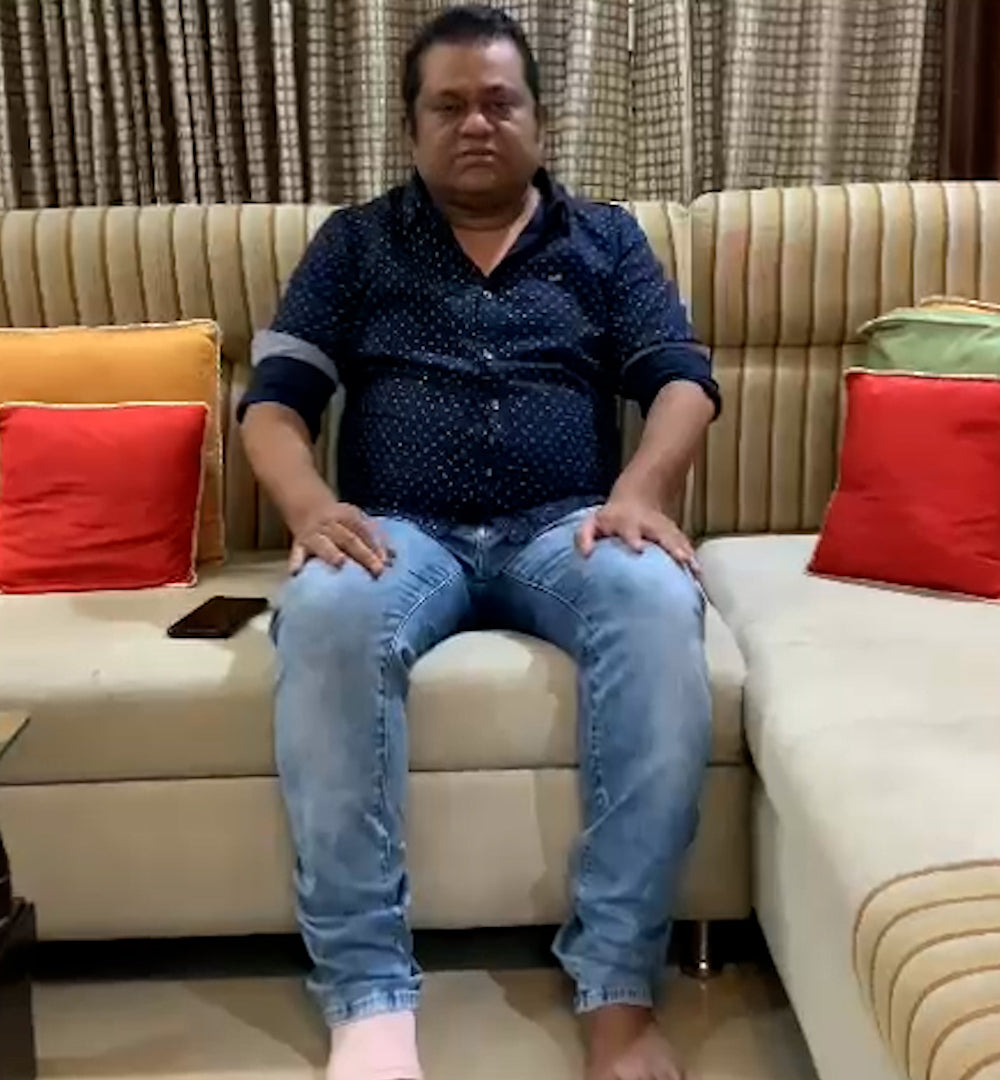 Shekar Panbude
About 8-10 years ago, I had an accident that caused varicose veins in my right leg. Since then, I have tried many stockings, but Sorgen's brand is the most comfortable and best quality. Even in Nagpur's hot anf humid temp, I don't feel any discomfort. These socks are excellent for relieving varicose veins