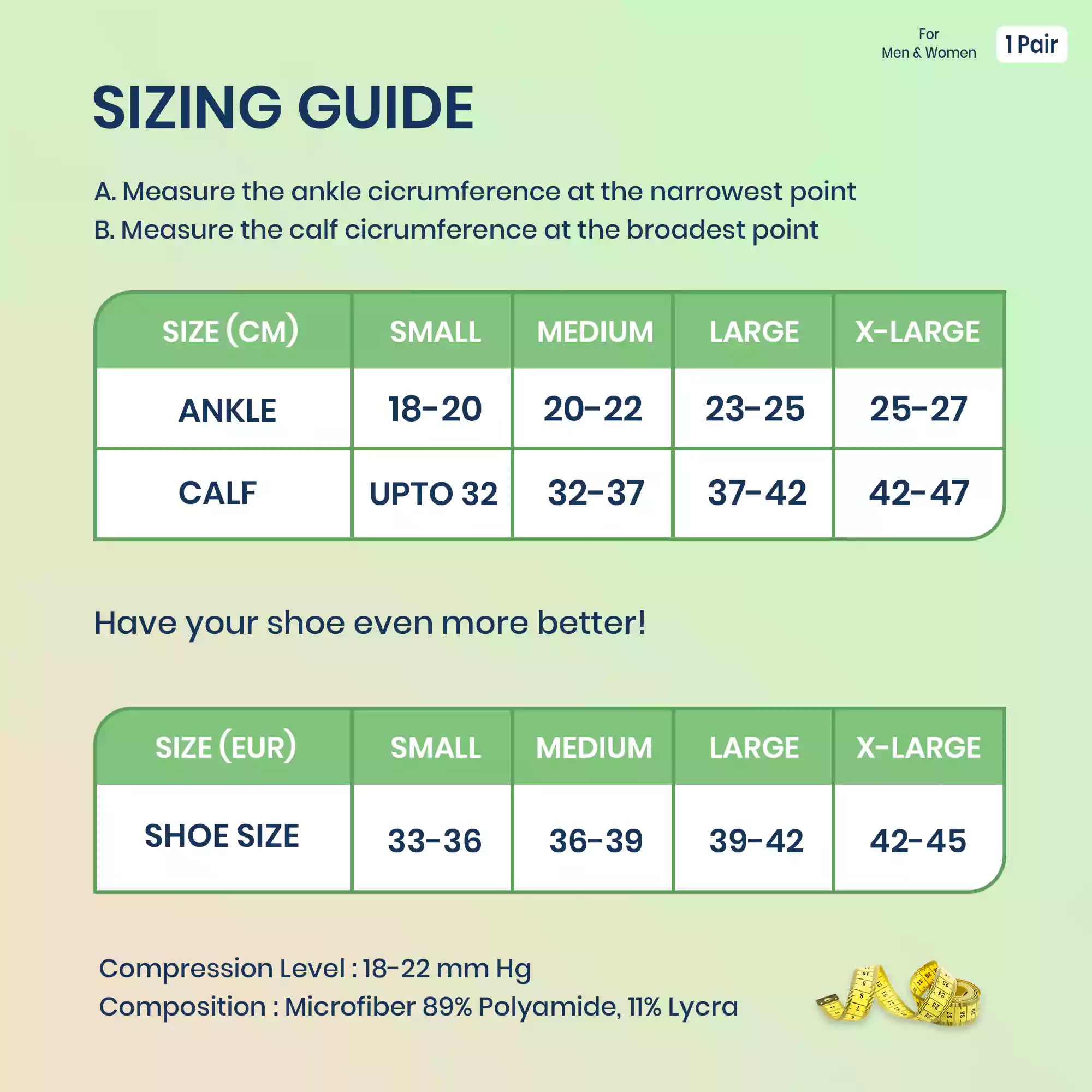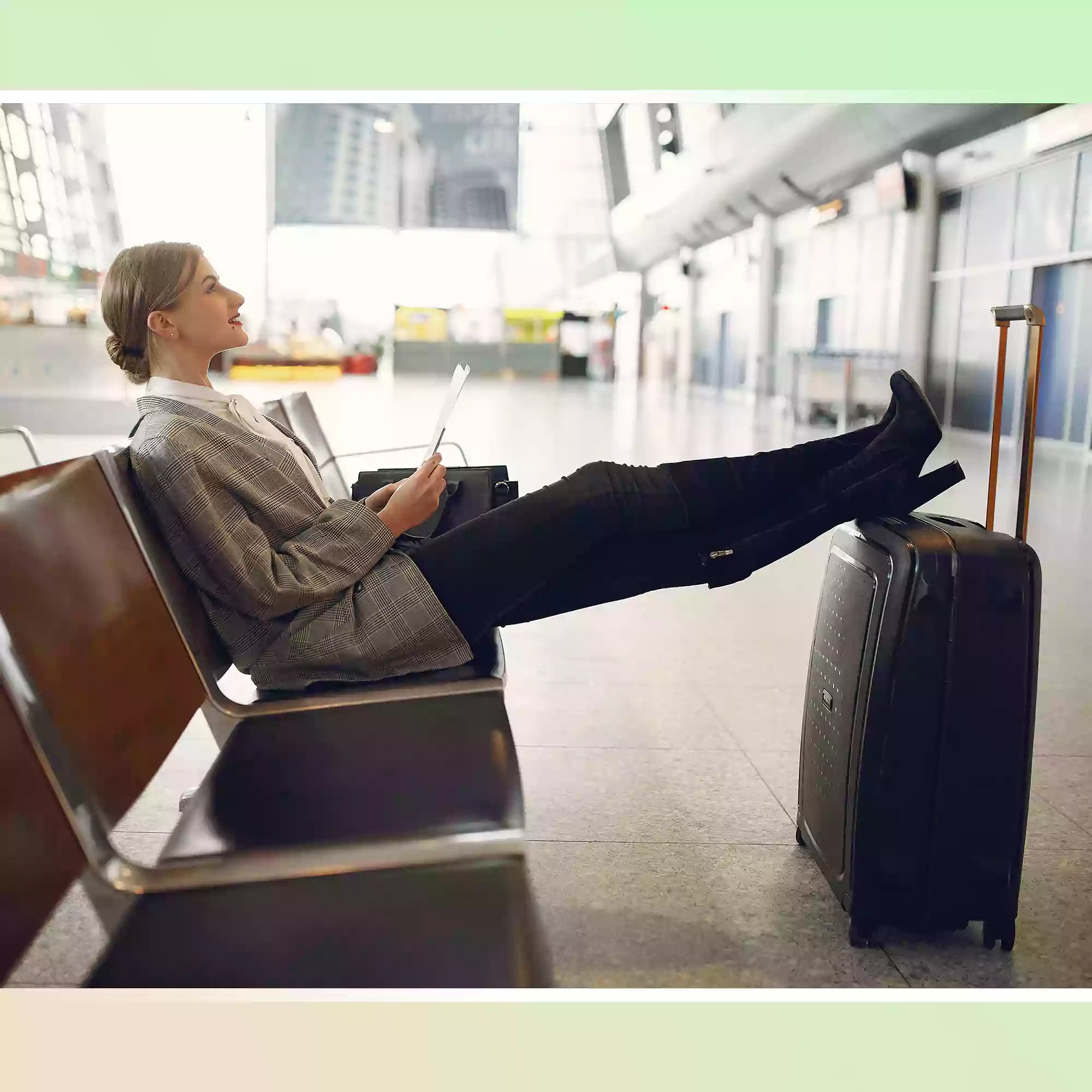 Sorgen® Travel Support Socks
Rs. 885.00
Rs. 1,100.00
Sale
Sorgen Travel Compression Support Socks are the perfect solution for frequent flyers. With compression support and ultimate comfort, Whether you're a business traveler or leisure traveler, Sorgen Travel Compression Support Socks will keep you comfortable and supported throughout your journey.
Colour:

Black
Type:

Closed toe | Compression Support Socks
Compression Level:

18-21 mm Hg
Fabric:

Lycra
Box Contains:

One Pair of Travel Compression Socks
Sizes Available:

Small, Medium, Large Extra large
Benefits:

Reduces Swelling in Ankles, Better blood Circulation, Reduces risk of DVT, and General leg Pain.
Helps in:
Improves Blood Circulation
Relives Tired And Aching Legs
Reduces Swelling
Reduces Oedema
Prevent DVT
Improves Quality Of Life
Recommended For:
Tired Legs
Edema / Swollen Feet
Foot / Ankle pain
Leg Pain
💡Enjoy free shipping on all orders within the India.
📤 Orders are dispatched with Same Day (before 4.PM)
🚚 Same Day Delivery available in Mumbai MMR Region (at additional cost of Rs. 199/-). More details at checkout!
For expedite shipping and more queries, please contact us on 09321102110 or send us a mail at support@sorgen.co
It's okay to change your mind😊 This product qualifies for an exchange or return within 3 days of delivery. We offer a free pickup from your pin code.
Share this product
Easy Travelling With Travel Buddy
Our limbs work really hard because they must. But in specific circumstances, people experience excessive stress and are in need of supportive assistance. Long travel times may involve a lot of walking or prolonged sitting. With its progressive compression design, Sorgen support socks can offer unwavering support and comfort from leg pain and swelling during these difficult times.
#Knowyourproduct
Sorgen Effect On Your Legs
Sorgen support socks are designed with progressive compression, which has the greatest impact on the ankles and gradually lessens toward the calf. By ensuring optimal blood flow in the foot region, this special feature helps to reduce pain, aches, and swelling in the lower leg area. The medically focused style is also advantageous in lowering the danger of critical illnesses like DVT and so offering all-around support for your constantly working legs.
Relieve Pain With Travel Socks
Wearing Sorgen travel support socks can make your trip memorable for all the right reasons, as they will provide the proper support to avoid any sprains and strains.
Graduated Compression
The design has been carefully examined and authorised to guarantee optimal blood flow to the lower limbs, keeping the feet healthy even under stressful circumstances.
Significant Travel Assistance
A travel routine can be tiring and tedious. But in those situations, sorgen travel socks won't let you down and will provide unwavering support all the way through to keep your legs on the road without any discomfort.
Anti-Pain
Wearing a pair of travel support socks will ease any leg aches or pains, ensuring a comfortable and pain-free flight.
Lowers Risk Of Travel DVT
Deep vein thrombosis is a dangerous disorder that can happen for a number of heart and lung-related reasons. Our socks lower your risk of developing such dangerous disorders, ensuring a healthy future for your legs and overall body.
No Swelling
The travel socks provide reliable support throughout the journey period and assist to prevent any kind of swelling in and around the foot area, which helps with smooth performance of physical tasks.
Sorgen® Travel Support Socks
good
hi... this kuldip i am my job is in sales field so i need to travel so much and that time i am feel so pain in my lag
very comfortable socks
i am using sorgen travel socks in last 6 month .. its too good products and very comfortable socks .....