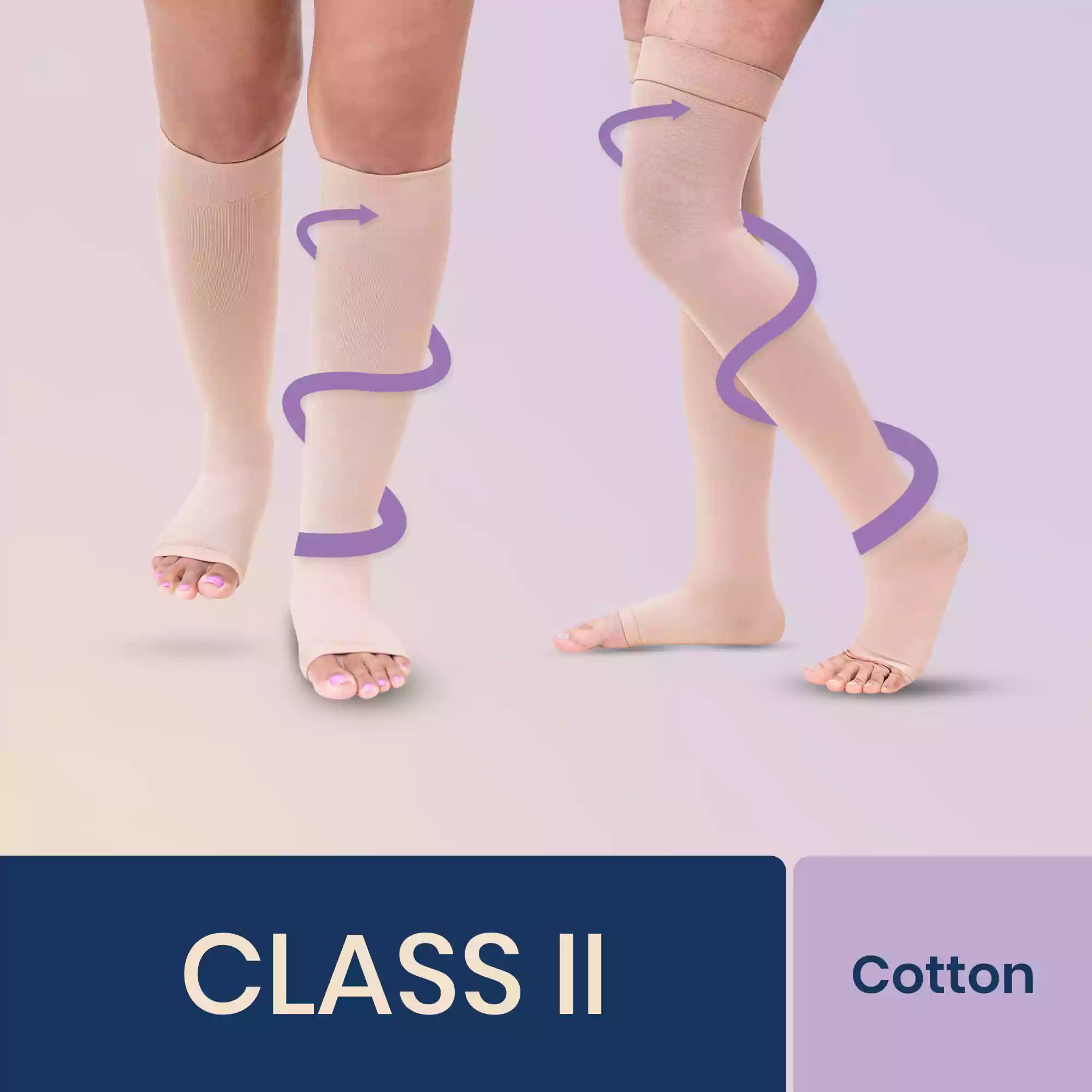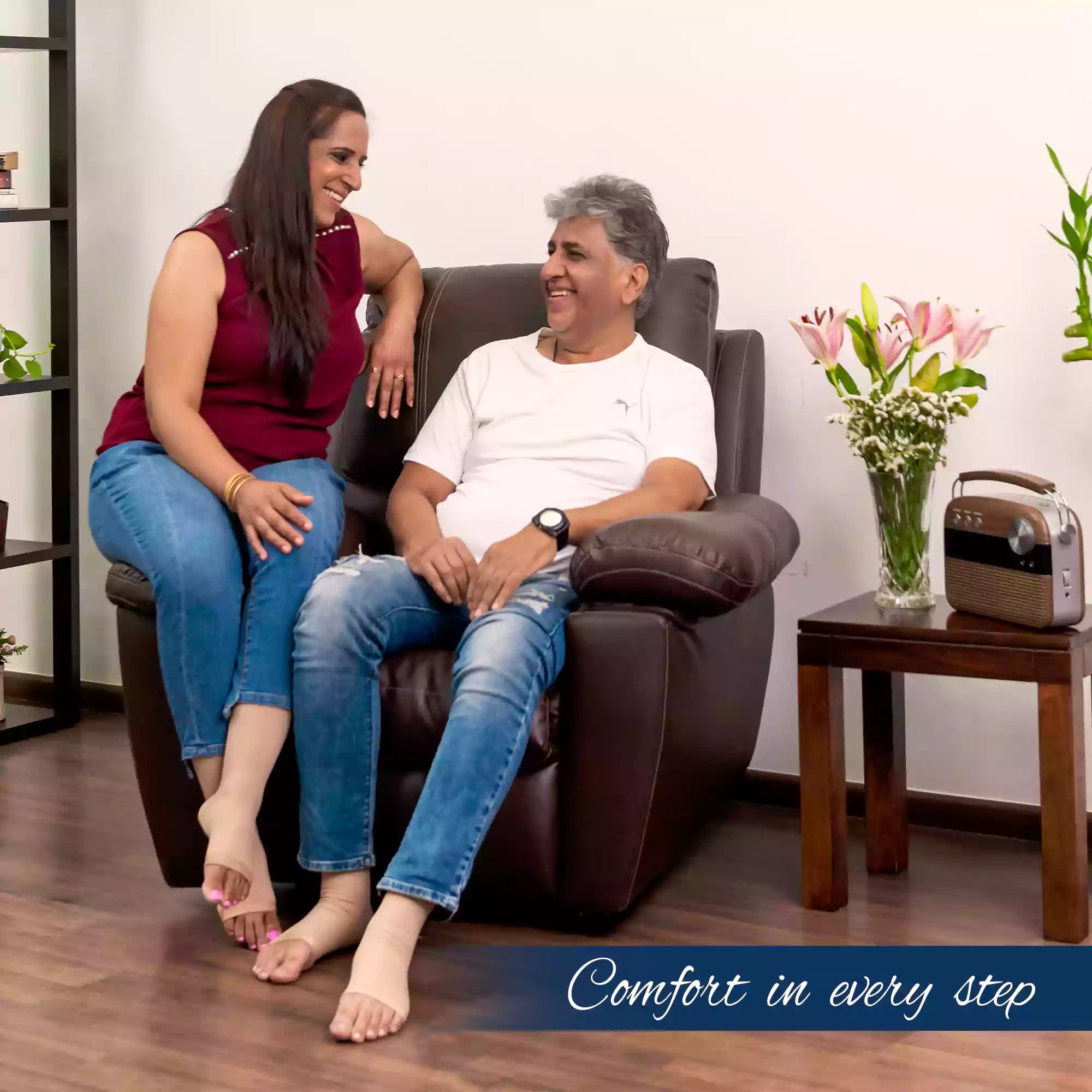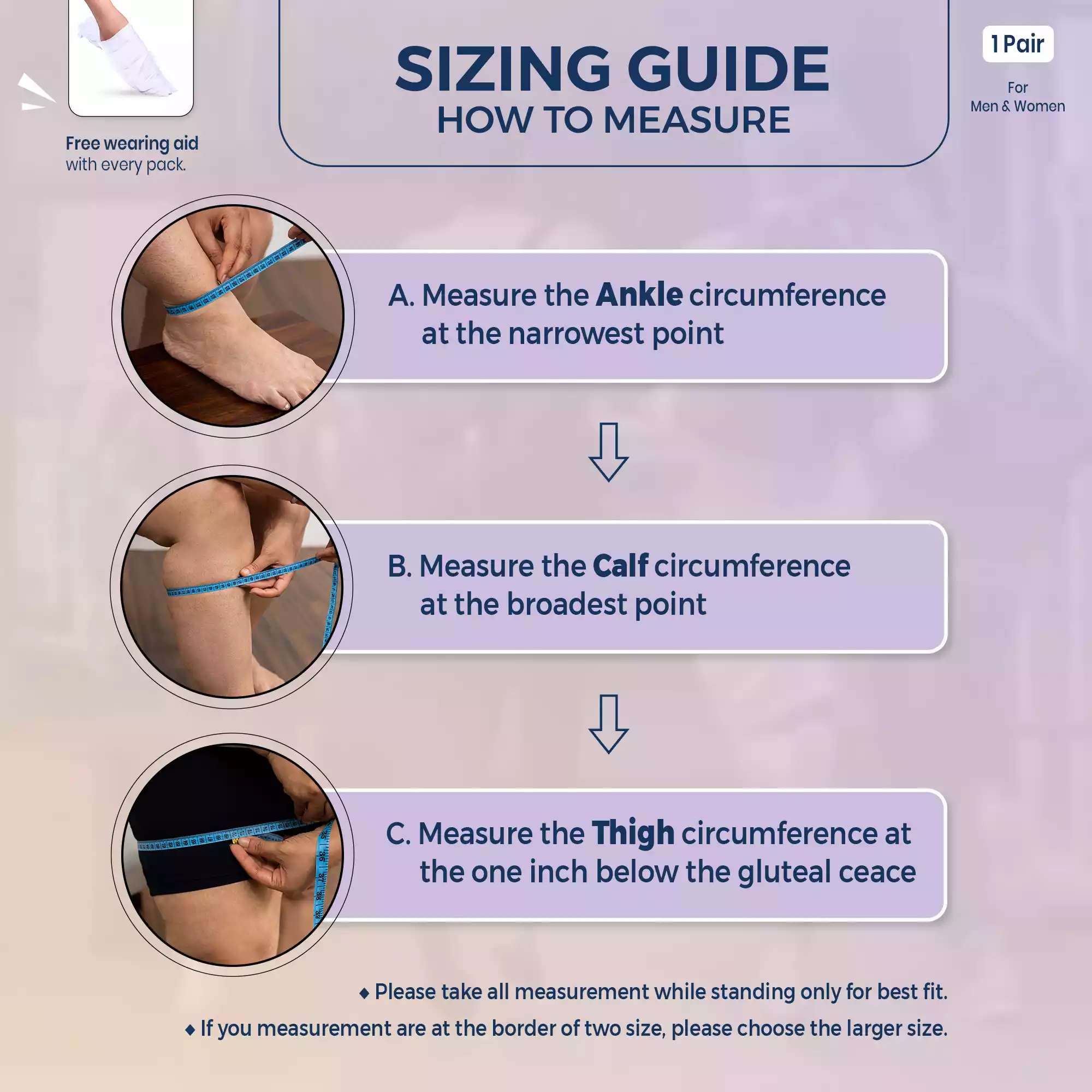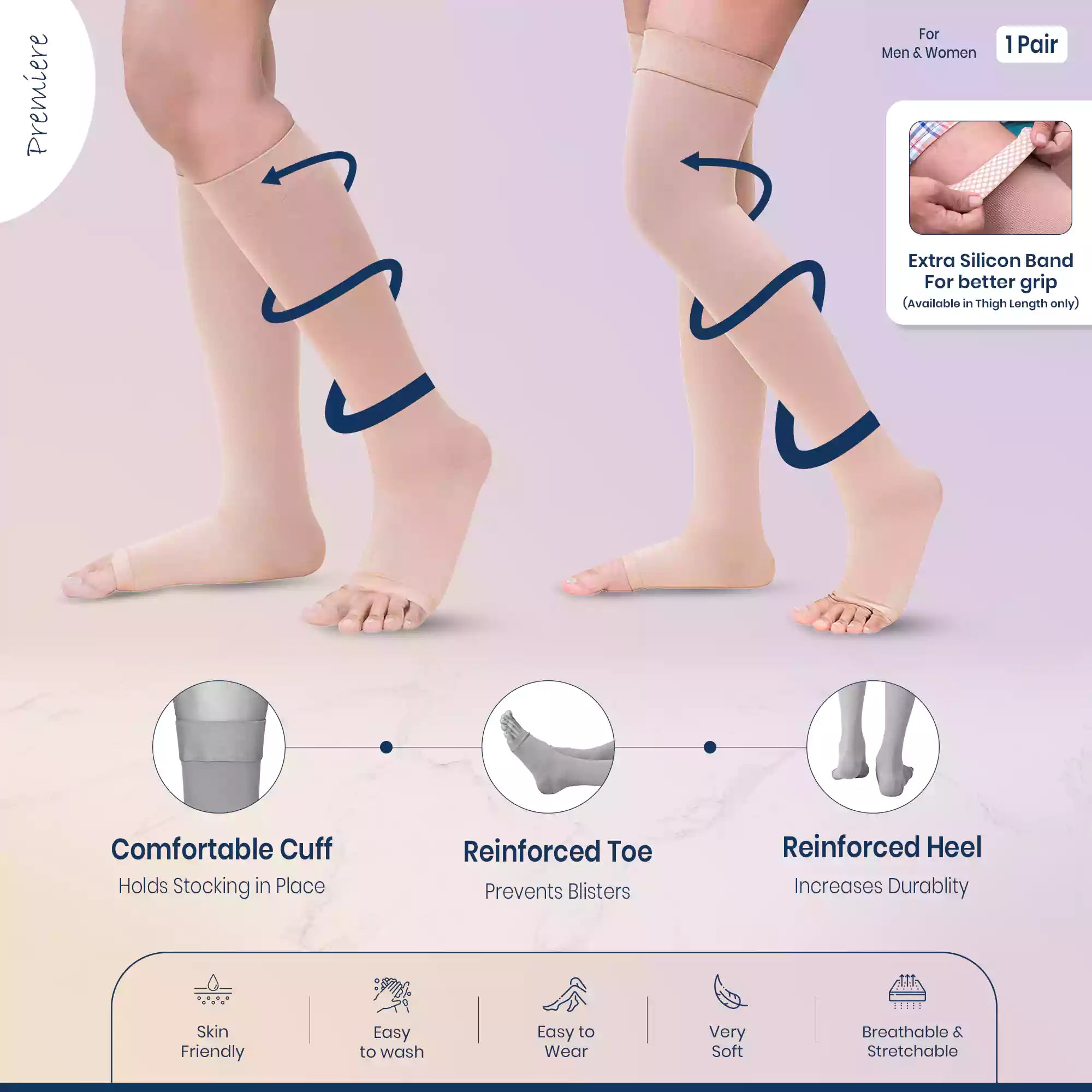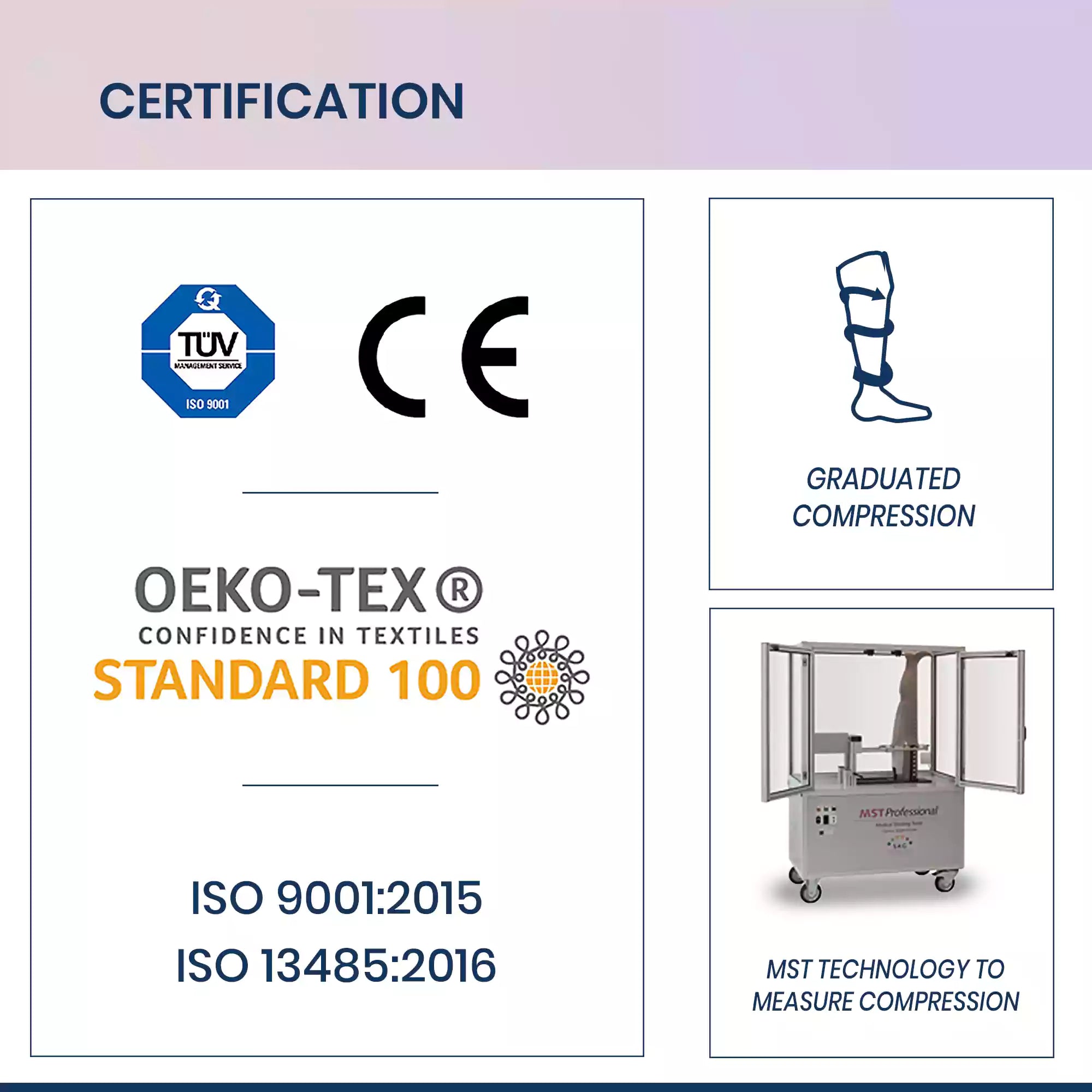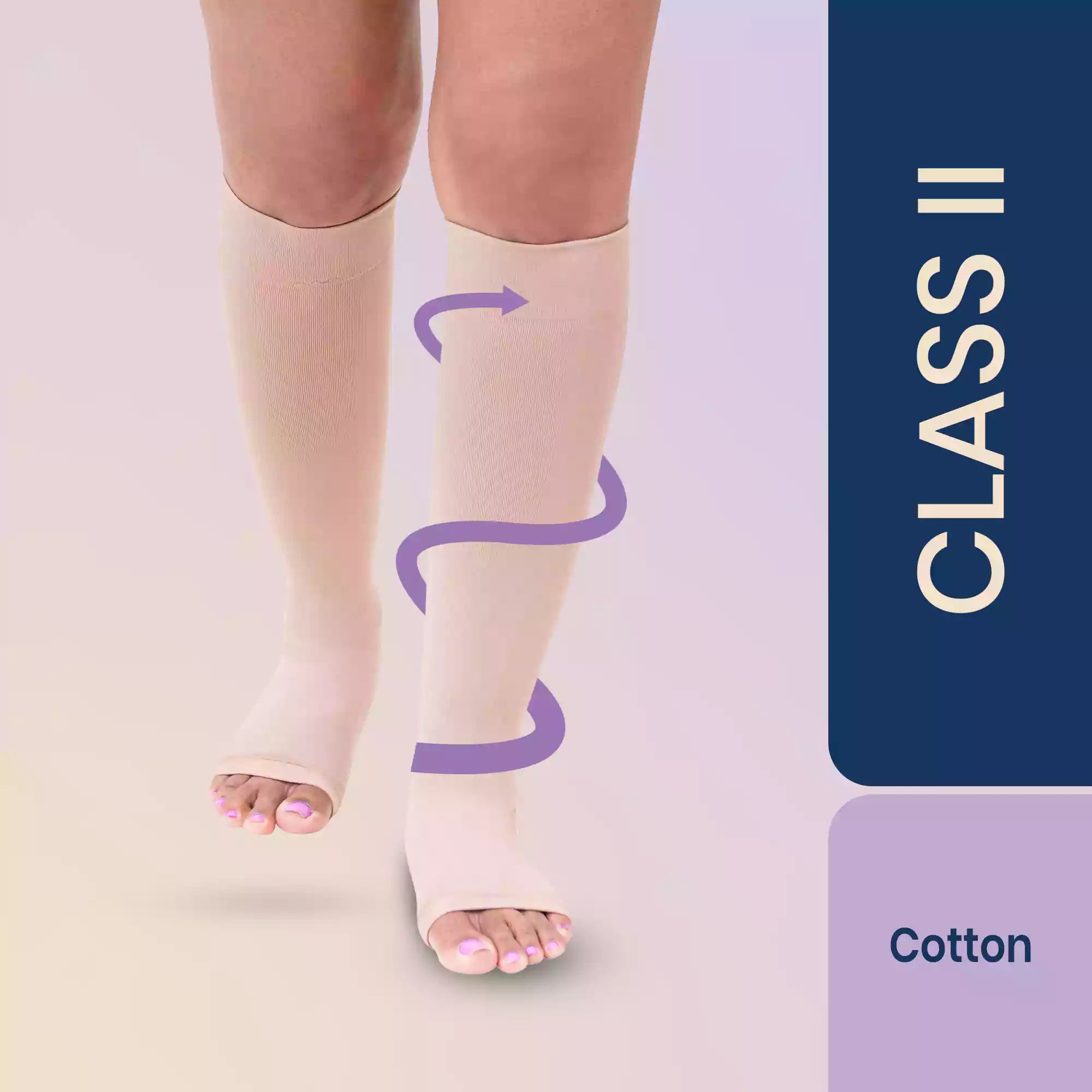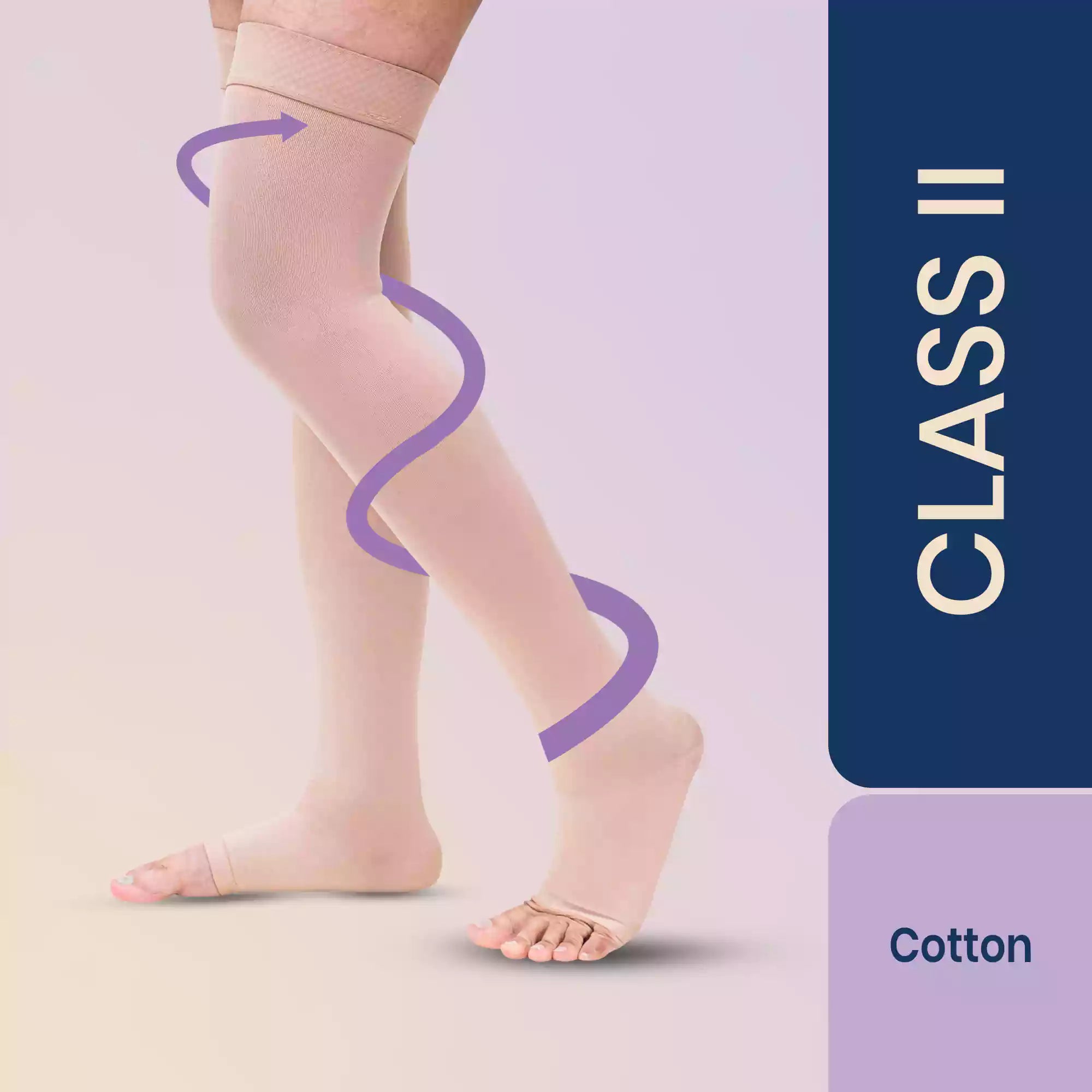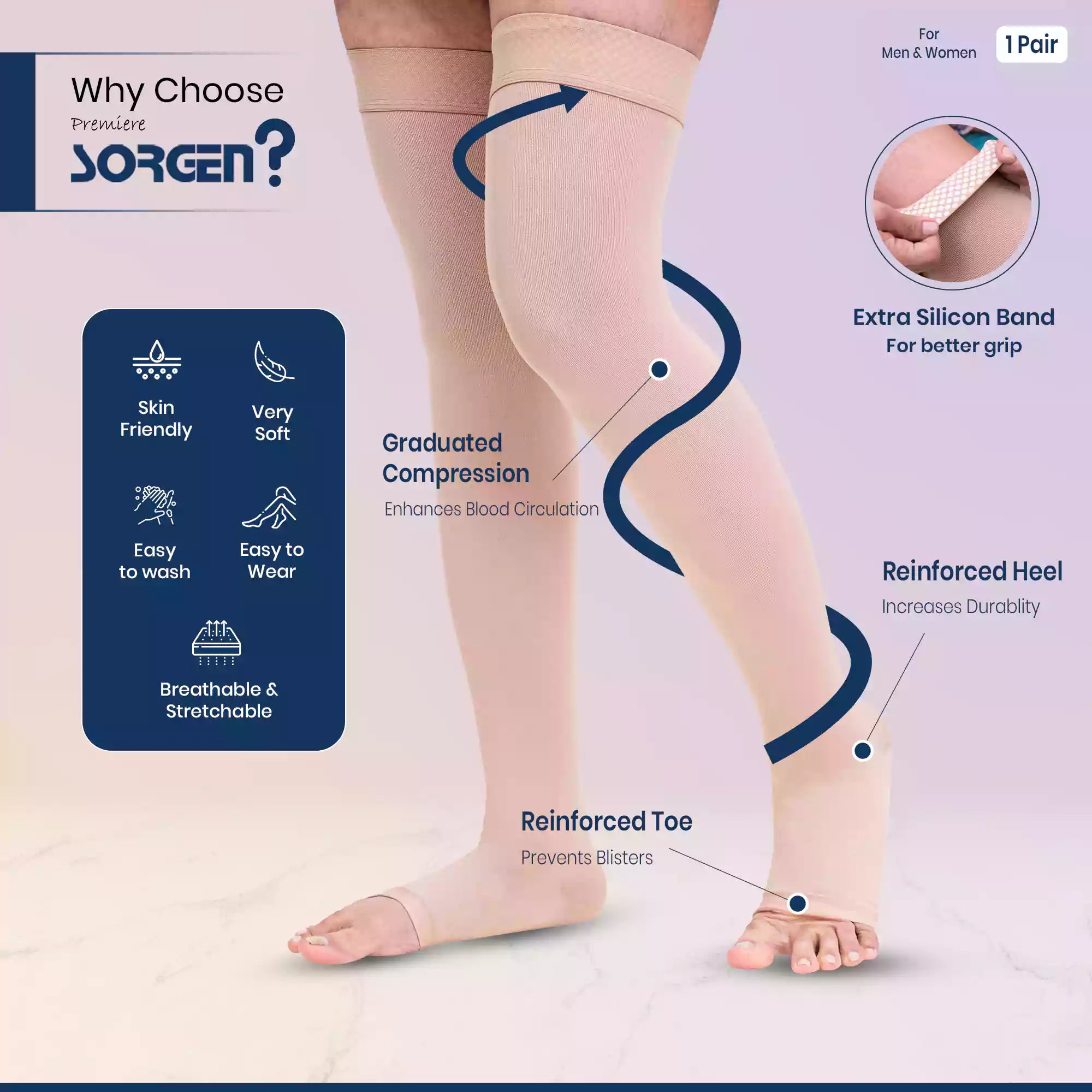 Sorgen® Premiere Class 2 Compression Stockings - Knee/Thigh high Length
Sorgen Premiere
Rs. 2,755.00
Rs. 3,500.00
Sale
Made from premium Egyptian cotton, offer ultimate comfort and medical-grade support for relief from spider veins, varicose veins etc. Experience improved circulation, reduced swelling, and a boost to your overall wellness with the luxurious feel of premium Egyptian cotton. Say goodbye to uncomfortable compression stockings and hello to Sorgen Premiere.
Colour: Skin Colour/ Beige
Style: Open Toe Class II Compression Stockings
Fabric: Premium Egyptian Cotton (17% Cotton, 24% Lycra Elastane, 59% Tactel Polyamide)
Uses Re-occurring Varicose Veins, In the Management of Varicose Vein Surgery, Deep Vein Thrombosis, Moderate level Oedema, and Healing of Minor Ulcers.
Features: Quality Verified with MST Technology, Graduated Compression, For Sensitive Skin, Reusable and Durable, Breathable, Silicone Grip Top, Egyptian Cotton Fabric.
Benefits: Relieves from Painful Legs, Graduated Compression Therapy, Improves blood circulation, Takes Care of Painful Conditions Like Moderate Oedema and Varicose Veins.
Box Contains One pair of Premiere Class II Compression Stockings, and 1 Glider/ Wearing aid.
Sizes Available:Small, Medium, Large, X-Large, XX-Large
Lengths Available: Knee Length/Thigh Length
Recommended For:
Spider Veins
After DVT
Moderate Oedema
Post Varicose Vein Surgery
Helps in:
Improves Quality Of Life
Prevent DVT
Reduces Oedema
Reduces Swelling
Relives Tired And Aching Legs
Improves Blood Circulation
💡Enjoy free shipping on all orders within the India.
📤 Orders are dispatched with Same Day (before 4.PM)
🚚 Same Day Delivery available in Mumbai MMR Region (at additional cost of Rs. 199/-). More details at checkout!
For expedite shipping and more queries, please contact us on 09321102110 or send us a mail at support@sorgen.co

Manufactured By:
Yogi Kripa Medi Chem Pvt. Ltd.
Gala No. B-59, M.R. Brothers Inds. Estate,Kohinoor Industrial Complex, Plot No. J-7/J-8/J-9, 
M.I.D.C., Taloja,Navi Mumbai Maharashtra - 410208
CDSCO Reg. No: Yogik-Mumba-Mh/M/Md/009124
It's okay to change your mind😊 This product qualifies for an exchange or return within 3 days of delivery. We offer a free pickup from your pin code.
Share this product
Relief With Premiere Class II Below Knee Compression Stockings
When facing aching symptoms in the legs, using Sorgen's Premiere Class II Compression Stocking with expert medical consultation can help manage painful conditions. Crafted with premium Egyptian cotton fabric, the premier compression stockings work well for highly sensitive skin. With advanced features like reinforced heel pockets for durability, silicon grip tops, and graduated compression, Sorgen's compression stocking ensures long-lasting comfort and relief from pain.
Class II Premiere Compression Stockings are known for 23-32 mm Hg moderate compression and feel tighter than regular stockings.
#Knowyourproduct
Why Use Compression Stockings?
Graduated Compression works as a great way to improve blood flow in the body. When facing issues like inflammation, fluid accumulation, and swollen veins on the skin, using compression stockings that offer graduated compression at the pain site can help control the condition.
Generally, restricted leg movement during pregnancy or long working hours can cause issues like oedema and varicose veins. In such cases, using anatomically-designed compression stockings fosters healthy workings of veins and muscles in the region.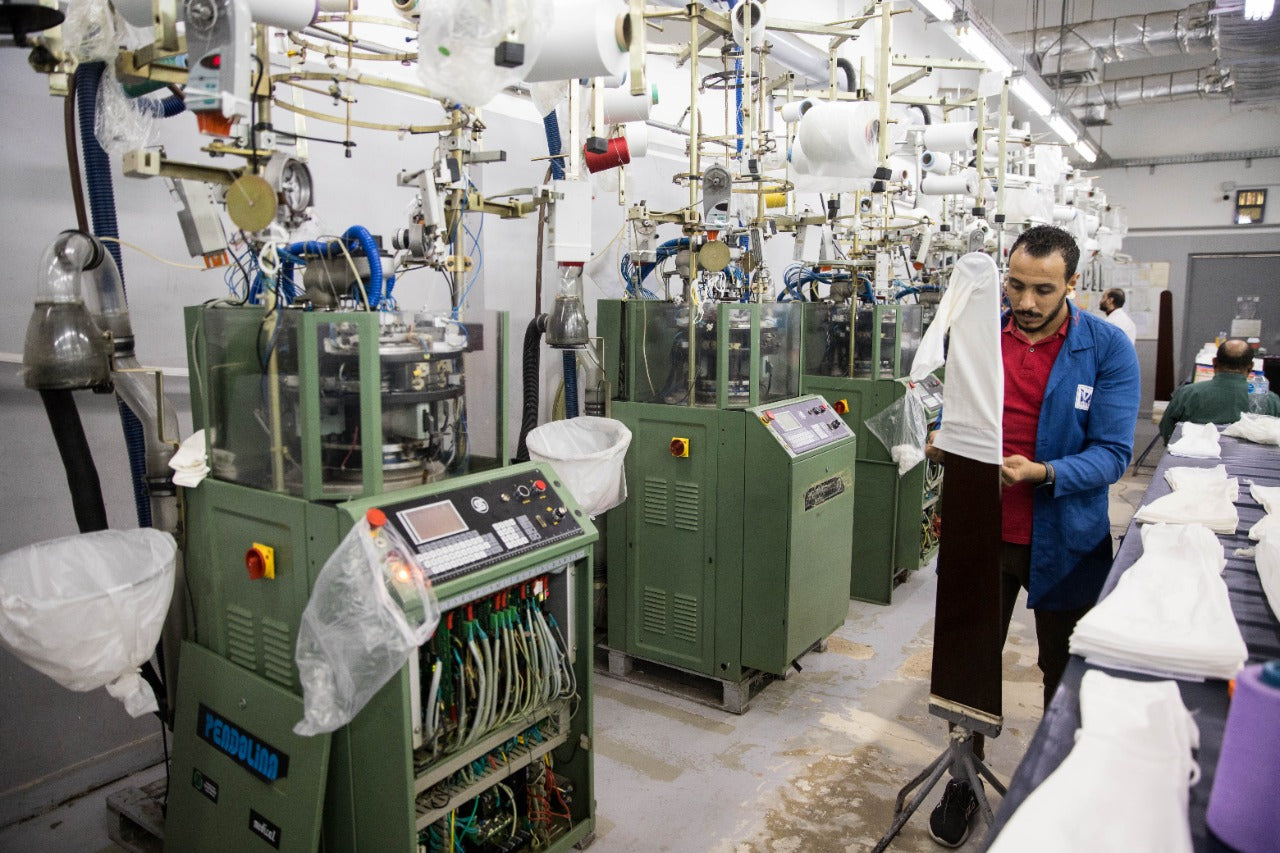 User-Friendly Features By Sorgen
Premium Egyptian Cotton:
Sorgen Premiere is a fine balance between comfort and science. The stocking is made from Egyptian cotton, thereby redefining comfort in every sense. Cotton allows a higher degree of wearability for those who prefer a natural fiber against the skin, or who are allergic to synthetic fibers.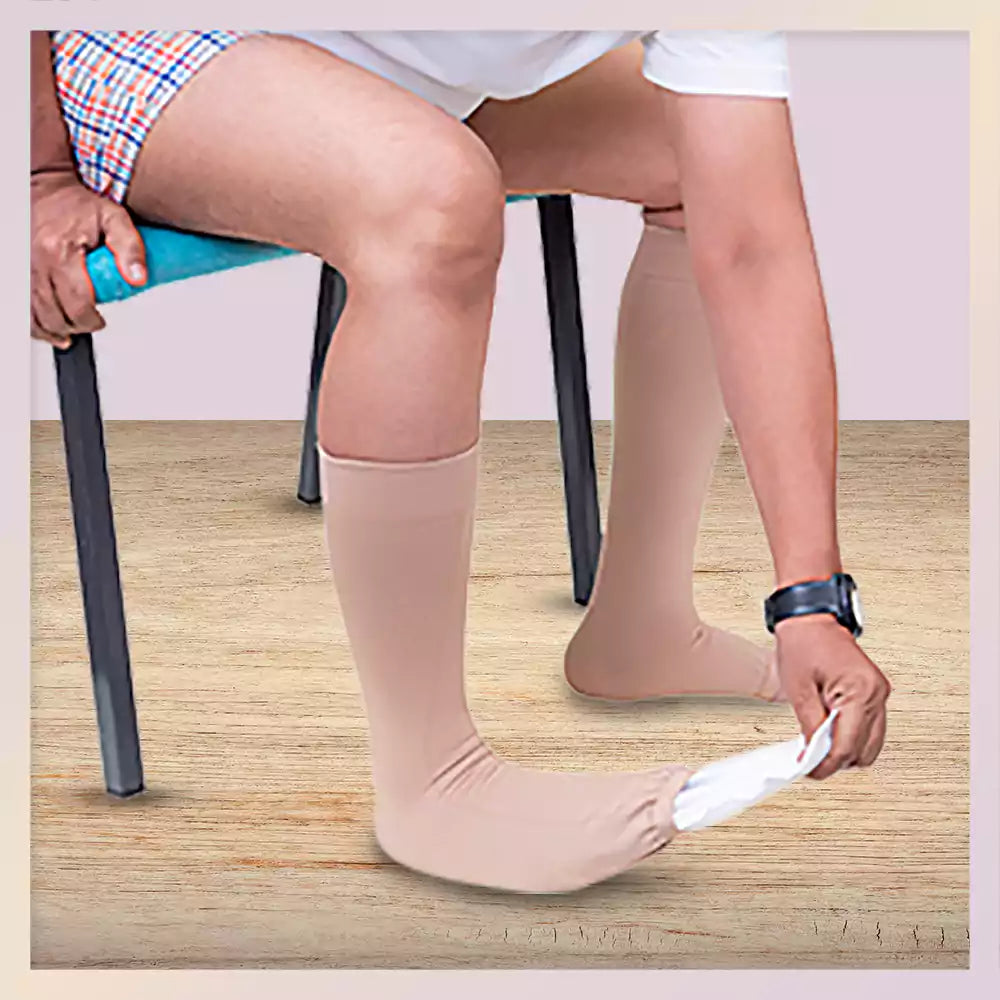 Glider Makes It Easy-To-Wear
Wearing compression stockings can be slightly challenging at first. Sorgen Premiere Class II compression stockings come with a free glider which makes wearing the compression stockings very easy.
Added Durability
A stitched, reinforced heel pocket adds sturdiness for a comfier wearing experience. The non-compressive, stay-up grip top has been thoughtfully created for wearing convenience. The knee-length stocking stays in place all day thanks to its flexible but firm fit.
Helps Manage:
Aching Legs
Long hours of standing or sitting have become an inevitable part of every profession today. One of the most common issues faced by people today is painful legs. Wearing graduated compression medical compression stockings class II helps in relieving leg pain and helps live a healthier life.
Swollen Legs / Feet : Inflammation
Inflammation in the legs is expected when they remain stationary for long hours. The blood pooling in the veins causes such inflammation. Wearing graduated compression stockings or DVT stockings help reduce the swelling and any associated pain.
Venous Insufficiency
Varicose veins are conditions of venous insufficiency visible in blue-green swollen or knotted veins at the calf area of the leg. Venous insufficiency is a condition that occurs when the venous valves are not efficient in the leg veins to return the blood to the heart. Wearing varicose veins socks helps with these venous insufficiency conditions and helps to prevent further worsening.
Frequently Asked Questions
Compression stockings are classified depending on the level of compression they provide. Class II compression provides mild compression- 23-32 mm Hg.
All the Sorgen Class II compression stockings provide MST-tested RAL compression profile 23-32 mm Hg compression. The difference is mainly in the fabrics and, thereby, the comfort. Sorgen Classique uses Synthetic fibers, which makes it more economical and durable. Sorgen Royale uses premium microfiber fabric, which makes it soft and easy to wear.
Usually, it depends on the extent of your problem or the indications you pose. Class II compression stockings for women and men are recommended to reduce the discomfort caused by moderate to moderate varicose veins, moderate oedema, and DVT. It helps relieve circulation in the legs - ideal when sitting or standing for long periods.
Sorgen® Premiere Class 2 Compression Stockings - Knee/Thigh high Length
Royale class 2 comprehension stocking
It's awesome n highly suggested for those suffering from varicose veins. It's soft n very comfortable.